LONG READ: A race win in 2022 – but how much more is left to come from George Russell at Mercedes?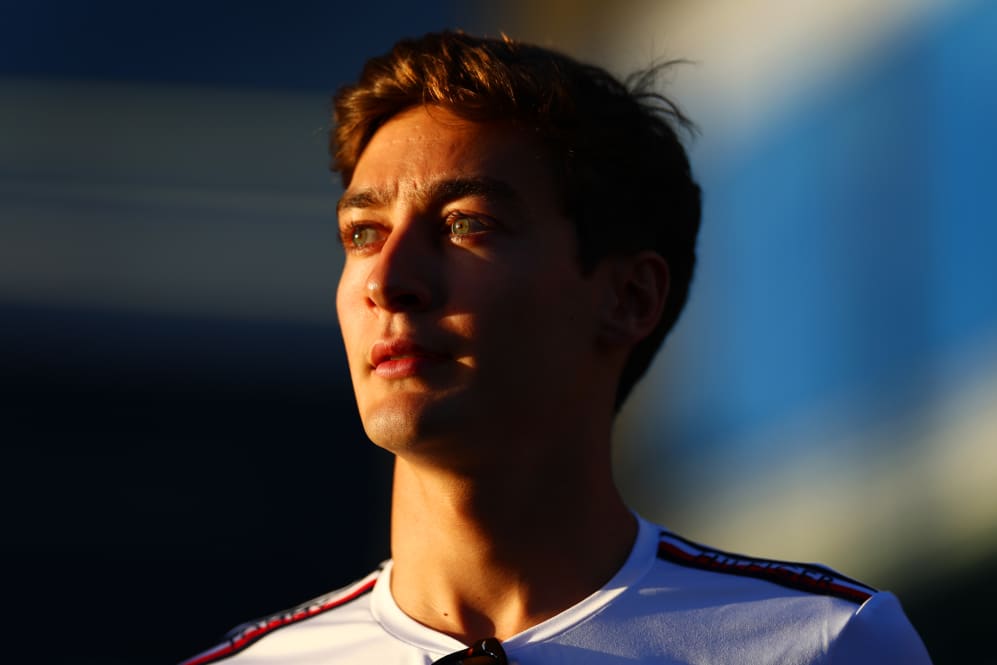 George Russell ended 2022 with a first win in F1 and ahead of Lewis Hamilton in the standings. But the Briton reckons there's more to come: "It was a good taste," he says, "but I feel absolutely ready within myself and with the team I've got around me to fight."
If there's a truth to the old adage that what doesn't kill you makes you stronger then George Russell is its F1 exemplar. In 2022, the Briton went into his maiden campaign with Mercedes hopeful that after three years of toil at Williams Racing, greater rewards were on the horizon.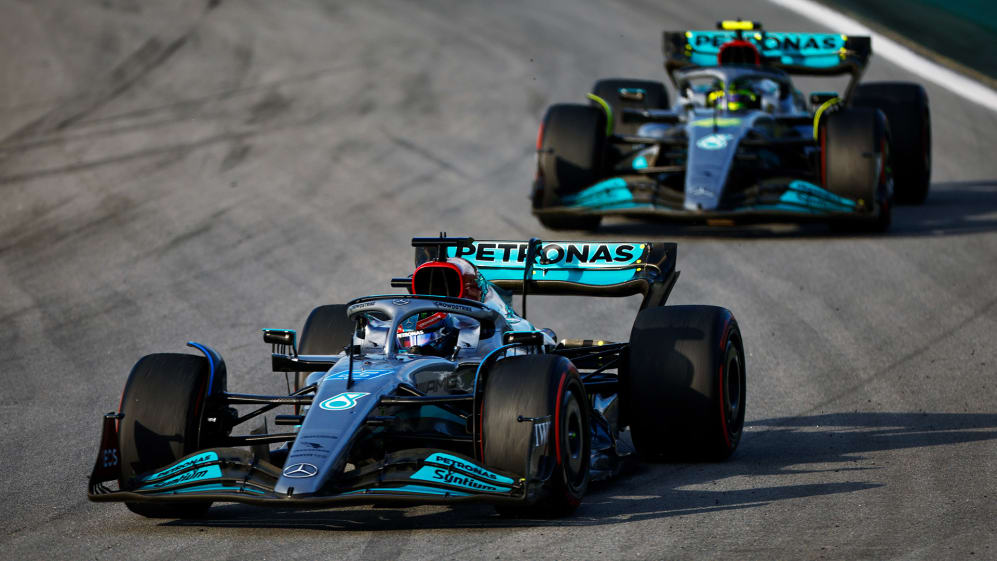 "We want to take that fight to Max. I'm sure Ferrari are going to come out of the blocks fast, too, and we want to put that fight against those guys and go for it. We're going to be doing our best to achieve that, but we need to see where the car falls out."
So far, understanding where the W14 falls in the pecking order has been somewhat elusive. Testing was a mixed bag, with problems on day two of pre-season running in Bahrain throwing a degree of shade at the gains made elsewhere. And in race one, the new car disappointed overall, only taking Russell to sixth on the grid, behind the Mercedes-powered Aston Martin F1 of Fernando Alonso. Russell admits that while the W14 hasn't yet met expectations there is more to come.
READ MORE: 'We've got a lot of work to do' – Mercedes promise 'visible changes' to W14 after challenging season opener
"It probably wasn't the smoothest three days we could have hoped for," he admits. "But I went back to the UK, I was on the simulator and the learnings we got will, I think, put us in better stead.
"In terms of feeling in the car it does feel a step in the right direction. But as we know, in this sport, it's not all about feeling, it's ultimately about lap time. I think compared to this time 12 months ago, things are running a lot smoother. When we went testing last year, there were a lot of alarm bells ringing with the porpoising, unsure how to solve it, we were a bit lost and the car characteristics were not good.
"So I think things have been running much smoother. Reliability has been strong so far. For sure we've got things we need to improve with the car, but generally speaking, we're roughly where we would have expected to be at this time of year."
It's incumbent upon a driver to talk up gains over the winter but while testing and the opening weekend in Bahrain revealed the W14 to have fallen well below the benchmark set by Oracle Red Bull Racing, Russell is certain that Mercedes have the capability to rapidly add performance to the new package – aided by the 2023 race schedule.
"I think we've seen over a number of seasons just how well the team develops the car throughout the season," he says. "And I think, fortunately, with how the calendar has panned out, it gives teams the chance to develop without a huge number of races in a certain time span.
READ MORE: George Russell opens up on visiting a mental health professional after 'low point' in his career
"There are definitely improvements that we are sure are going to make the car faster," he adds. "The car is going to be lighter than what we saw last year and that is definite lap time, we know that. We've worked really hard on reducing the drag, because we saw how much we were losing to Red Bull, particularly last year, and we believe we've achieved that. So we should be faster in a straight line as well."
He adds that Bahrain's characteristics make it something of an outlier and says performance should be closer to their rivals at other tracks.
"It's a very unique circuit in Bahrain. I'll be surprised if the gaps are that large at other circuits, but you know, I trust in our team and if we develop at the same rate as we did last year, we're definitely starting from a higher point." And when the W14 does reach the level Russell feels is attainable, he is certain that he is in the best shape possible to exploit it.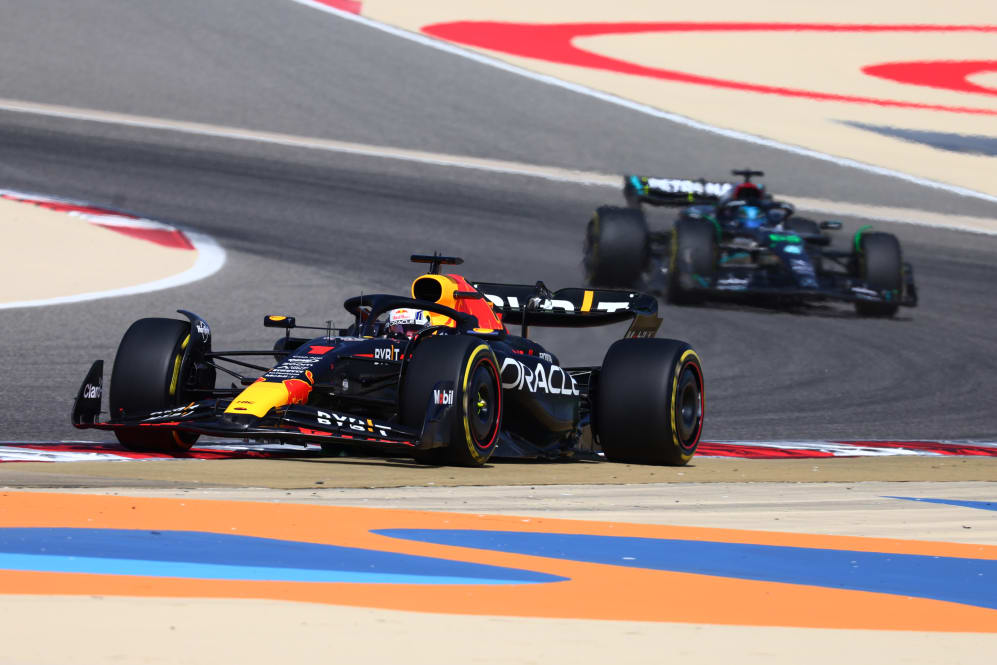 I think last year was a really good year for development and understanding how a team like Mercedes operates," he says. "They work on such a high level, the engineering talent they've got there is exceptional and I feel fortunate being in a team such as this. So it's a new year, new challenges, new opportunities and I'm looking forward to seeing what we can do.
"[During the winter] I was in the factory most weeks, doing a lot on the simulator but also in constant communication on Teams or Zoom, just working on procedures, how we got about race weekends, seeing where we can maybe streamline things and be more efficient. It was a pretty good winter. I feel in a really strong place. And mentally, I feel in the strongest place I've ever been. I feel good within myself and I feel like I took the necessary time off, but equally, the necessary time working with the team."
READ MORE: Mercedes roll the dice with the W14 as they bid to return to title-winning ways – but will it pay off?
Russell recognises, however, that there are still areas of his game that need work, pointing in particular to a quality possessed by seven-time champion team-mate Lewis Hamilton. "I think the main [area to improve] is probably just tyre management," he says. "I think something Lewis was very good at was maximising the stints and getting the most out of the tyres across a stint.
"You know, having that year under my belt being team-mates with him and seeing some of his traits has been really beneficial to me. I felt like I was on quite a steep curve in that regard but I feel like we've got a lot more to come."
He adds that he learned much from the difficulties experienced with last year's car. "The things I learned most from, always, were those difficult races and those races where, relatively speaking, I failed, or underperformed," he admits. "And looking back on those races, I would say most of the reasons were from trying too hard.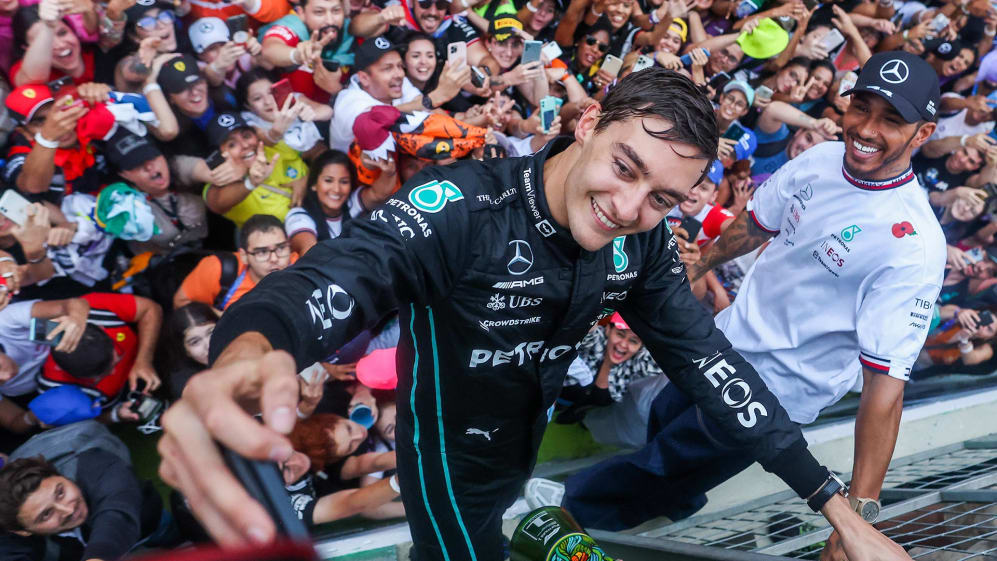 That was a big lesson I learned: sometimes the harder you try and the more you push, sometimes the result isn't better. And you've got to be very disciplined with yourself, sometimes in your approach of knowing how hard to push yourself.
If you went to the gym every single day and you were doing maximum bench presses every single day, at some point you're going to injure yourself and it's not the most efficient way to get stronger. And that's representative of racing. If you go out there and you drive the thing in anger, pushing it beyond the limit every single lap, that is not the fastest way to drive. Those races were a validation of that for me."
F1 INBOX: Your questions on Alonso, Leclerc and Aston Martin answered after the Bahrain Grand Prix
A platform upon which to build, a calendar shaped for early season development and a refined driver more in tune with the tools at his disposal – it all leaves Russell with a strong conviction that both he and Mercedes can challenge for more points and prizes in 2023.
"I definitely head into the season believing," he says. "At every point in my career, I've always gone in believing, but you need to take a rational view once you get to the track and you learn what you're working with. We definitely believe that eventually we will have a car capable of getting into that fight [at the front].
"Whether we're going to have that immediately, I think maybe is a bit of a stretch, Red Bull look very strong, they look very stable, the car is looking really strong, and obviously Max is performing really well. But there's no reason why eventually we can't get there at some point this year, and we've always seen the strength of Mercedes and their development rates. So yeah, the belief is definitely there."
Experience the free race programme with animation, sound and video in the Official F1 Race Programme app, available in your App Store. Get every edition, every race weekend on your phone. Download now here.