'Luck hasn't been with me' says Sainz after last-gasp tyre drama robs him of points at Silverstone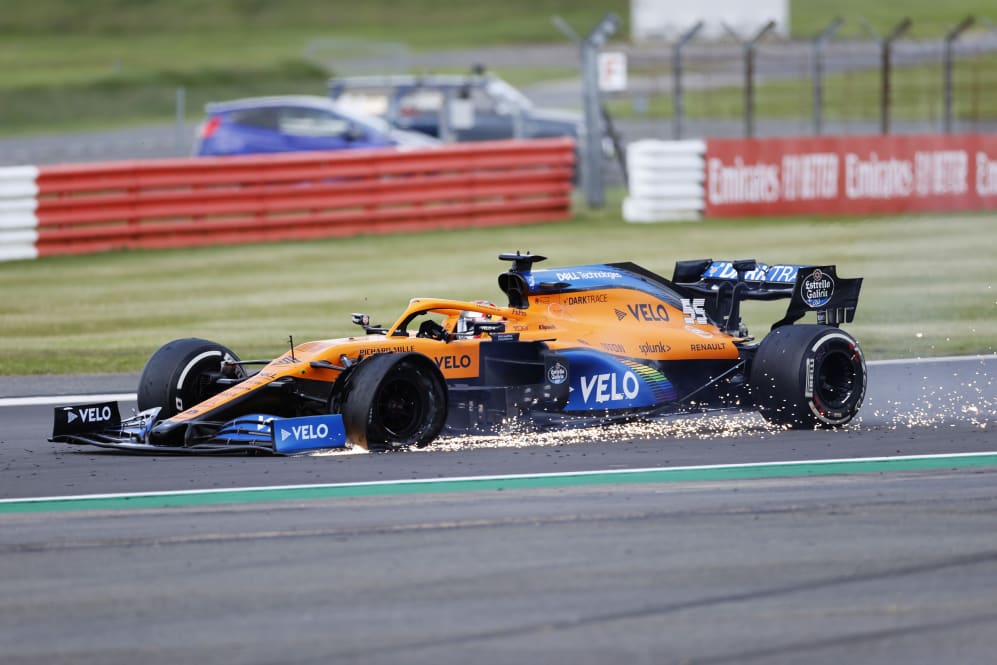 Carlos Sainz dropped like a stone from fourth to 13th after his left-front tyre gave out on the penultimate lap of the British Grand Prix – but the Spaniard insisted he couldn't blame himself nor McLaren for the incident which robbed him of a fourth points finish in a row in 2020.
Sainz started seventh behind Lance Stroll and was up to fifth, ahead of team mate Lando Norris and Stroll, after a terrific first lap. When the second Safety Car emerged on Lap 13, he pitted for a set of hard compound tyres and found himself behind Romain Grosjean, who was the only driver not to pit, and was on the faster medium compounds.
READ MORE: Hamilton limps to seventh British Grand Prix victory after late tyre drama
Sainz struggled to pass Grosjean initially and dubbed the Frenchman's defence "dangerous" – with the stewards agreeing suffiently to show the Haas driver the black-and-white flag – but his biggest concern was his tyres, as they had to last a whopping 39 laps after his pit stop.
And in the end, it proved two laps too many, as the left-front gave way on the second-to-last lap, as did Valtteri Bottas and Lewis Hamilton's in a dramatic end to the race.
It dropped Sainz from fourth to P13 and he ended up without any points for the first time this season.
"In general, I think it was a race of two halves," he said afterwards. "A lot in the attack in the first few laps, [and] having to go through a very dangerous Romain Grosjean, then just a lot of management in the middle of the race. We knew it was going to be very tight on the tyres.
"It was proved that it was tight when obviously I had the puncture. In general my luck hasn't been with me in the first three or four races and today we lost a lot of points. Disappointed, I'm not going to lie, but at the same time today everything was done correctly a few laps to the end but I cannot be too tough on the team or myself," he concluded.
With another race at Silverstone next week, Sainz said McLaren have made a "step up" on 2019's MCL34 but added Renault – who had Daniel Ricciardo finish fourth and Esteban Ocon sixth – have superior race pace.
"I think we are making very good progress as a team and the car feels a step up on last year's car so it means we've improved the downforce and the whole package," explained Sainz.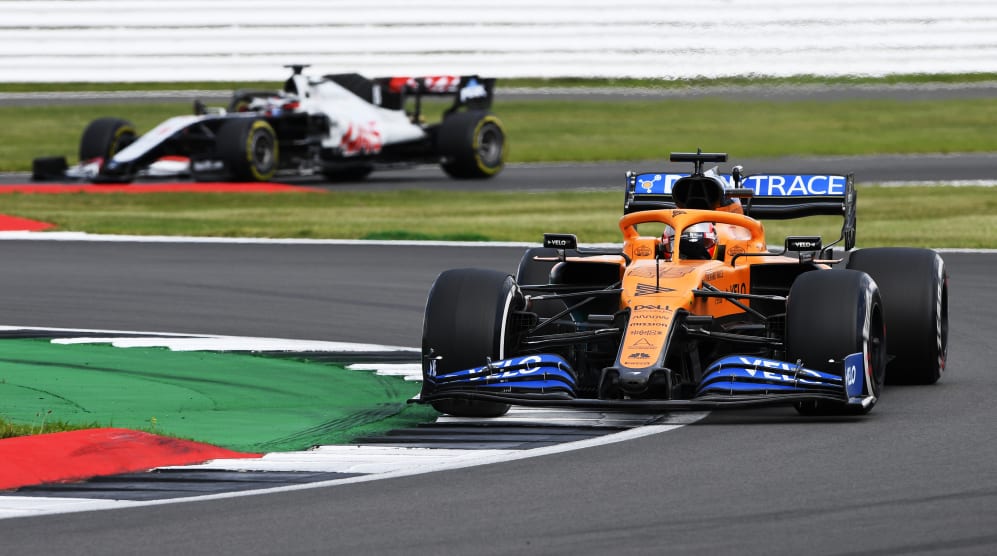 "Unfortunately, in the races we are still struggling a bit compared to Renault. It looks like Renault struggle in qualifying then they come back in the races and vice versa [for us]…
"We should've finished in front of them so I'm just disappointed because we didn't use our good qualifying position for it," he concluded.