Hamilton says his 'heart nearly stopped' when tyre let go on last lap
It's not very often a driver wins a Grand Prix with only three fully inflated tyres, but Lewis Hamilton managed it in the British Grand Prix, the world champion admitting "my heart nearly stopped" when his front left tyre let go on the final lap…
Hamilton was coasting to victory at Silverstone, having commanded the race from pole position, when his team mate Valtteri Bottas suffered a tyre deflation with three laps to go. Hamilton backed off as a precaution, and was told not to go for fastest lap by his team, but suffered his own tyre issue with half a lap to go to the flag.
READ MORE: Hamilton limps to seventh British Grand Prix victory after late tyre drama
"I started to back off and down the straight it deflated and I just noticed the shape just shift a bit," said Hamilton. "That was definitely a heart in the mouth feeling because I wasn't quite sure it had gone down until I hit the brakes. And then you could see the tyre was falling off the rim.
"I was just driving it, trying to keep the speed up. Sometimes it will take off and break the wing. I was just praying it would get round and it would not be too slow. I nearly didn't get round the last two corners. But thank God it did. I really owe it to the team, ultimately maybe we should have stopped towards the end once we saw the delaminations."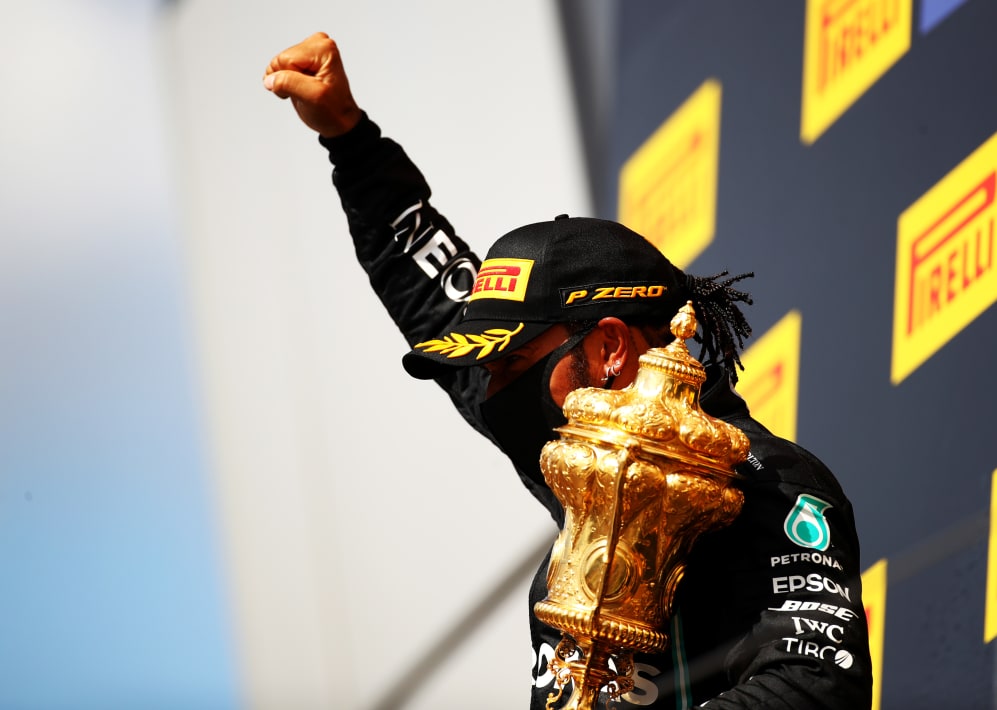 When the tyre let go, Hamilton said that surprisingly, he was actually "really chilled" about the situation he found himself in, as he battled to get to the finish line with Max Verstappen on fresh tyres hunting him down.
READ MORE: Failure to take British Grand Prix start sums up 'crazy' weekend, says Hulkenberg
"Bono [his race engineer Peter Bonnington] was giving me the information of the gap," said Hamilton. "I think it was 30 seconds at one stage, it was coming down quite quickly. The car seemed to turn ok through the high- Maggots and Becketts. Thankfully I got to 15 and that's where it was a bit of a struggle and I could hear the gap coming down from 19 seconds to 10 and I remember giving it full gas out of Turn 15 down to 16 and the thing wasn't stopping.
"So I got to the corner and had a lot of understeer and I heard him go nine [seconds], eight, seven and I was getting back on the power trying to get it to turn. I've definitely never experienced anything like that on the last lap and my heart nearly stopped."
It was Hamilton's third successive victory in 2020, after four races. Ominously, whenever he's won three of the first four races, he's gone on to win the title (in 2014 and 2015). With chief rival Bottas failing to score, his lead now stands at 30 points – more than a race win.