Report
Hamilton limps to seventh British Grand Prix victory after late tyre drama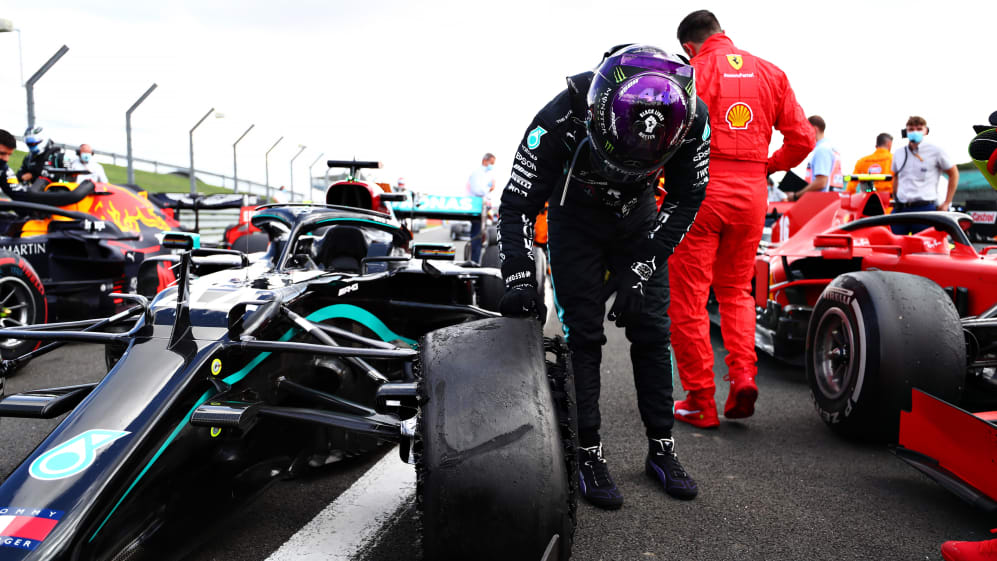 An incredible final few laps of the 2020 British Grand Prix saw Lewis Hamilton claim the seventh and possibly most dramatic Silverstone win of his career, despite his left-front tyre letting go with half a lap still to go.
Hamilton and team mate Valtteri Bottas had been formation flying for 50 of the 52 laps at Silverstone until tyre drama struck. Second-placed man Bottas was the first to suffer as his tyre deflated on Lap 50, costing him second place, before on the very last lap, Hamilton suffered his own issue.
However, with Max Verstappen having opted to pit a few laps from the end to try and claim fastest lap, Hamilton had enough time in hand to just cross the line first, five seconds ahead of Verstappen and the third placed Ferrari of Charles Leclerc.
READ MORE: Failure to take British Grand Prix start sums up 'crazy' weekend, says Hulkenberg
McLaren's Carlos Sainz had been set to finish fourth, but his own last lap tyre issue saw him eventually come home P13, allowing Renault's Daniel Ricciardo to claim fourth, following a late pass on the sister McLaren of Lando Norris.
Renault's Esteban Ocon finished sixth, having enjoyed a race-long battle with the Racing Point of Lance Stroll, with Pierre Gasly having enjoyed a fine race to finish seventh for AlphaTauri.
Alex Albon finished eighth for Red Bull, having recovered from a Lap 1 tussle with the Haas of Kevin Magnussen that saw him fall to last, while Lance Stroll and Sebastian Vettel rounded out the top 10, Vettel holding off a late charge form the recovering Mercedes of Bottas.
Meanwhile, Nico Hulkenberg fans were left disappointed, after the German was unable to take the start when a technical issue was discovered on the RP20 that he'd taken over from Sergio Perez on Friday.
FORMULA 1 PIRELLI BRITISH GRAND PRIX 2020
Great Britain
2020
Race results
POSITION
TIME
POINTS

1

Lewis

Hamilton HAM

Mercedes

1:28:01.283

25

2

Max

Verstappen VER

Red Bull Racing

+5.856s

19

3

Charles

Leclerc LEC

Ferrari

+18.474s

15

4

Daniel

Ricciardo RIC

Renault

+19.650s

12

5

Lando

Norris NOR

McLaren

+22.277s

10
AS IT HAPPENED
For 95% of the British Grand Prix, it looked as though Mercedes would enjoy a simple lollop to the finishing line.
Bottas had initially looked to have the better start of the two Mercedes drivers from P2 when the five lights went out, but once Hamilton had got into the second phase of his getaway, he was able to build up his lead as they headed into the Village complex at Turn 3.
Behind, Charles Leclerc appeared to have made it ahead of the Red Bull of Verstappen after the Dutch driver was slightly baulked by Bottas going into Village, but some perfect placing from Verstappen through the complex allowed him to get back in front of the Monegasque to retain third.
Carlos Sainz was not wanting to hang around on Lap 1, making a brilliant move around team mate Lando Norris stick around the outside of Luffield for fifth, while Daniel Ricciardo – who had made it past the Racing Point of Lance Stroll – then followed the Spaniard through around Copse, demoting Norris from fifth to seventh by the end of Lap 1, as Sebastian Vettel behind ran off the track at the same corner while fighting the Renault of Esteban Ocon
And how was Nico Hulkenberg coping with his F1 racing return? He wasn't, quite simply, after an issue was discovered on his Racing Point RP20, meaning he couldn't even take the start.
Haas' Kevin Magnussen hadn't even completed one lap of the race, meanwhile, when he clanged into the Red Bull of Alex Albon at Club corner, with the Dane careening into the gravel and bringing out the Safety Car. Albon was able to continue, but vibrations on the tyre from the shunt forced him to pit after racing resumed on Lap 6 – while the stewards handed the Thai driver a five-second race time penalty for his part in the incident.
WATCH: Magnussen out after Albon clash on Lap 1
Hamilton managed that restart to perfection, quickly building a 1.5s buffer over Bottas behind, with Verstappen holding third and easily gapping Leclerc, but unable to quite hold onto the coat-tails of the rampant Mercs. Ocon was keen to get up the order when the Safety Car pitted and tried a move on his pal Stroll into Stowe, with Stroll bravely pinching across the Frenchman's line and holding onto his eighth place.
The race had been under green flag conditions for just half a dozen laps when the Safety Car was called out again, with Daniil Kvyat having endured a scary moment at the entry to Maggots, spinning wildly into the barriers and ripping the left-rear corner off his AlphaTauri – Kvyat fortunately emerging from the car under his own steam before angrily pushing a cameraman away.
The Safety Car allowed the whole field to pit for hard tyres over the course of Laps 13 and 14, barring Haas' Romain Grosjean, with the American team rolling the dice as they did in Hungary, and meaning that when the racing got under way again on Lap 19, the French driver was P5, albeit on old medium tyres. Ocon was 11th, meanwhile, having dropped there from ninth after being held up in the pits behind team mate Ricciardo.
Ocon immediately made up one place at the restart at least, moving past Vettel, while Ricciardo was attacking Sainz for P6 when he was caught out by Norris, who aped Sainz's move around the outside of the Australian around Luffield to demote Ricciardo to P8 – before nearly throwing it away when he ran off at Copse while trying to squeeze pass Sainz for good measure.
It was status quo at the front, Hamilton with a 2s gap over Bottas by the halfway point on Lap 26, with Verstappen a further 5s back and Leclerc another 9s adrift – while McLaren drivers Sainz and Norris had moved ahead of Grosjean into P5 and P6, Grosjean receiving a black and white flag for an "unsportsmanlike" jink on Sainz when the Spaniard tried to pass him at Stowe.
WATCH: Sainz and Ricciardo vent at Grosjean
Grosjean held on well for another 14 laps before both Ricciardo and Stroll passed him on Lap 36 – the stewards noting another defensive move from Grosjean on Ricciardo that the Australian termed "sketchy" – before Grosjean pitted for hard tyres and rejoined last, while Lap 38 saw Vettel's poor weekend continue as Pierre Gasly demoted him to P11.
Ten laps from the end and some nerves started to creep into the Mercedes camp, with Hamilton and Bottas' hard tyres both sporting visible blisters on the front-lefts, while Verstappen had done a fine job to stay within 10s of Bottas, having built up his own near-half minute gap over Leclerc.
With two laps to go, though, Mercedes looked set to eke out the tyre life, but then the cameras picked up the astonishing sight of Bottas limping, his tyre having let go at Turn 3 on Lap 50, with nearly a full lap for him to recover, his podium position in tatters. Verstappen darted into the pits for an effectively free pit stop to change to softs and try and claim fastest lap, and was able to nip through for second as Bottas tumbled down the order before eventually pitting.
WATCH: Tyre drama sparks remarkable Silverstone finish
Mercedes warned Hamilton off going for fastest lap as he entered the final lap of the race before, unbelievably, Hamilton's own front-left went with half a tour still to go. As Hamilton ambled around Copse, Verstappen was informed of the leader's puncture. "Can I win this?" he radioed to his team. "If you get on with it," came the laconic reply from Gianpiero Lambiase.
He did get on with it – but despite setting the fastest lap, he was six seconds too late, as Hamilton amazingly held on for victory – his seventh at Silverstone - with Verstappen's late pit stop having effectively cost him what would have been an easy win, had his own tyres lasted
The drama also allowed Charles Leclerc to take his second podium of the year in third, while Carlos Sainz was all set to take fourth, which would have been his best result of the year. That was until Sainz, who'd been complaining of vibrations in the latter stages of the race, suffered his own tyre issues, eventually falling to 13th at the flag, two places down on Bottas, who'd desperately tried to pip Vettel for the final points-paying position on the final lap.
A late move from Ricciardo on Norris saw him be the one to take fourth, his own best result since Monza last year, Ricciardo having benefitted from Norris being held up by his slowing McLaren team mate Sainz to nab the place, as Norris finished fifth.
Ocon had eventually made it past Stroll after a near-race long battle between the pair – during which Stroll was handed his own black and white flag for moving under braking – while Ocon's old karting frenemy Pierre Gasly enjoyed a stellar final part of the Grand Prix as he roared to seventh by the flag, having picked off Vettel and Stroll in the final laps.
He'll also have taken some pride from holding off the fast-recovering Albon – the man who replaced him at Red Bull last year – Albon ending up eighth ahead of Stroll – who failed to demonstrate Racing Point's strong race pace on Sunday – and Vettel.
So, it's been a thrilling start to the 2020 season – but we get the feeling that the conclusion to the 2020 British Grand Prix is one that will be talked about for many, many years to come.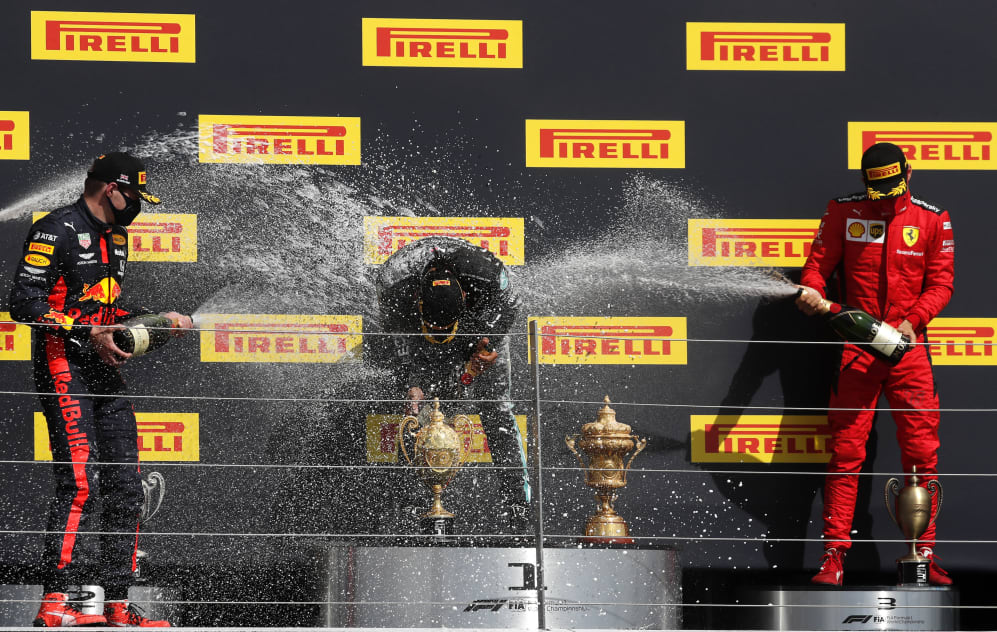 The key quote
"Oh my god I've definitely never experienced anything like that on the last lap and my heart nearly stopped. that's how cool it was because my heart nearly stopped.
"Until that last lap everything was relatively smooth sailing, the tyres felt great, Valtteri was really pushing incredibly hard, and I was doing some management of the tyre and he looked like he wasn't. When I heard that his tyre went, I was just looking at mine and everything seemed fine, the car was still turning no problem so I thinking, 'Maybe it's okay' and those last few laps I started to back off and down the straight it deflated and I just noticed the shape just shift a bit.
"That was definitely heart in the mouth feeling because I wasn't quite sure it had gone down until I hit the brakes. And then you could see the tyre was falling off the rim. Just driving it trying to keep the speed up, sometimes it will take off and break the wing I was just praying it would get round and it would not be too slow, I nearly didn't get round the last two corners. But thank God it did. I really owe it to the team, ultimately we should have stopped towards the end once we saw the delamination" – Lewis Hamilton, Mercedes
What's next?
Did you enjoy that? Got your breath back? Well the good news is that we get to do it all again in a week's time, as F1 gears up for the 70th Anniversary Grand Prix on August 7-9, back at the Silverstone track where the championship started life – you guessed it – 70 years ago.