Magnussen left with mixed emotions as 'childhood dream' of racing in F1 ends on a low note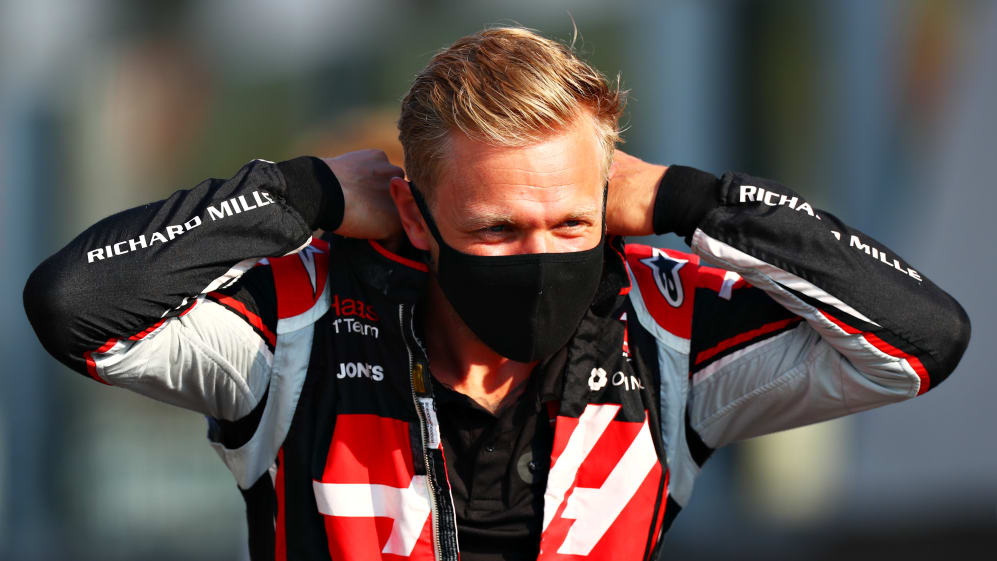 Even though Haas have had a difficult few seasons, getting to say goodbye to the team in his final race weekend was a highlight of the year for Kevin Magnussen as he prepares to switch to racing in the United States.
Magnussen will race sportscars for Chip Ganassi Racing in 2021, leaving Formula 1 behind after 119 starts and a podium on debut for McLaren back in 2014. The majority of those starts have come with Haas, and although he knew he was leaving the team a number of weeks ago, after seeing team mate Romain Grosjean ruled out of the final two races, the Dane took enjoyment out of being able to experience a final weekend with his team, even if it only yielded an 18th-placed finish.
WATCH: Haas bid farewell to Kevin Magnussen with extra special goodbye gift
"Mixed emotions," Magnussen said after Sunday's Abu Dhabi Grand Prix. "I'm happy to have had the opportunity to have raced in F1; it was my childhood dream. I'm sad to be leaving on such a bad performance. At the end of the day though, we had no expectations coming into this race.
"We weren't actually really taking part in the race, we were just sort of driving around… But I think this weekend has been great in terms of just saying goodbye to the team and I think we've had a great time. Looking back at the four years we've had, I really enjoyed it, and I will think back on some great memories. I wish all the best for the team in the future, I'm going to be rooting for them."
ONBOARD: Magnussen gets off to a flier at Abu Dhabi Grand Prix
While he admits he will miss the Haas team and the people he has worked with over the past four years, Magnussen said the overall feeling of having races like Sunday and not being able to fight for victories is one that he is happy moving on from.
"To be honest the last couple of years – not the four years but the last couple – have been pretty tricky and I'm a racing driver that likes to win. I know every racing driver wants to win but I really, really want to win and we haven't been even remotely close to being in any sort of situation to win races in the last two years and even the four years.
Oops! Error retrieving Twitter post
"So I think I'm not really sad because I'm really looking forward to getting back in a winning situation where I can go to race weekends and just think about and be focused on that win, and think about the championship all year.
GROSJEAN SPEAKS: On how he escaped fiery crash, his secret injury, whether he'll race again – and more
"So I'm not going to miss that in Formula 1. Unfortunately I wasn't able to put myself in a position to have a car that can win races, but still I'm grateful for the opportunity I was given in Formula 1. It was a childhood dream that came true and I feel really privileged to have got that opportunity."