'I don't care' - Magnussen happy to 'move on' after Perez clash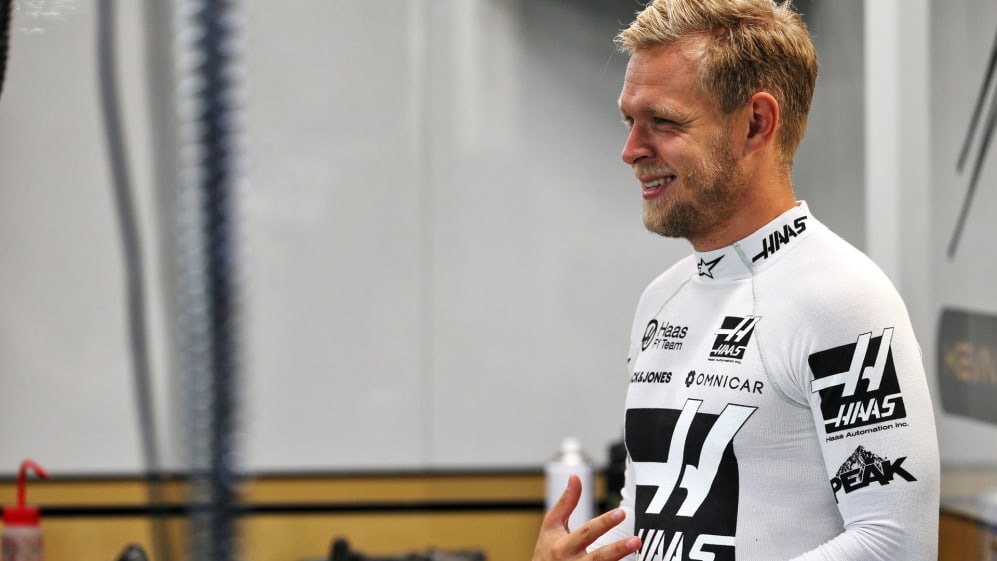 Furious after being squeezed into the wall during FP2 in Singapore, Kevin Magnussen said that he will "move on" from the incident for which Sergio Perez was reprimanded, as the Haas driver also responded to Perez's reference of a "gentlemen's agreement" about not overtaking a driver preparing for a hot lap.
It was halfway through FP2 when Perez made a manoeuvre that was deemed "potentially dangerous" by the stewards. The Racing Point driver, driving slowly to prepare for a quick lap, saw Magnussen about to overtake him and moved over onto the racing line, forcing the Haas driver into the wall and causing him minor damage.
READ MORE: Perez reprimanded for squeezing Magnussen into wall
The Mexican responded to the incident by saying that there was no "strict rule, but there is a gentlemen's agreement" as he criticised Magnussen's attempt to overtake him while the pair were gearing up for a flying lap. In return, the Dane said that he was passing Perez because it appeared that the Mexican was about to enter the pits.
"He moved away from the racing line as if he was pitting or letting me by or something and then I went on power and then when I was on the side of him he closed the door. I hit the wall," explained Magnussen, having finished 16th in FP1 and 19th in FP2.
READ MORE: Why Haas chose to stick rather than twist with 2020 driver line-up
"I don't know what was really his perspective. I don't know if he went off line by accident, because he was focusing on something else or whatever, but he did go off the line. I just stayed on the line, went on power, started the lap, got pushed into the wall… I'm expecting it was an accident from his side," he said.
As for the gentlemen's agreement, Magnussen said that it's still in place and that his move on Perez was a simple misunderstanding between the pair.
"I would say that the gentlemen's agreement is there," said Magnussen, "but you don't attack the guy in front – he moves off the line then you go. You don't ask 'are you sure?'
The pair spoke after the incident and during the post-session stewards' hearing, which resulted in Perez's first reprimand of the season. But Magnussen revealed that he was no longer concerned with the altercation.
READ MORE: 'I feel better in the car than I've done for a while', says Hamilton after topping FP2
"You know, I don't care, I don't want to make a big fuss, I'm not going to appeal too much to the stewards for a penalty for something that happened in practice and had no real consequence. I don't care, move on," he concluded.