Magnussen set for pit-lane start and new chassis after 54g qualifying shunt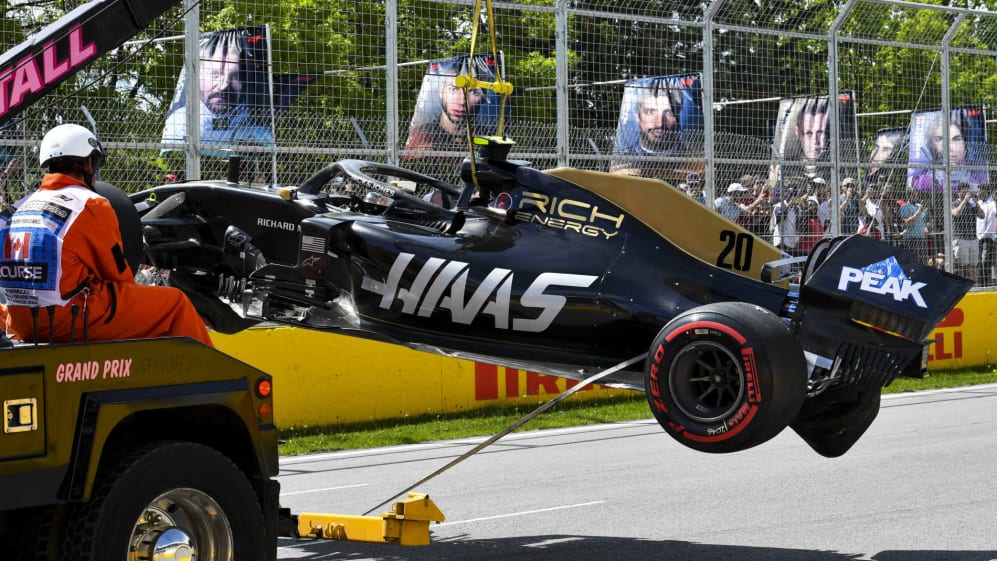 Flushed with his qualifying success in Monaco two weeks ago, which saw him start the race in fifth for Haas, Kevin Magnussen earned yet another Q3 appearance in Canada – but it wasn't in the way he would have wanted, with the Dane smashing his car up on his final Q2 lap to bring out a red flag that, in turn, guaranteed his Q3 place.
That won't count for much on race day, however, with Haas confirming that the damage done to Magnussen's car in the shunt has forced a change of chassis, meaning he'll start the Canadian Grand Prix from the pit lane.
READ MORE: Vettel beats Hamilton to take first pole of the year in Canada
"I just hit the wall," said a disappointed but unharmed Magnussen after the crash, which registered at a massive 54g. "Broke the rear suspension, then it shot me over to the pit wall in a big crash.
"We were fast, we made it to Q3, and I was improving. I was just trying to push everything, as I knew it was going to be tight. I went on the power a little too early, and everything followed from there. I'm very sorry for the team. They have a big job to do now."
Indeed they do, with a new VF-19 chassis to build up overnight, while the team were also planning to change Magnussen's gearbox.
The car is fast. We didn't expect it to be this fast, but we just need to try to get a little less unlucky
"It just doesn't seem like we can catch a break," said Haas Team Principal Guenther Steiner. "The performance of the car was better than we expected over the whole weekend to now.
"We need to change the chassis, we will start from pit lane obviously, and we need to change the gearbox. There's no point to try to start somewhere at the back with the C5 tyre, so we'll start from pit lane.
"We'll just keep on working hard to get back to where we should be. The car is fast. We didn't expect it to be this fast, as this has been one of our weaker circuits – at least that's what we had anticipated. We're optimistic looking to the next races – we just need to try to get a little less unlucky."
As if fate hadn't been cruel enough, meanwhile, Magnussen's crash also prevented team mate Romain Grosjean, running behind him on track, from improving his own lap, leaving him to qualify 15th – which will become 14th when Magnussen sacrifices the 10th place earned from his Q3 (non) appearance. And with Haas having scored just once in three appearances in Montreal, improving on that record in Sunday's race looks a rather big ask right now.