Feature
Malaysia stats - Red Bull secure first podium double for a year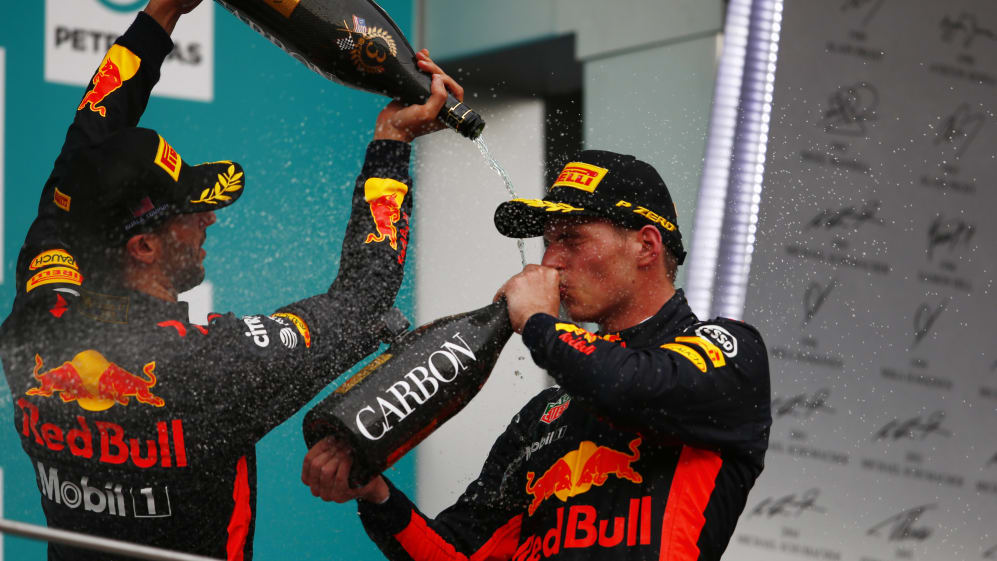 Last year's Malaysian Grand Prix saw Red Bull take an unexpected one-two, and in Sunday's farewell race at Sepang they got both drivers back on the rostrum – for the first time since that day…
Already F1's youngest ever winner thanks to his victory in Barcelona last year, Max Verstappen's second career win was also the second youngest in history. At 20 years and one day, the Dutchman is still a year and 72 days younger than Sebastian Vettel was when he claimed his first victory at Monza in 2008.

Not only was it Verstappen's second win, it was just his second podium all season. His last rostrum appearance came back in April when he finished third in China.

Verstappen is the fifth different driver to taste the winner's champagne this year, which is the most number of different winners we've seen in a single season since 2013. The Dutchman is also the 11th different winner in 19 races at Sepang, which is quite some variety.

It's something of strange coincidence that both of Verstappen's wins have come in the race following Daniil Kvyat being stood down from a race seat.

Last year's Malaysia winner Daniel Ricciardo made it a particularly good day for the team by holding off Sebastian Vettel to take third place. It was the Australian's eighth podium of the season and gave Red Bull their first double rostrum finish since last year's race in Malaysia.

With second place, Lewis Hamilton claimed the all-time record for podiums in Malaysia, though on only one of his six trips up to the rostrum has he stood on the top step. Hamilton also pulled level with Mercedes team mate Valtteri Bottas and Ferrari's Sebastian Vettel for the most podiums this year – 10.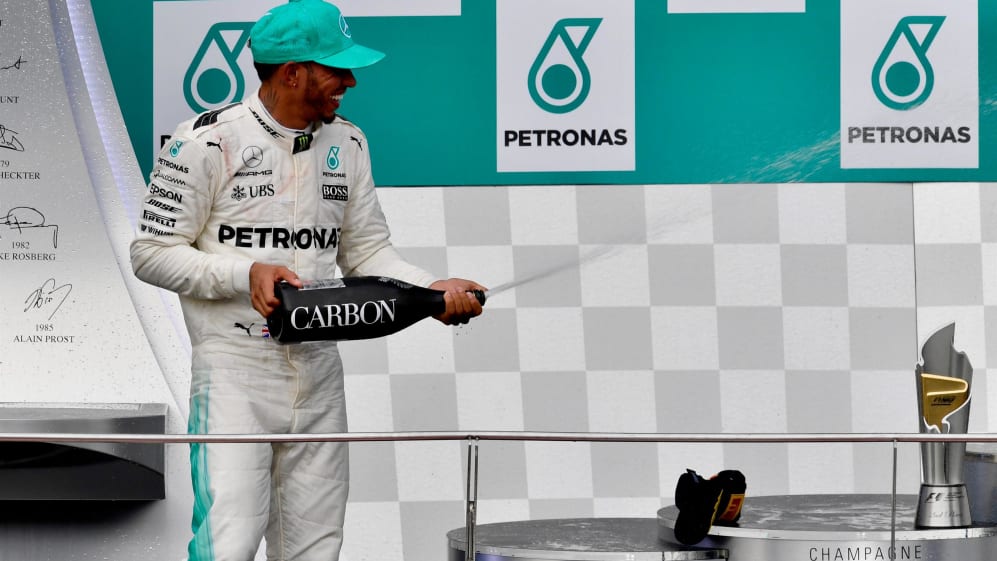 Hamilton also extended his consecutive points scoring run to 20 races – the longest of his career and the fifth longest in history. Hamilton will equal Vettel for fourth all-time if he finishes in the top ten in Japan. Kimi Raikkonen holds the record with 27 straight races in the points.

However, Hamilton's failure to convert his 70th career pole into victory means that for the first time since the current turbo-hybrid regulations were established in 2014, Mercedes have failed to win at a circuit for three consecutive years.

Speaking of Vettel, prior to Sunday's race, no one had finished higher than P7 after starting dead last in Sepang (Fernando Alonso achieving that feat last year). With a stunning drive to P4 Vettel re-wrote the record books, earning himself 'Driver of the Day' honours in the process, as well as fastest lap for a 31st time in his career and 3rd time this season.

Vettel has only started dead last four times and he's scored points on each occasion. In 2012 he started from the pit lane in Abu Dhabi and finished third, in 2014 he started 18th in the USA and finished P7 and last year he started 22nd and finished fifth in Singapore.

Vettel dropped to 34 points behind Hamilton in the race for the world title, but it's worth saying that his fate is still in his own hands: if he wins every race he is guaranteed the title regardless of where Hamilton finishes.

Vettel's team mate Kimi Raikkonen had a much less eventful day, failing to make the start of the race after engine problems. The last time the Finn failed to start a race he'd qualified for was the infamous United States Grand Prix in 2005 when all the Michelin runners pulled out.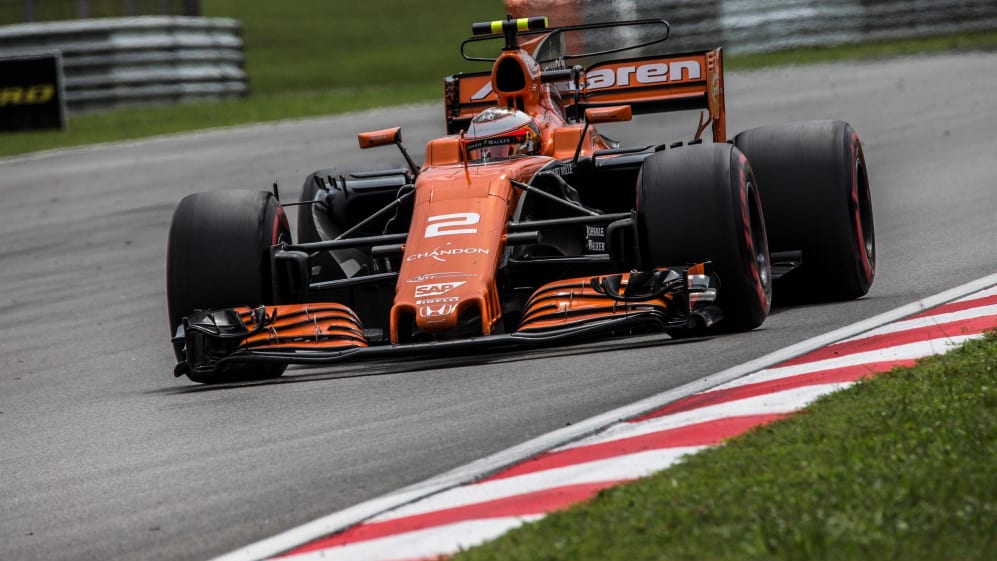 After his first-lap retirement in Singapore, it's the first time Raikkonen has recorded successive DNFs without completing as much as a lap in his career.

The last time one of the front row grid slots was left unoccupied for the start? The 2014 Singapore Grand Prix, when Nico Rosberg's Mercedes hit technical issues and was pushed into the pit lane.

Force India scored a 12th double points finish of the year with Sergio Perez sixth and Esteban Ocon 10th. Ocon, who keeps up his remarkable record of having only missed the top ten once this season, has set a new record for finishing the most races from the start of a career. The Frenchman has finished all 24 races he's started in F1.

Another team to do the double were Williams, with Felipe Massa and Lance Stroll both coming home in the points for just the third time this year.

With Alonso 11th, McLaren narrowly missed out on a double points score but Stoffel Vandoorne did equal his best ever finish with seventh – the same result he achieved last time out in Sinagpore. The Belgian, who qualified a career-best seventh on Saturday, has also moved ahead of Alonso in the drivers' standings for the first time.

Pierre Gasly became the ninth different driver since 2006 to make his F1 debut with Toro Rosso. The Frenchman, who is driving the next races in place of Daniil Kvyat, finished 14th, but will be hoping for better next time out in Suzuka – a track he knows very well from his adventures this year in the Japanese Super Formula series…