Max Verstappen, Daniel Ricciardo and Anthony Joshua join the Las Vegas GP celebrations with F1 23 free to play next week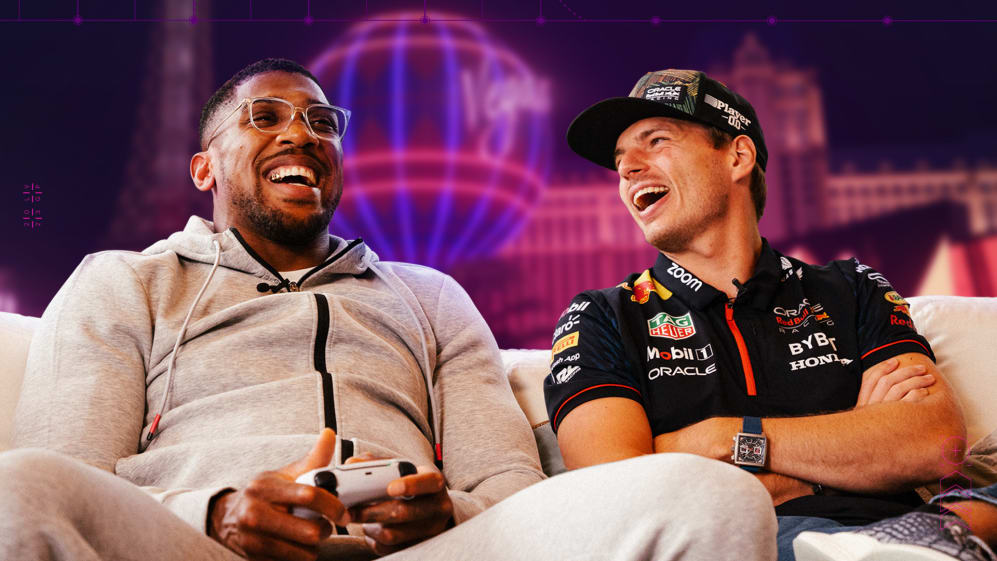 EA is presenting an incredible 'Free to Play' weekend for F1 23 to celebrate the inaugural Las Vegas Grand Prix, with a host of stars involved in the activities including Max Verstappen, Daniel Ricciardo and British boxing champion Anthony Joshua.
F1 23 has raised the stakes and prepared a series of activities and challenges in and outside the game for fans to enjoy. Players will be able to lay down rubber on the famous Las Vegas Strip, challenge Charles Leclerc's fastest lap, unlock new Vegas-themed rewards and plenty more.
F1 FANTASY: Win big in Las Vegas with 2024 Grand Prix tickets up for grabs
AlphaTauri's Ricciardo, EA Sports ambassador Verstappen, and Joshua will join in the fun and take on the boulevard in F1 23.
From November 16 to November 20, players worldwide will have the opportunity to experience the dazzling Las Vegas Grand Prix circuit and play F1 23 for free on Playstation 4 and Playstation 5, Xbox One, Xbox Series X|S, and PC (Steam).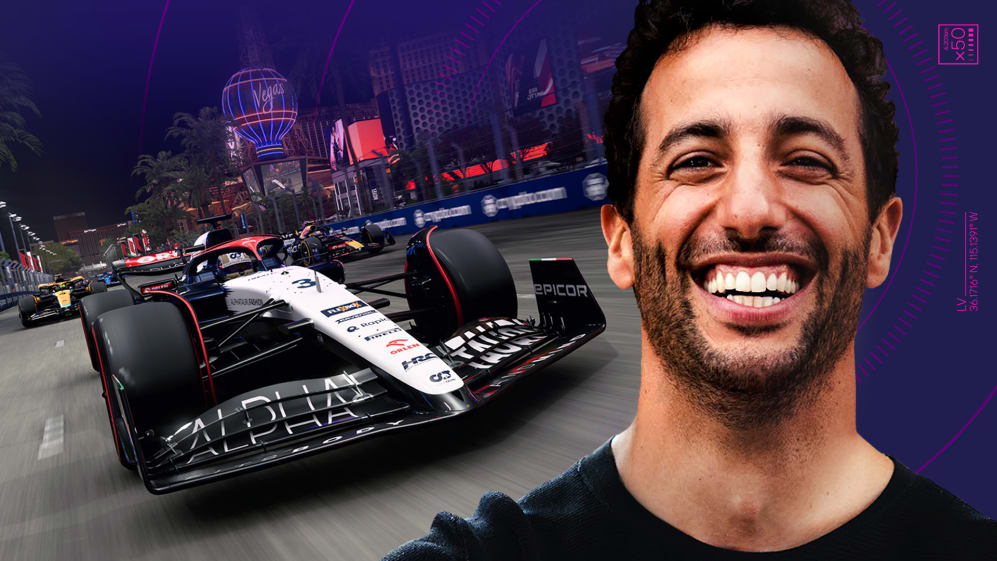 New players looking to purchase the game can also check out special price promotions of up to 60% off ordinary retail price from platform retailers during those dates. All in-game progress and unlocked content would be saved from the trial.
To further add to the excitement EA Sports will host a star-studded event at the HyperX Arena Las Vegas. The event will witness worlds collide as big names from sports, gaming and beyond come together to celebrate the Las Vegas Grand Prix weekend.
You can also tune into the official F1 YouTube channel on November 15, at 1pm PT to watch. The full list of athletes will be announced on November 13 across F1 23's social media channels.
READ MORE: Kings of Leon to headline the 2024 British Grand Prix's iconic opening concert
Daniel Ricciardo has shared his excitement ahead of the race and set the scene in a new video covering his first look at the new US circuit. On November 17, fans will also get a sneak peek of how Verstappen is preparing for the new circuit as the three-time World Champion takes boxing superstar Joshua through the streets of Vegas in F1 23.
"Las Vegas is an iconic venue which takes in one of the most famous stretches of tarmac in the world," said Lee Mather, Senior Creative Director at Codemasters. "I've loved watching the team build such a wonderful virtual recreation of the vibrance and energy of the Strip.
"We have been honoured to bring this new circuit to F1 23 for players everywhere to enjoy ahead of the real-world Grand Prix, and we hope everyone has as much fun as Daniel Ricciardo when they take on Sin City in-game this week".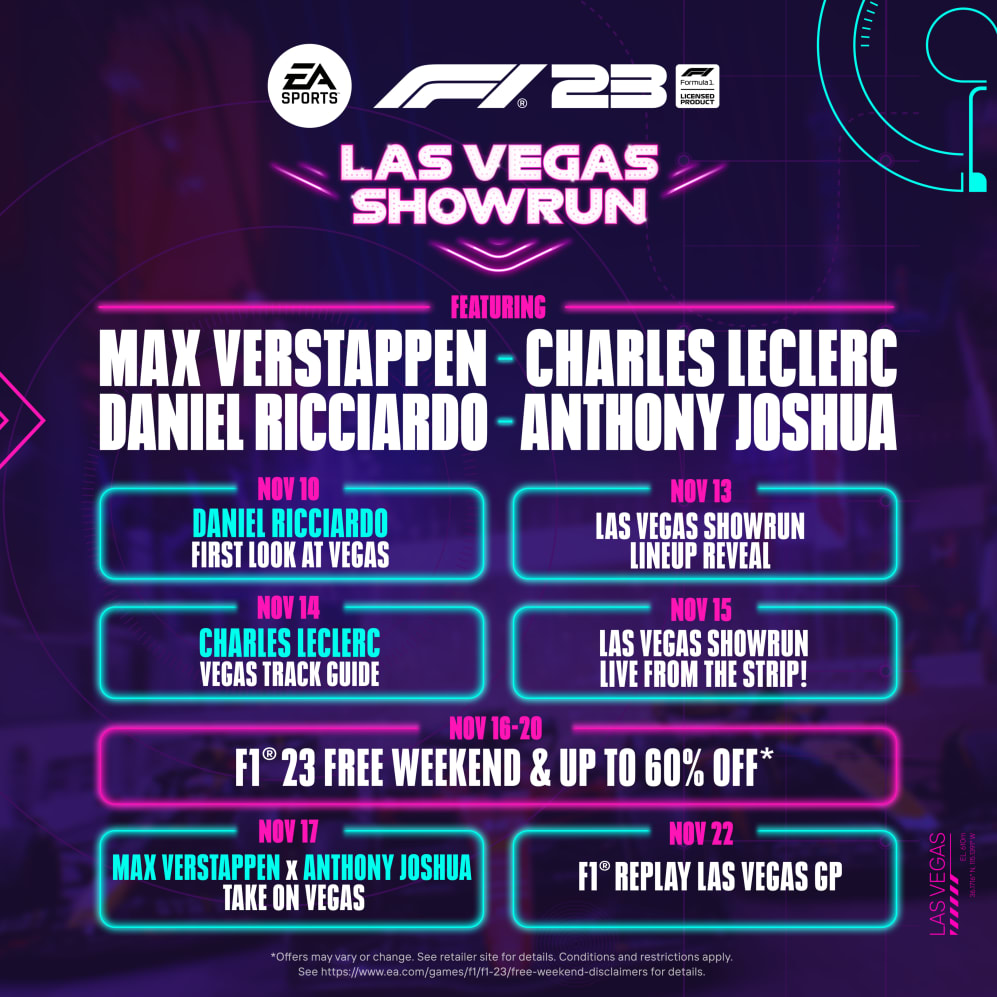 Celebrations in F1 23 will start ahead of the weekend for those eager to race the boulevard. From November 14 to 20, the game will feature several in-game events, including a new Las Vegas 'Pro Challenge' with Charles Leclerc and an 'F1 World' Scenario Event with Lewis Hamilton.
EA Sports will also offer a host of in-game items, developed in partnership with the Las Vegas Grand Prix, for free. To obtain these, players will need to log in daily to the game from November 16 to November 18 and check their inbox.
READ MORE: Spectacular star-studded opening ceremony to kick-off Las Vegas Grand Prix weekend
Additionally, from November 20 to December 11, players can experience the thrill of racing Ferrari's recently revealed Golden Era car livery, paying homage to the first "golden era" of Formula 1 in America.
You can join the celebrations and the spectacle of Formula 1 in Las Vegas with a full list of all the activities and experiences happening on F1 23 available here.