Spectacular star-studded opening ceremony to kick-off Las Vegas Grand Prix weekend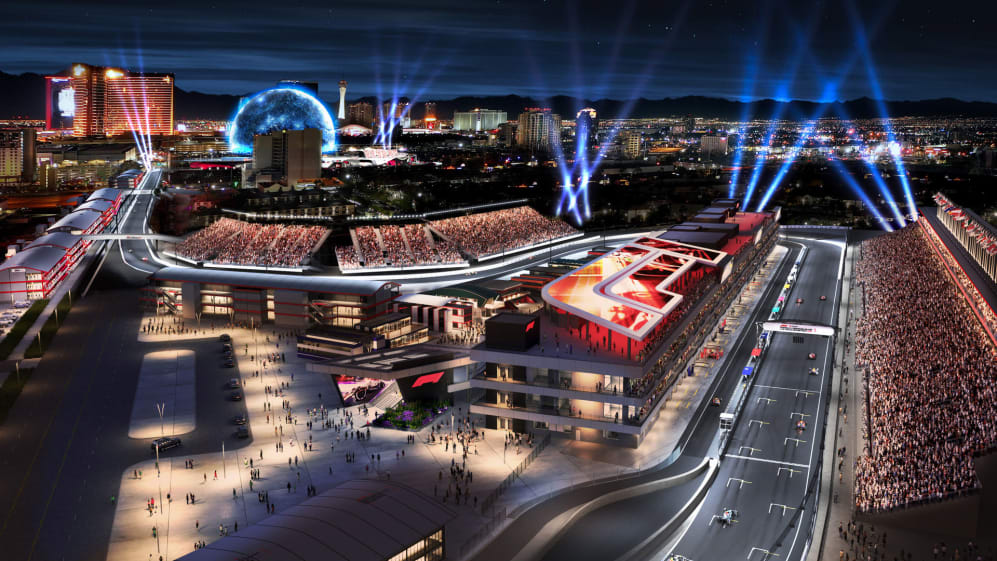 The Las Vegas Grand Prix, along with presenting partner the Las Vegas Convention and Visitors Authority (LVCVA), have announced the official line-up for the opening ceremony of the inaugural Las Vegas Grand Prix, taking place on Wednesday, November 15.
The opening ceremony will kick off the Grand Prix weekend with spectacular performances by nine legendary musical artists, and dedicated to fans, attendees, and the Las Vegas community. All 20 participating F1 drivers will be in attendance, alongside iconic names in the music industry, including Andra Day, Bishop Briggs, J Balvin, Journey, Keith Urban, Steve Aoki, Thirty Seconds to Mars, will.i.am, Tiesto, Kylie Minogue and John Legend, plus appearances by Blue Man Group and Cirque du Soleil.
READ MORE: Discover everything you need to know about the Las Vegas Grand Prix right here
The opening ceremony will begin at 1930 PT and is expected to garner an in-person crowd of nearly 30,000 attendees, who will enjoy the performances from the Wynn Grid Club, Paddock Club, Skybox or Heineken Silver Main Grandstands.
The show will kick off with an immersive display celebrating the arrival of Formula 1 in Las Vegas, followed by each artist's performance that pays tribute to Las Vegas's rich history in entertainment, and culminating with team and driver introductions. ESPN2 is set to broadcast the ceremony nationally, and it will stream on the F1 YouTube channel globally.
The inaugural Las Vegas Grand Prix be one of the biggest sporting events of the year and will further cement Las Vegas's position as the Sports and Entertainment Capital of the World. To celebrate this remarkable achievement, fans of both music and motorsport will join together at the opening ceremony to enjoy memorable performances by multi-award-winning musicians and Las Vegas staples, set against the backdrop of the world-famous Las Vegas Strip.
READ MORE: Las Vegas Grand Prix launches innovative water conservation programme
"For the first-ever FORMULA 1 HEINEKEN SILVER LAS VEGAS GRAND PRIX it was important for us to create an opening ceremony that balances the spirit of Las Vegas with the global excitement that Formula 1 and these incredible drivers bring to each host city," said Renee Wilm, Las Vegas Grand Prix, Inc. CEO. "We are proud to be able to work with the very best in the entertainment production space to offer one of the most diverse line-ups of beloved musical superstars, which will officially launch the race week festivities."
"As the Sports and Entertainment Capital of the World, it is only fitting that we kick off the inaugural Las Vegas Grand Prix with an incredible lineup of world-renowned music and athletic talent," said Steve Hill, President and CEO of the LVCVA. "We are proud to partner with Formula 1 to give the fans in the audience and viewers around the world an unforgettable start to a truly momentous weekend in Las Vegas."
Oops! Error retrieving Instagram post
For one night only, the starting grid will transform into an awe-inspiring visual spectacle, with dancers and chart-topping artists performing atop seven high-tech mobile LED stages. The show will be complemented by a state-of-the-art lighting display with 1,000 lights and 100 lasers, fireworks and a curated drone show powered by T-Mobile.
READ MORE: 'There's something about Vegas' – Hamilton predicts 'incredible' Las Vegas race in 2023
To bring this opening ceremony to life, the Las Vegas Grand Prix tapped entertainment visionary Brian Burke of Brian Burke Creative as executive producer and show creator, along with award-winning architecture firm, Stufish Entertainment Architects, and Emmy-nominated Lighting and Set Designer Tom Sutherland of DX7 Design to create and design the state-of-the-art production. The talented trio is behind 20 years of groundbreaking Las Vegas spectacles, international music tours and global television events.
The star-studded line-up spans a variety of music genres and is stacked with an impressive collection of coveted accolades, including Academy Awards, Golden Globes, GRAMMY Awards, Emmy Awards, Billboard Music Awards, and much more.
A limited number of tickets are available. To purchase tickets and view remaining options, fans can visit www.f1lasvegasgp.com or get in touch with a sales representative via email at sales@f1lasvegasgp.com.