Report
Max Verstappen defeats Mercedes duo to seal brilliant Silverstone win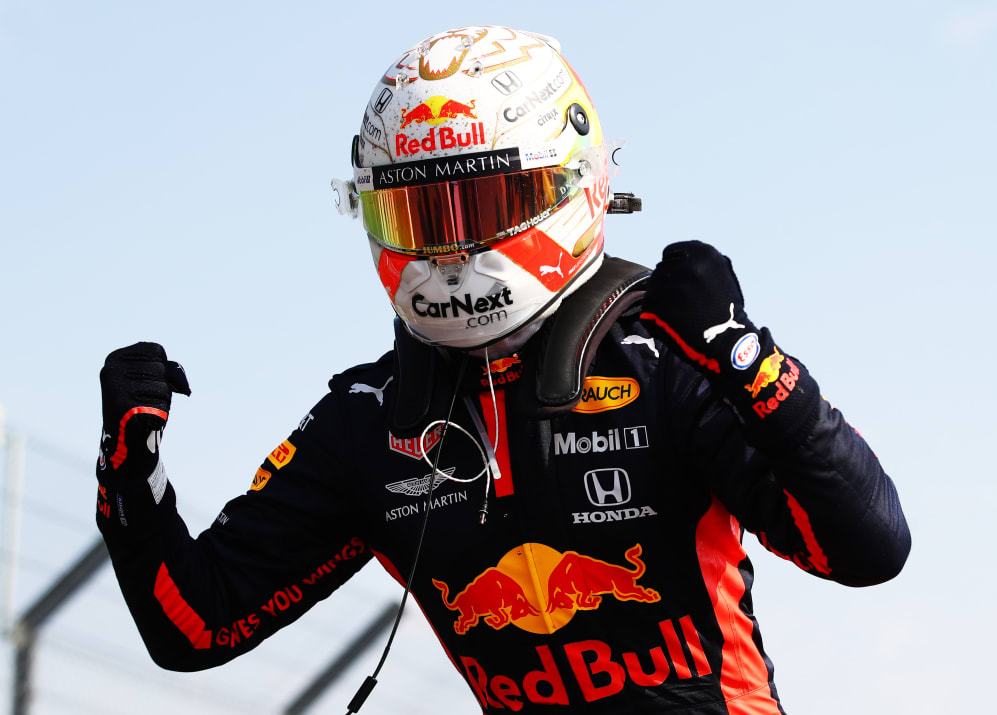 Max Verstappen has become the first non-Mercedes driver to win a race in 2020, the Red Bull racer winning out in the 70th Anniversary Grand Prix from the Mercedes pairing of Lewis Hamilton and polesitter Valtteri Bottas after an incredible display at Silverstone.
Verstappen had been the only driver in the top 10 to begin the race on the hard tyres. And after starting P4 – which became P3 by Turn 1, after he quickly passed the Racing Point of Nico Hulkenberg – he managed his pace brilliantly throughout the race, pressuring the Mercedes early on before taking the lead from Bottas with a brilliant move around Luffield, before racing to the finish for his first victory since Brazil last year – and Red Bull's first at Silverstone since 2012.
DRIVER OF THE DAY: Unexpected Verstappen victory a fan favourite
Hamilton enjoyed a late-race surge, passing his team mate with two laps to go into Brooklands to claim second place – equalling the number of podium finishes of Michael Schumacher in the process – while it was the second time in three years that Bottas has failed to convert a Silverstone pole into a win, as he came home third.
Charles Leclerc was another driver to manage his tyres well, making a one-stop work to claim a fine P4, while team mate Sebastian Vettel could only manage P12, having spun on his own at the first corner of the race.
Alex Albon took fifth for the second Red Bull, passing the Racing Point of Lance Stroll with a lap to go, Stroll ending up P6 ahead of stand-in team mate Nico Hulkenberg, who stopped late on for soft tyres.
Rounding out the top 10, Esteban Ocon was P8, ahead of the McLaren of Lando Norris and the AlphaTauri of Daniil Kvyat, who despite his lower starting position, finished one spot ahead of team mate Pierre Gasly to take his second point of the season.
EMIRATES FORMULA 1 70TH ANNIVERSARY GRAND PRIX 2020
Great Britain
2020
Race results
POSITION
TIME
POINTS

1

Max

Verstappen VER

Red Bull Racing

1:19:41.993

25

2

Lewis

Hamilton HAM

Mercedes

+11.326s

19

3

Valtteri

Bottas BOT

Mercedes

+19.231s

15

4

Charles

Leclerc LEC

Ferrari

+29.289s

12

5

Alexander

Albon ALB

Red Bull Racing

+39.146s

10

6

Lance

Stroll STR

Racing Point

+42.538s

8

7

Nico

Hulkenberg HUL

Racing Point

+55.951s

6

8

Esteban

Ocon OCO

Renault

+64.773s

4

9

Lando

Norris NOR

McLaren

+65.544s

2

10

Daniil

Kvyat KVY

AlphaTauri

+69.669s

1
AS IT HAPPENED
Polesitter Bottas was calm and assured off the line, heading Hamilton – who'd angled his Mercedes W11 aggressively towards his team mate on the grid – into Turn 1, while Verstappen was past Hulkenberg before Abbey to take P3. Further back, Sebastian Vettel ruined any advantage of starting P11 on the hard tyres by spinning on his own through Turn 1, relegating him to the back of the pack immediately.
Daniel Ricciardo had maintained his fifth position, but trying to go around the outside of Hulkenberg at The Loop, got squeezed by the German, Ricciardo's stutter on the throttle allowing Lance Stroll past for fifth. Up ahead, Hamilton had a sniff of an overtake on Bottas going into Brooklands, but Bottas held the corner, before settling into a rhythm at the head of the pack, just over a second up from Hamilton.
George Russell and Charles Leclerc were two other fallers at the start, Russell briefly dropping behind his team mate Nicholas Latifi despite starting three places ahead of him, while Leclerc dropped from P8 to P10 – with Lando Norris doing the opposite to get up to P8.
That became P7 when Pierre Gasly was one of the first to pit early doors on Lap 8, trading his mediums for hards as Alex Albon had a lap before, the two drivers the first of several to pit early on.
Verstappen had done incredibly well to keep in touch with the Mercedes in the early part of the race, much to the chagrin of his race engineer Gianpiero Lambiase, who on Lap 11 told his driver to cool his pace to preserve his tyres. "Mate, this is my only chance of getting the Mercedes, I'm not just sitting around like a grandma," came the response.
He wasn't. Verstappen had scented blood with Hamilton, and after leader Bottas pitted on Lap 14, emerging P6, the Dutchman was all over Hamilton's rear wing, Hamilton complaining that his rear tyres were "finished". The battle was called off, though, when Hamilton was brought in on Lap15, leaving Verstappen in the lead, having crucially started on the hard compound tyres.
By Lap 26, the order was Verstappen from Bottas from Hamilton, Verstappen heading the Finn by 19s – theoretically enough for a free pit stop – and making Mercedes sweat, the Dutchman lapping consistently faster than the Silver Arrows despite being on much older tyres, with Lambiase then instructing his driver to increase his pace before bringing him in on Lap 27 for mediums.
It wasn't Red Bull's finest pit stop, with the right-rear slow on, allowing Bottas to re-take the lead by a few car lengths when Verstappen emerged. It didn't last long, though, Verstappen jinking to the inside on Bottas on the run down to Brooklands, before braving it out around the outside at Luffield and claiming the lead again – before immediately gapping Bottas by a couple of seconds.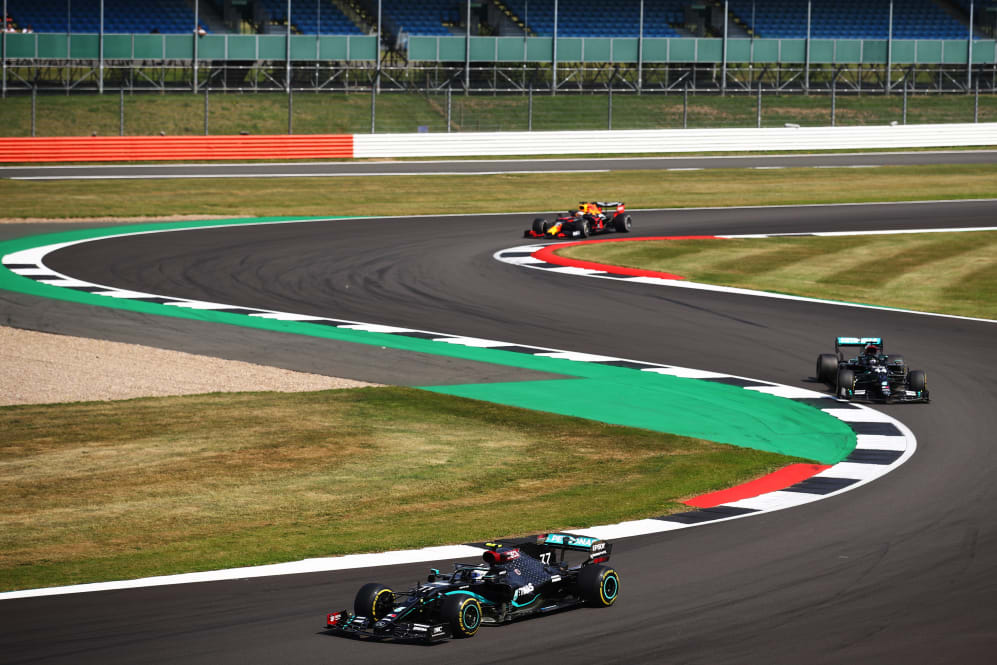 Lower down the order, Albon was in punchy form, passing Raikkonen with a scintillating move around the outside of Copse, before getting past Gasly at Brooklands and Norris, once again at Copse, before making his second pit stop on Lap 31.
Haas' Kevin Magnussen was slapped with a five-second penalty meanwhile, for re-joining the track aggressively into the path of Nicholas Latifi – while Haas would later retire the car from last place six laps from the end.
Daniel Ricciardo, who'd sniffed a podium after finishing P3 in Free Practice 2, wasn't having a good time of it, making two pit stops early on, before the Australian spun his Renault at the exit of Village and dropped to P12 on Lap 31. After his own Lap 1 spin, Vettel was not in the best of moods, either, lambasting Ferrari for his own pit stop having put him in an unfavourable gap. "We spoke about it this morning," he seethed on the radio. "You've messed up."
Verstappen and Bottas both pitted again for hards on Lap 33, Red Bull confident enough to match Mercedes stop-for-stop, meaning that with 15 laps to go, the order was Hamilton – who Mercedes had opted to keep out as long as possible despite the haggard state of his hard tyres – with Verstappen around 10 seconds behind, then Bottas, Leclerc, Hulkenberg, Stroll and Albon, the Racing Points having held on decently after struggling for race pace at the British Grand Prix a week earlier, while having pitted on Lap 18, Leclerc had managed his tyre life beautifully to be up in P4.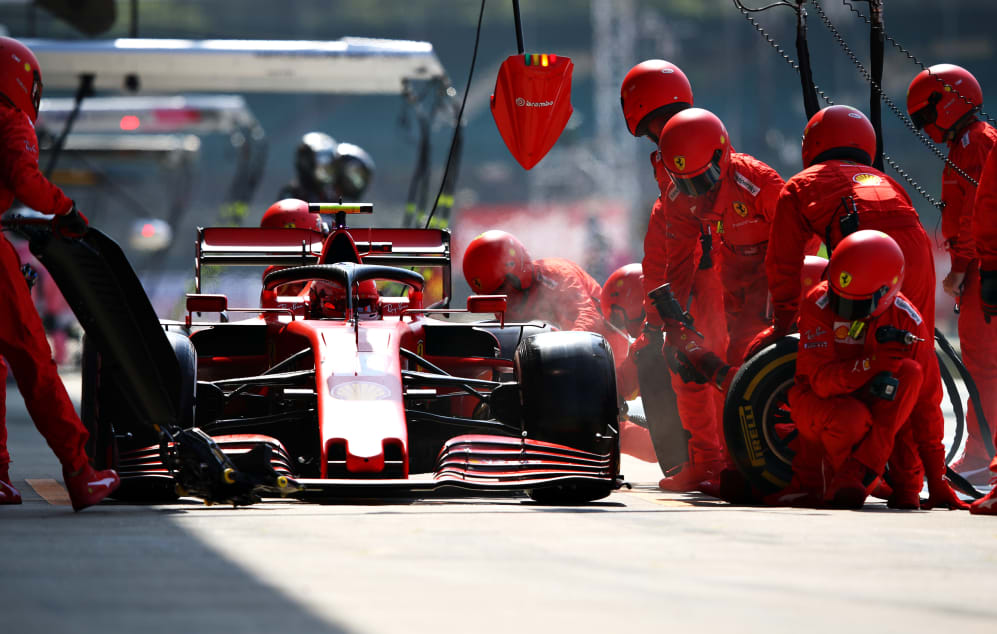 If Mercedes had thought that they might have been able to one-stop Hamilton, memories of his tyre failure from seven days earlier probably checked that course of action, with Hamilton pitted on Lap 42, 10 from the end, emerging fourth, and leaving Verstappen, Bottas and Leclerc in the top three.
Hamilton's pace was electric in the latter stages, though, as he picked off Leclerc at the end of the Hangar Straight before chasing after his team mate. He was on his tail with a handful of laps to go, and pulled off the coup de grace on Bottas on Lap 50 of 52 into Brooklands to take P2.
The Mercedes' squabbles, though, had allowed Verstappen to clear off at the front. He had enough time in hand to send a cheeky message to Lambiase on the final lap reminding him to stay hydrated – as he had done a week ago – before he delightedly weaved across the line to take his ninth career win, admitting after the race that it was a victory he "didn't see it coming".
Hamilton was able to hold on for second, after suggesting darkly on team radio during the race that Verstappen's pace might have owed something to what Red Bull had done with his tyre pressures – while Bottas found it "very frustrating" to finish third after starting first, stingingly saying afterwards that his team had been "sleeping" strategy-wise, as Hamilton appeared to receive a more optimum strategy.
Charles Leclerc finished on the podium a week ago, but seemed almost happier with P4 this time around, whooping into his radio after boldly making a one-stop strategy work in one of the drives of the day.
After starting P9, Albon once more had to fight through the pack, but did so with aplomb, picking off Stroll with a lap to go for P5, Stroll then finishing sixth ahead of Hulkenberg, with the German having pitted late on for softs.
Fourth at the British Grand Prix, Ricciardo's day was more difficult this time around as he wound up P14, but Reanult team mate Esteban Ocon's performance was better, as he ended up eighth, ahead of the McLaren of Norris and the two AlphaTauris of Daniil Kvyat and Gasly.
So there you go – Mercedes can be beaten. And perhaps it's hardly surprising that the driver to do it was Max Verstappen, whose defiance of his engineer early in the race made for such an exciting 70th Anniversary Grand Prix. Roll on Barcelona...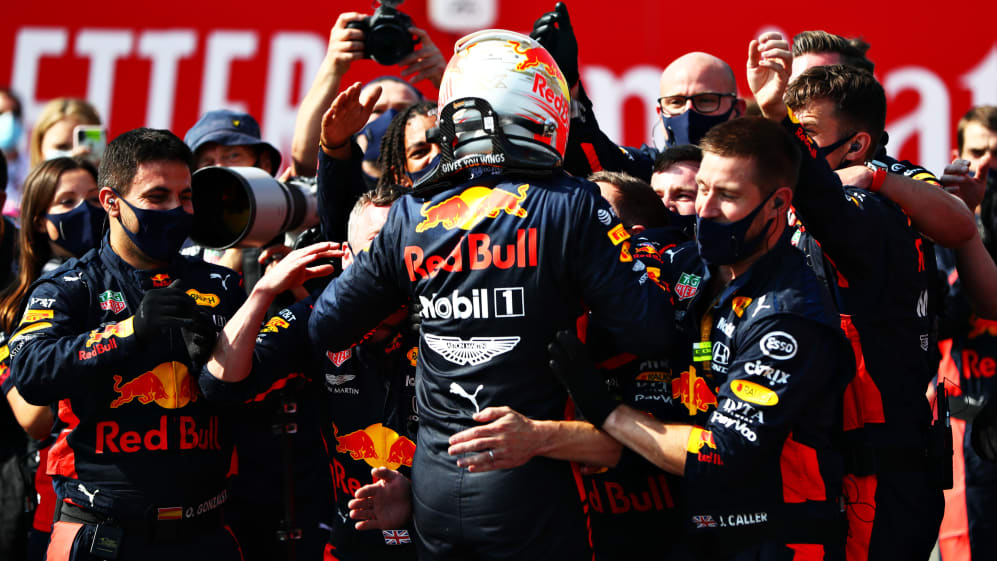 The key quote
"I didn't see it coming! But after the first stint, it seemed like we were really good on tyres. Of course then there was a question mark on how Mercedes is going to go on that hard tyre. We had a lot of pace in the car, I didn't really have a lot of tyre issues, we just kept pushing.
An incredible result to win here, we had a great day, everything worked out well, we had the right strategy, everything was running smooth and I'm incredibly happy to win" – Max Verstappen, Red Bull
What's next?
We're straight over to Barcelona for the Spanish Grand Prix on August 14-16 at the Circuit de Barcelona-Catalunya.
It's a track where Mercedes have won for the past three years – but with more hot temperatures forecast, and Verstappen in the form he's in now, could there be some additional pain in Spain to come for the Silver Arrows?