McLaren 'didn't get it together as a team' says Seidl, after Norris misses out on Sochi win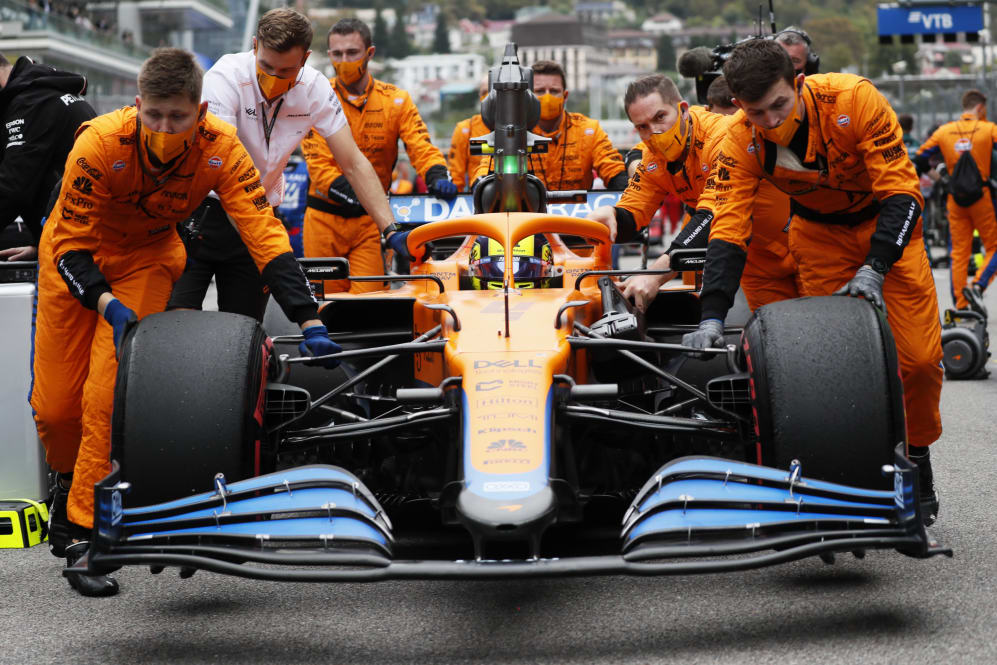 McLaren boss Andreas Seidl has insisted the entire team must take responsibility for Lando Norris's heartbreak in Russia, after the British driver went off in wet conditions having looked set to score his maiden F1 win.
After proving the hero on a damp track on Saturday, when he claimed his first F1 pole, Norris went to zero – or rather from P1 to P7 – in the wet closing stages in Sochi, after making the wrong call to stay out on slick tyres as the rain worsened in the final laps.
"Of course we are disappointed, he's very disappointed at the moment, but that's part of the sport we are in," said Seidl. "In hindsight it's always easy to judge what we could have done different, what he could have done different.
"In the end we didn't get it together as a team – it was the wrong decision to stay out – but again it's part of the sport."
After losing his lead to Ferrari's Carlos Sainz at the start, pole-sitter Norris took control of the race after the scheduled pit stops, and looked to have enough pace in hand to control the chasing Mercedes of Lewis Hamilton.
READ MORE: 'Everything was under control' – Devastated Norris convinced win was on without late rain in Sochi
Both men at first rejected calls from their teams to pit, with the initially light rain showing few signs of the downpour that was to follow. But while Hamilton then opted to follow Mercedes' advice and stopped for intermediate tyres, McLaren agreed to go with Norris's decision to stay out.
"In the end together we made this call to stay out," said Seidl. "I think on Lewis's side we heard the discussions as well – it was pretty much the same, ongoing – and on Lewis's side obviously he had the chance to wait [and see] what we are doing and do the opposite because he was in P2 at this point.
"We didn't have this opportunity. And we wanted to go for the win – this is why we decided together to stay out – it just didn't work out."
Despite the disappointment of missing out on what would have been a second successive win for McLaren, Seidl was full of praise for Norris, backing his driver to bounce back strongly and insisting the entire team would learn from their Sochi experience.
"He's long enough in this sport now that he knows this is part of the game, part of the learning as well – but not just on his side, on the team side as well, because I think there is always a chance also to overrule him from the pitwall side with the information we are having. In the end together we made this call to stay out.
"I think what he have seen again from the team together with him from his side – yesterday when he pulled off the pole and also today in the race – it's impressive what he's pulling off in only his third year of Formula 1.
READ MORE: 100-time GP winner Hamilton insists Norris has 'many wins ahead' after McLaren man is denied maiden victory in Russia
"That's why we need to, of course, analyse together with him what we could have done better today and learn from it – but then at the same time I think it's also important to see all the positives from this weekend, also on his side, and come back stronger in Turkey."
The other consolation for McLaren was that with Daniel Ricciardo finishing fourth, and with Norris taking an additional point for fastest lap, they still outscored arch-rivals Ferrari by four points and now lead the Scuderia by 17.5 points in the fight for third place in the constructors' championship.