McLaren drivers happy to put 'abnormal' Dutch GP behind them after losing P3 to Ferrari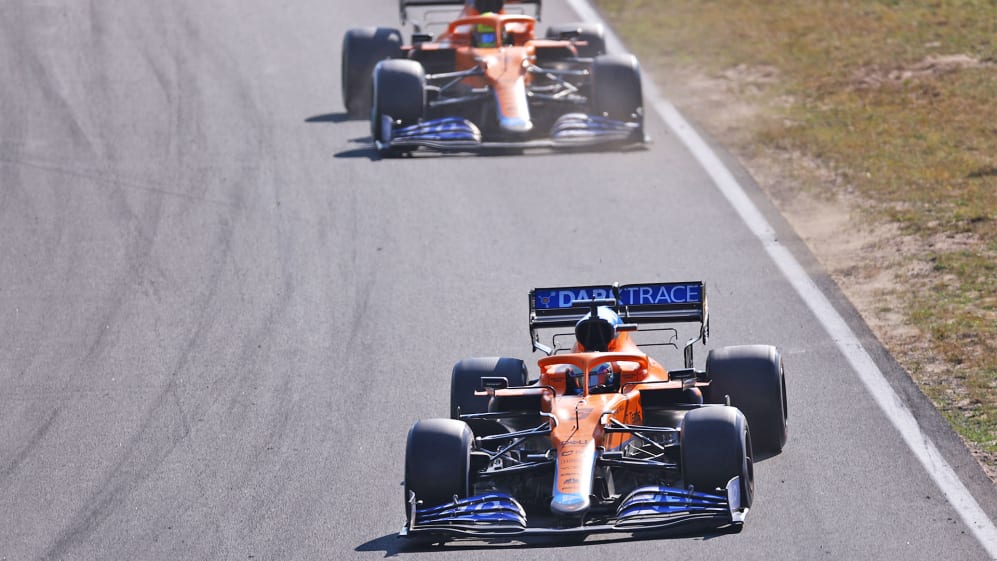 It's been rare in 2021 for McLaren to have an off weekend. But that's what they had at the Dutch Grand Prix, claiming just one point for Lando Norris' 10th place and losing third in the constructors' championship to Ferrari – with both Norris and Daniel Ricciardo admitting they were happy to move on to Monza next weekend.
Ricciardo started the Zandvoort race 10th and Norris 13th – Norris having been caught out by red flags in qualifying, as he failed to make it to Q3 for the first time this year. But although McLaren attempted some teamwork race strategy, which saw Ricciardo make way for Norris after the Briton had completed a mammoth 42-lap opening stint, Norris was only able to make it as far as P10, as Ricciardo finished one place further back in 11th.
READ MORE: Why Mercedes' two-pronged pincer movement on Verstappen failed at Zandvoort
"Ultimately, I don't think we had massive pace, so I think that was the reality," said Ricciardo afterwards. "I think at best maybe we were getting one point today. But we tried a little bit of a, I would say, teamwork strategy to help out Lando, but I don't know. I don't think we executed it very well.
"Obviously it's something we talk about it and the team have oversight on pit wall, so if they see an opportunity to maximise points for the team, you have to obviously go for it and trust their view. We'll see tonight.
"Maybe it would have been me 10th instead of Lando, but it's not like we were top seven or something today," added Ricciardo, with McLaren having slipped 11.5 points behind third-placed Ferrari after Zandvoort. "So ultimately we didn't have great pace. A bit of a shame obviously, you want to be in the fight and when you do a lot of laps and get no reward, it's obviously not that exciting."
READ MORE: Verstappen sends home fans wild with victory over Hamilton amid party atmosphere at the Dutch GP
Norris, meanwhile, admitted that McLaren's MCL35M hadn't been particularly well-suited to the demands of the Zandvoort track, with the Briton – who currently sits fourth in the drivers' standings – revealing that he'd been forced to alter his driving style just to be able to grab that 10th place finish.
"Just altogether we've struggled as a team this weekend, and how we've had to drive the car is a bit abnormal and not as liked by me," said Norris. "I kind of changed a bit how I drove, and that's why I struggled yesterday in qualifying, but then I had a different approach today and it worked a lot better.
"It's tricky – I would have loved a bit more than one point obviously, but one point is still more than nothing so I'm happy with that," added Norris, who at one point put up a robust defence against the Red Bull of Sergio Perez, who eventually finished eighth. "We had good pace in the car, and I caught the Alpines towards the end of the race. But I think you need a big advantage in pace to be able to do something here, like Sergio had on all of us.
"So it's just a change in the car and the track, it just didn't suit us as much. But everyone has that kind of weekend, so I'm hoping it's our only one and we can bounce back stronger in Monza."
READ MORE: Driver of the Day Perez felt P6 was possible before 'unnecessary' Turn 1 contact with Norris
Ricciardo, too, was looking forward to Monza, with the Australian targeting a repeat of his top-five finish from Spa at the Italian track next weekend.
"We've got a week till Monza, one of the best races of the year for sure, for actual racing as well," said Ricciardo on Sunday evening at Zandvoort. "Overtaking – hopefully it provides a bit, so looking forward to that, and today as well, as long as we've kind of learned from it, that's all we can do and try and grow and make some better moves next Sunday and try to get top five."