Feature
Why Mercedes' two-pronged pincer movement on Verstappen failed at Zandvoort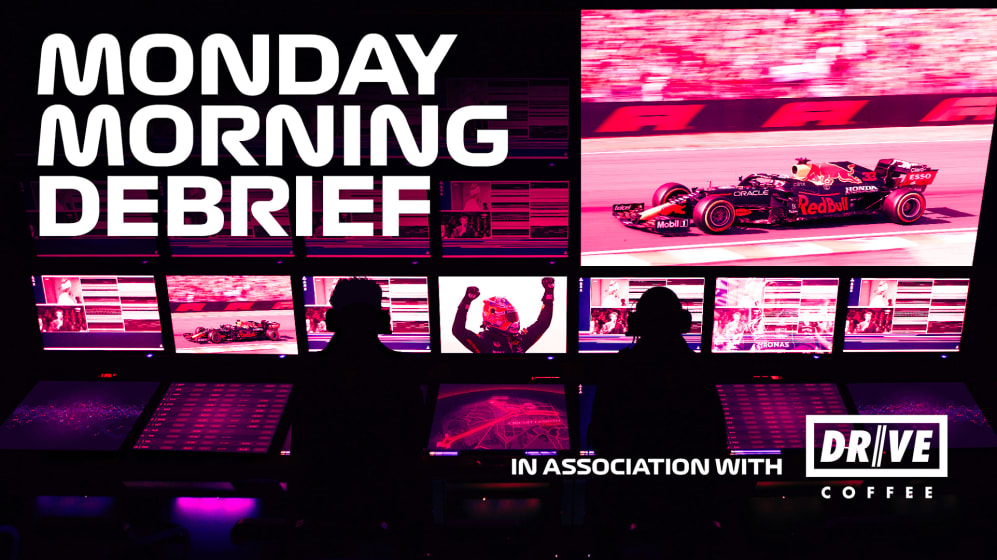 Max Verstappen gave the Dutch fans their dream result on the sport's return to Zandvoort, an event that his wildly enthusiastic home following had brought into life. But arch-rival Lewis Hamilton made him work for it even though the Mercedes was not quite as quick as the Red Bull around the sweeps and banks of this refashioned old-school track.
The strategic bones behind the contest were formed by the dynamic of the team with the slower car trying to use the advantage of a two-pronged challenge to pincer the faster car into losing track position, with Valtteri Bottas running interference for Hamilton.
It was something Red Bull was unable to counter given that Sergio Perez went out in Q1 the day before and would start the race from the pit lane after a wholesale series of changes including a new Honda power unit.
READ MORE: Verstappen sends home fans wild with victory over Hamilton amid party atmosphere at the Dutch GP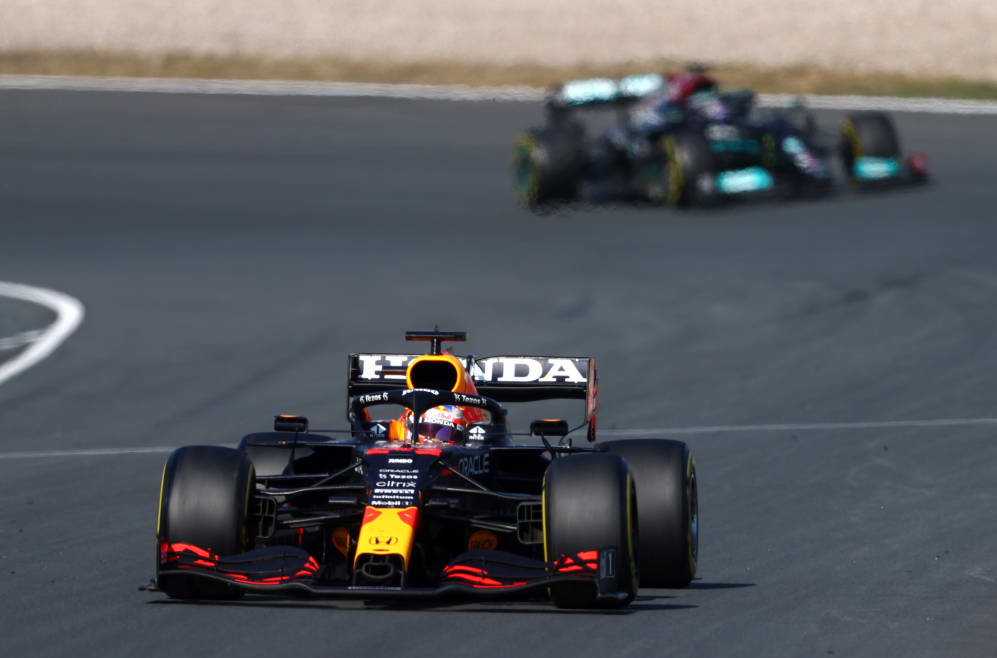 That two-against-one dynamic came at a track where the pace advantage of the Red Bull and Mercedes over the rest of the field was bigger than usual, allowing them a lot of strategic freedom as the pit stop windows quickly opened up. The trio were far enough clear of the Pierre Gasly-led chasing pack that there were few complicating traffic factors to consider.
Around a track on which no one had any previous tyre data to go on and after a lot of lost track time for everyone through various red flags during the practices, the performance superiority of the two teams here allowed them not to be locked into the usual single-stop strategies.
READ MORE: 'It's an amazing day' says Verstappen after retaking title lead with emotional home win
As Verstappen set a hot pace and Hamilton gave chase it was clear very early that their battle was being based around two stops, with Bottas' slightly more conservative pace suggesting a one-stop. Where the two strategies crossed over laid potential opportunity for Mercedes and Hamilton.
Because Pirelli had brought its hardest selection of compounds (C1, C2 and C3), even the soft had decent durability, so further opening up the range of feasible strategies. Everyone in the top 10 started on the softs but it also meant that anyone two-stopping could consider it also for a final stint of maybe 30-35 laps, implying a big possible variation in the timing of two stops within the first 40 or so laps.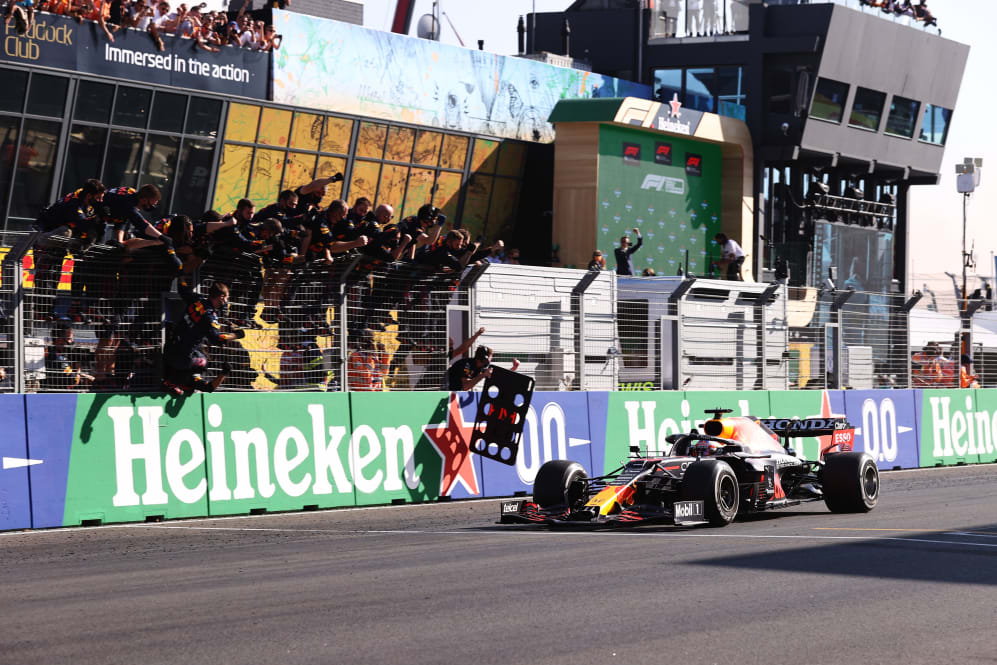 Verstappen got himself immediately out of undercut range (around 3.5s) with his searing pace in the early laps. He had a pit stop worth of time gap over the fourth-place Gasly by as early as Lap 13, with Hamilton clear a couple of laps later.
From this point on, Mercedes was free to look for opportunities to ambush Verstappen out of track position, using the fact that they were going to run Bottas long.
Verstappen was always just out of Hamilton's direct undercut range in that the Dutchman could always respond to a Hamilton pit stop a lap later and still emerge ahead, but any Hamilton stop would still force Verstappen to make that response on the next lap, earlier than he might otherwise choose. Two laps longer and he would likely lose the position.
READ MORE: Mercedes got it wrong on strategy says Hamilton – but admits Verstappen was 'on another level'
Mercedes chose to pull the plug with Hamilton on the 20th lap from 3.5s behind. Obliged to come in on the next lap, Verstappen still got out ahead, with each of them having exchanged their softs for a set of fresh mediums.
But one-stopping Bottas was now leading the race by around 10s and Mercedes had no plans on bringing him in any time soon. It was very obvious what the plan was. If Bottas could hold up Verstappen for any length of time, it would allow Hamilton to close up and possibly pass the Red Bull – or at least bring him close enough to go for an undercut attempt up to the second stops.
In this scenario it was quite possible that Hamilton could make his second stop before Bottas had made his first.
It took Verstappen just eight laps to reach Bottas. As he just failed to catch him on his first DRS run down the pit straight, it meant Verstappen was trapped behind for the rest of the lap – which was perfect for Hamilton, who regained most of what had been a 2s deficit to be close behind the Red Bull.
READ MORE: 'I was just playing around' says Bottas as he denies team friction over fastest lap attempt
Ultimately Bottas couldn't hold off Verstappen for long enough though, Verstappen's exit from the Turn 11-12 chicane so much faster that he was able to begin slipstreaming Bottas from there, all the way through Turn 13 and onto the flat-out banked final Arie Luyendyk turn. He was passing even before the DRS activation point and with Hamilton not quite close enough to get involved. Mercedes' pincer bid had failed.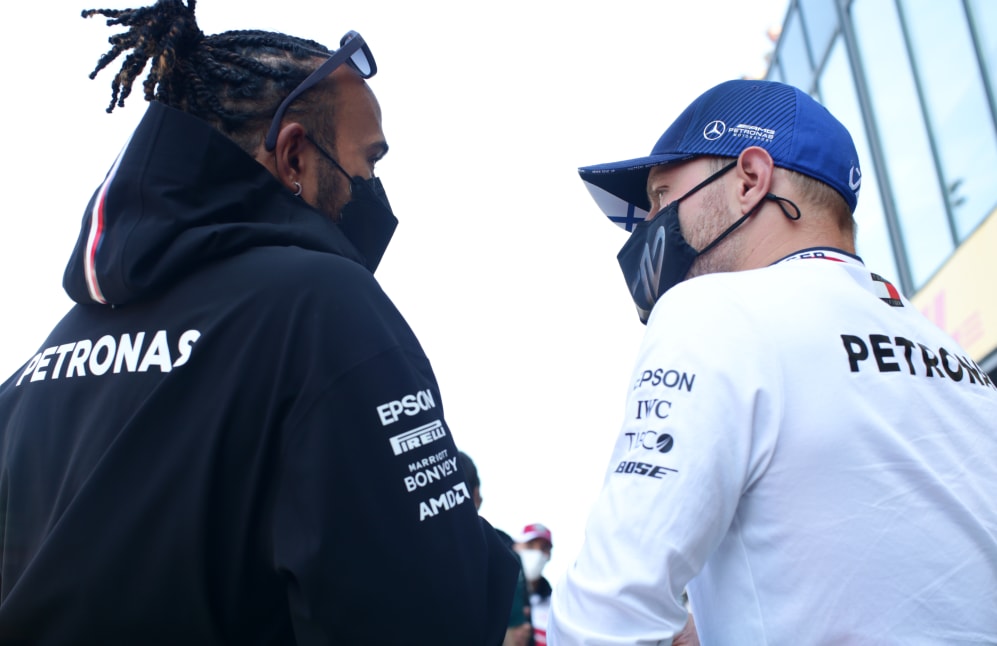 If Mercedes had brought Hamilton in just as Verstappen was chasing Bottas out of the chicane, he was close enough behind (because of Verstappen having been slowed) that Verstappen could not have stayed ahead if he'd stopped the next lap. So Hamilton would have gained track position and Verstappen would have been forced to stay out, ready to attack Hamilton on fresher tyres later.
But Mercedes reckoned it would have been too long a final stint for Hamilton to have any chance of keeping a likely soft-tyred Verstappen behind. Instead they felt there was still a possibility of staying within undercut reach with a later second stop – later but not too late.
Mercedes didn't want to stop Hamilton late enough into the race to allow Red Bull a comfortable final stint on softs. Mercedes assumed Verstappen would be fitted with the soft as they reckoned the hard would be too slow – no one had a chance of much running with it through the practices – and so wanted to make that stint uncomfortably long for Verstappen.
READ MORE: Dutch Grand Prix Facts & Stats - Verstappen takes long-held record from Moss after 17th victory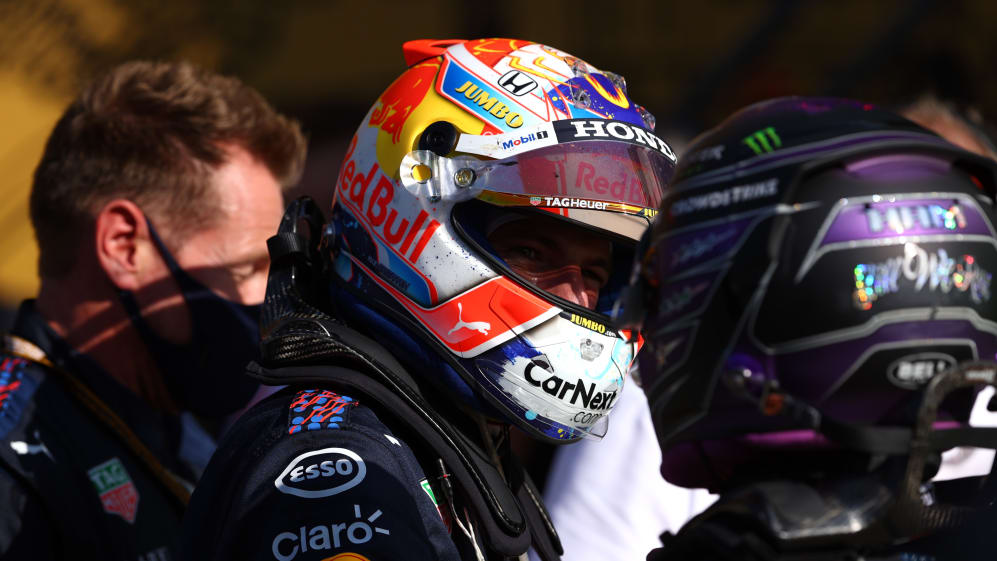 So Hamilton was brought in on Lap 39. Verstappen had just unleashed a series of very fast laps as he sought to pull himself out of undercut range, so just further ushering Mercedes to pit Hamilton. He was fitted with the only set of mediums they had left – a used set.
Verstappen duly pitted next lap and to Merc's surprise was fitted not with softs but a fresh set of hards. They were now separated by 3s, there were 32 laps to go and Hamilton was on tyres which were initially faster.
With 13 laps to go Hamilton had the gap down to 2.5s, but he felt that Verstappen was just toying with him by this stage. The hards were much faster than Mercedes had expected – or the Red Bull had pace in reserve.
RACE HIGHLIGHTS: All the action from the first Dutch GP in 36 years as Verstappen wins his home race
As Hamilton caught two backmarkers at an awkward part of the track he lost temperature in his worn tyres – and the mediums had now given their best. Verstappen just had to reel off the laps and duly did so to the orange crowd's delight. It was the perfect ending.