McLaren team honour founder Bruce McLaren 50 years on from his death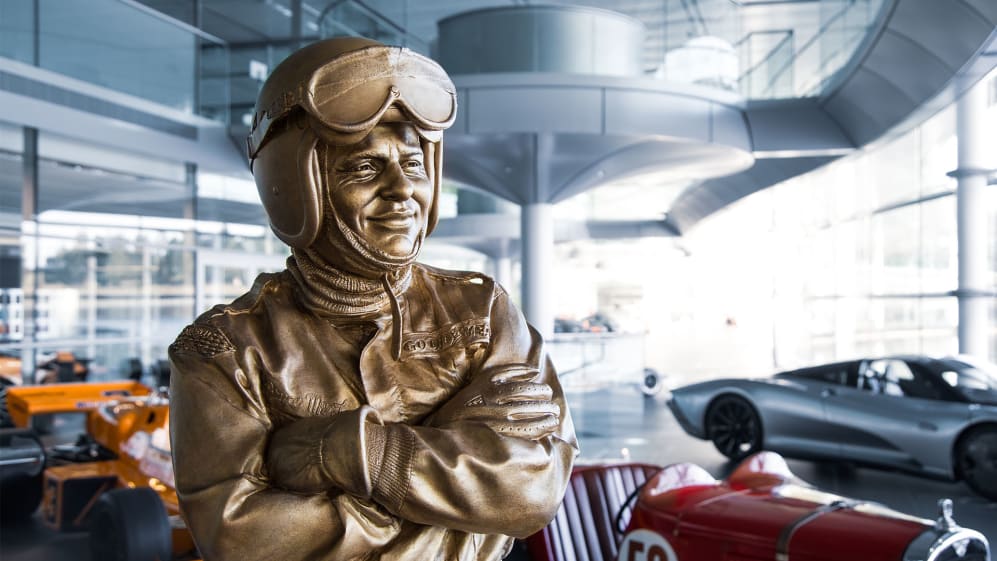 McLaren have paid tribute to their founding father Bruce McLaren, inviting his daughter Amanda to light 50 candles at their Woking headquarters as they unveiled a life-sized bronze statue of the New Zealander 50 years on from his death in 1970.
McLaren also asked fans to light their own candles at 1219 BST, marking the exact time that McLaren left the pits at the Goodwood Motor Circuit in one of his own McLaren M8D Can-Am cars. He would never return, with the car shedding its bodywork down the circuit's back straight, sending McLaren spinning off the track and into a bunker, resulting in fatal injuries. He was just 32.
READ MORE: The history of McLaren
Paying tribute to McLaren, who founded Bruce McLaren Motor Racing Ltd in 1963, just five years after arriving in Europe, McLaren Racing CEO Zak Brown said: "Today, on the 50th anniversary of Bruce McLaren's death, we remember what he created.
"Bruce was a racer, an innovator and a leader, and all of us at McLaren strive each day to follow the example he set us. Bruce stands as a hero of our sport, immortalised by this statue which is surrounded by his legacy.
"We take a moment on this important day to mourn his loss, but to also draw inspiration from his life. Bruce's spirit lives on through all the people that work at McLaren today. We race in his honour, fearlessly forward, in the pursuit of better."
Amanda McLaren added: "It is an honour to mark the 50th anniversary of the death of Bruce McLaren by unveiling this wonderfully crafted statue to commemorate his life and achievements.
"When my father died in June 1970 – just 12 years after coming to the UK from New Zealand – he had already done so much to realise his ambitions, but the best was still to come.
"June 2 is always an emotional date for us and that's particularly true this year. Having 'Dad' looking out over McLaren is incredibly moving and I know that he would have been so very proud of the achievements made in his name."
Oops! Error retrieving Twitter post
Aside from setting up McLaren, as a driver Bruce McLaren also took four Formula 1 race wins, claimed victory in the famous 1966 Le Mans with Ford, and clinched two Can-Am championships driving his own machines.
The team he formed, meanwhile, have gone on to become the second most successful in Formula 1 history, with 182 race wins, 12 drivers' championships and eight constructors' titles to their name.
Along with the tributes from his own team, McLaren was also honoured by Auckland University, who performed a haka to mark the anniversary of the death of their alumnus.