McLaren's 2019 resurgence 'amazing', says former driver Hamilton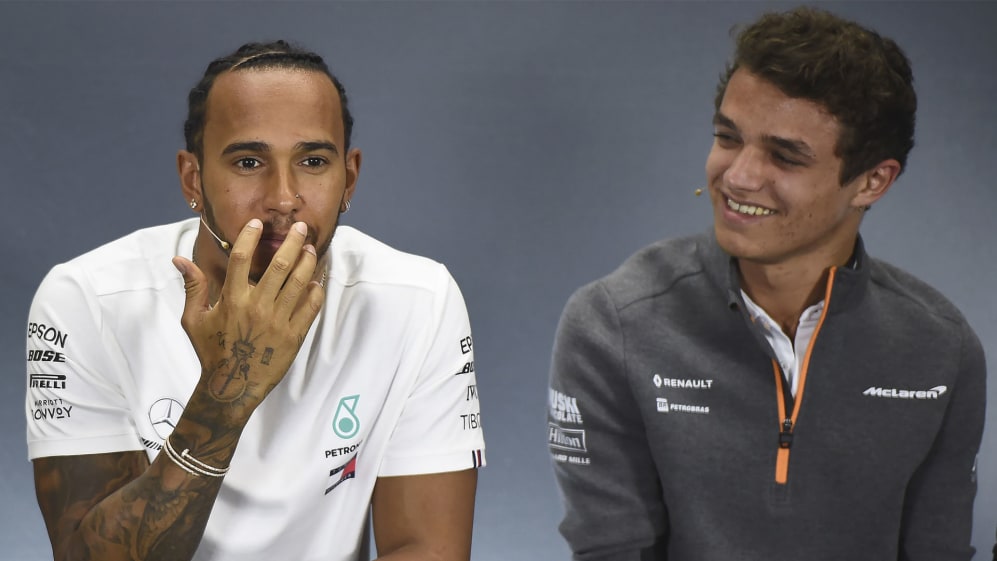 Mercedes' championship leader Lewis Hamilton has praised McLaren's impressive 2019 performance after "some really tough years", describing his former team's revival as "amazing".
Hamilton was supported by McLaren from his karting days all the way through to his sensational F1 debut with the team in 2007. After narrowly missing out on the championship that year, he claimed his first F1 title with the Woking-based squad in 2008, going on to drive four more seasons with the team until his shock announcement that he would leave to join Mercedes at the end of 2012.
Hamilton's departure coincided with a downturn in form for McLaren. But with the team currently a comfortable fourth in the constructors' championship – which would represent their best finishing position since 2012 if they could remain there – Hamilton was full of praise for his old team's resurgence.
"It's amazing to see McLaren doing so well," he said. "They've had some really tough years."
READ MORE: McLaren pace was 'quite poor' against midfield rivals, says Norris
Hamilton also made a point of complimenting McLaren's rookie sensation Lando Norris and his rapid rise to form in his debut season, with the young Brit having started the last four Grands Prix in the top eight, and currently sitting ninth in the drivers' standings, between Kimi Raikkonen and Daniel Ricciardo.
"We got to have a bit of a race [in Austria] and just watching Lando's progression is incredibly impressive," said Hamilton. "To be so young in such an early phase, he's coming in and keeping a level head and delivering on weekends, also up against [Carlos Sainz] who's got more experience than him."
I think Williams are a team that need to be up at the top with the rest of them
It wasn't just Norris who was impressing Hamilton currently, meanwhile, with Williams rookie and fellow Briton George Russell – who earned his highest F1 career finish with 14th at the British Grand Prix – also drawing praise from the five-time champion.
"Both [Lando and George] have completely different challenges, with George in a team that has struggled for some time, but he's part of helping them take steps to improve," said Hamilton. "I'm a huge fan of Frank [Williams] and that team and what they've achieved in their history... I think that's a team that needs to be up at the top with the rest of them.
Sir Frank Williams: 50 years as a Team Principal
"I'm personally excited to continue to watch these two grow and the trials and tribulations that they'll face, and I do hope that we get to do some racing together."
Until then, Hamilton has the next Grand Prix in Germany to bolster his 39-point gap to second-place driver Valtteri Bottas, while Norris sits just three points behind Alfa Romeo veteran Raikkonen.