Mercedes already working on fix for radio problem that led to Sakhir pit stop mix-up, says Shovlin
George Russell's hopes of winning the Sakhir Grand Prix fell apart in dramatic fashion on Sunday, but Mercedes trackside engineering director Andrew Shovlin says the team have already identified how their disastrous double-stack pitstop went so wrong, and are working on a solution ahead of the season finale in Abu Dhabi.
Russell was leading the race when a Safety Car was called out on Lap 61 to allow marshals to clear the front wing of Jack Aitken's Williams which was on track after he had clipped the barrier at the final corner. Mercedes pitted both cars on the following lap, but Russell ended up with team mate Valtteri Bottas's tyres - forcing him to pit again immediately to replace them - while Bottas was left on the same tyres he had entered the pits with, after a lenghthy delay while the pit crew tried to work out what had happened.
The mix-up dropped them both down into the pack. Russell, on fresh tyres was able to fight back up to second before a slow puncture left him ninth at the finish, while Bottas was slow on his old tyres and finished eighth. In this week's F1 Nation podcast, Shovlin explains the cause of the pit issues.
READ MORE: The smoking gun that cost Mercedes and Russell a win in Sakhir
"We've found this smoking gun – we just need to go through all the logs of everything to see how that was working and once we've got a complete understanding of that and filled in a few of the blanks that we're not certain of at the moment we can look at a solution for the next race in Abu Dhabi," says Shovlin.
"The key issue for us was the problem with the tyres and the pit stop, when we had that safety car, and we thought we'd bring them in; we had a gap, we could go onto the medium tyre," he explains.
"We haven't had enough time to get absolute and thorough understanding of what went on but we have found a smoking gun, and that's to do with how the radio system prioritises messages when, for instance, Ron [Meadows, sporting director] is calling out the crews and getting them to get the tyres ready for the two drivers.
"And there were a number of broadcasts at that time on the radio system… the system knows to prioritise the messages coming from Ron because the most important thing is that the tyres are there, more so than whatever a driver says or whatever someone else in the crew might say, but it looks like there is a period whereby the system is [not] deciding to let the prioritised message through.
READ MORE: Bottas 'did not shine' in Sakhir GP says Wolff, as the Finn blames poor start for tricky race
"We missed a key bit of the broadcast such that half of the tyre collectors didn't get the message and it looks like half of them did. Therefore, we've got the cars coming in and all the tyres are not ready in the pit lane… there was very little time between the Safety Car and George coming into the pits."
Before Mercedes called Russell and Bottas to pit during the Safety Car period, on Lap 62, they were leading one-two. So, with both running on hard tyres that had been changed on Laps 45 and 49, respectively, why did Mercedes pit them again?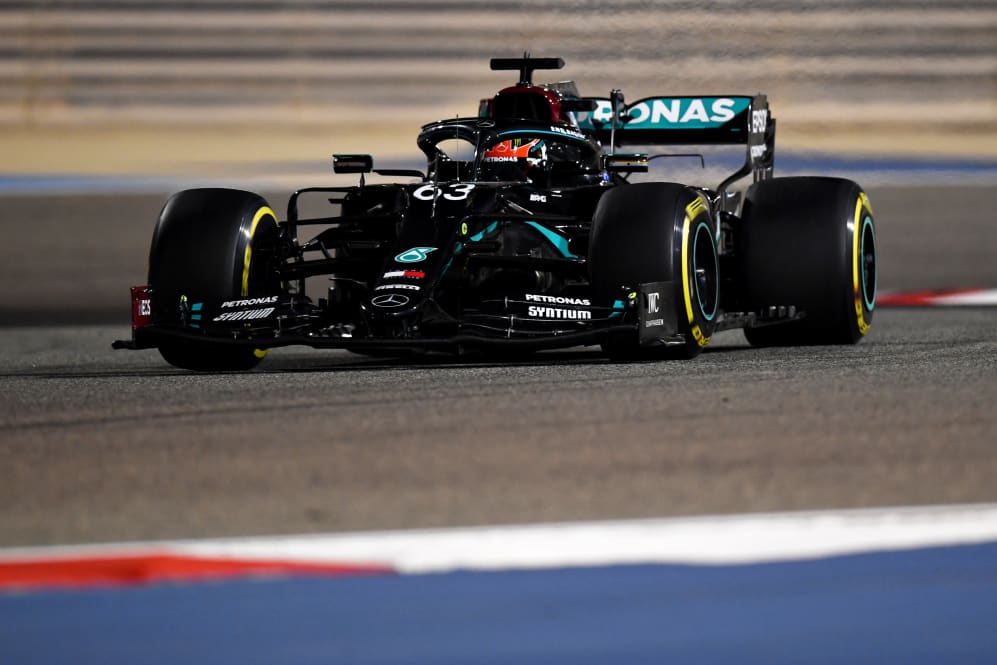 "Yeah we could have gone until the end of the race and in hindsight, if we'd stayed out, if we'd avoided the issue, that would have been brilliant," says Shovlin.
"But as a racing team, you can't be afraid of doing a pitstop and you can't be afraid of doing a pitstop under pressure, and we do hundreds of these in races under pressure, double stacked, all sorts of things, and they go well, and the ability to do them under pressure is what often wins you races…
READ MORE: Russell's proven he's world champion material – but it will be a tragedy if Perez isn't in F1 next year
"In a sense, the stop was a precaution just to make sure we had the best tyres on the grid, it would have consolidated the lead of the race if we'd been able to perform it well and we need to make sure in understanding it like any other fault you focus on root cause, not all the other sort of noise and chaos around it…
"This is something that could have caught us out in any of the last three years and it could [catch] us out in the first race next year. It's something that's been there in the system and it was awfully unfortunate for the drivers and desperately unfortunate for George that we found that today, but it could have caught us out at any point," he concludes.
Listen to the full F1 Nation podcast in the player above, on Spotify, or Apple Podcasts for Shovlin's full take on Mercedes' Sakhir Grand Prix drama.