Bottas 'did not shine' in Sakhir GP says Wolff, as the Finn blames poor start for tricky race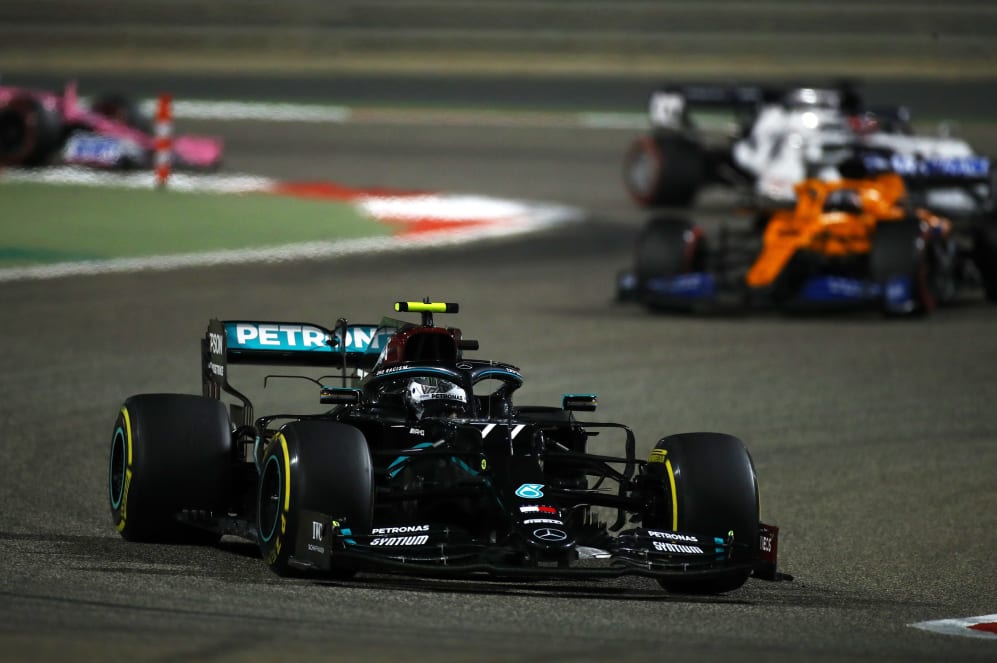 After narrowly taking pole position from his stand-in team mate George Russell on Saturday, it was largely expected that Valtteri Bottas' experience and comfort in the Mercedes W11 would help him seal a win in the Sakhir Grand Prix. But after Bottas came home eighth after a disastrous evening for Mercedes, and having been largely outperformed in the race by Russell, his Team Principal Toto Wolff admitted that he'd been left less than impressed by the Finn's showing in Bahrain.
Pole-sitter Bottas was beaten off the line by Lewis Hamilton stand-in Russell, and was then unable to make in-roads into Russell's lead in the first half of the race – while when the pair made their first pit stops, Bottas on Lap 45 and Russell on Lap 49, Russell's pace was such that he was able to stretch his lead over his team mate from three to eight seconds by the time Bottas rejoined the race.
READ MORE: Sergio Perez takes sensational maiden win in Sakhir GP as tyre issues ruin Russell's charge
Mercedes' Grand Prix then unravelled when Russell and Bottas were double-stacked in the pits under the Safety Car on Lap 62 of 87, Russell getting fitted with Bottas' tyres, meaning he had to pit again the following lap to change them, while Bottas was left on his 13-lap-old hard tyres after a 27s pit stop – with Bottas then unable to get them back to temperature at the Safety Car restart, meaning he fell from fifth to eighth at the flag, getting passed on track by Russell for good measure.
But it was telling that Racing Point driver Sergio Perez was then able to win the race on hard tyres that were actually two laps older than Bottas', a fact that the Finn's race engineer Riccardo Musconi pointedly made after the race, adding: "Sorry for the mix-up, but I think we need to be a lot better than this."
And that seemed to be a sentiment echoed by Wolff's Mercedes Team Principal Toto Wolff, who told Sky Germany after the race: "I need to talk with [Valtteri] and his crew – but yeah, he did not shine today."
READ MORE: 'A star is born' says Wolff, as he reveals cause of 'colossal **** up' that robbed Russell of victory on Mercedes debut
For Bottas' part, the Finn blamed both his poor race start and his inability to switch the hard tyres back on after the Safety Car for his lacklustre race – though he felt that, without the Safety Car, he would have been in a position to challenge Russell for victory in the late stages of the race.
"I think the race start was the first [problem]," said Bottas. "I had some wheelspin I guess, like last week. Then I think everything was going okay. On the beginning of the second stint I was planning to close the gap to George so was expecting a big battle, but during the Safety Car we stopped because we had the margin to do so… Without the Safety Car, I think George and I would have ended up having a nice battle towards the end.
"Normally as a team, we are bulletproof, we don't do mistakes," added Bottas. "But now we did, and it's something we need to review and I'm sure we will learn from that. But obviously that destroyed the race because I left the pit stop with the same old hard tyre set that I came in with and I just couldn't get them to restart under the Safety Car, and I had cars coming both sides passing me."
READ MORE: Russell expresses disbelief that maiden win was 'taken away from us twice' after Mercedes pit drama in Sakhir
Russell's impressive performance – with the Briton climbing back through the field to P2 after his pit stop issues only to suffer a left-rear puncture thought to have been caused by running over debris, and which left him P9 at the flag – will doubtless add pressure to Bottas regarding his prospects of retaining his Mercedes seat beyond the end of 2021.
But the Finn graciously praised the job done by Russell, saying that it had been "a good performance obviously. It was always hard to know what to expect, but he had a strong race and he had a chance to win it without the bad luck. Good job by him."