Mercedes elated after Bottas recovers from qualifying crash to podium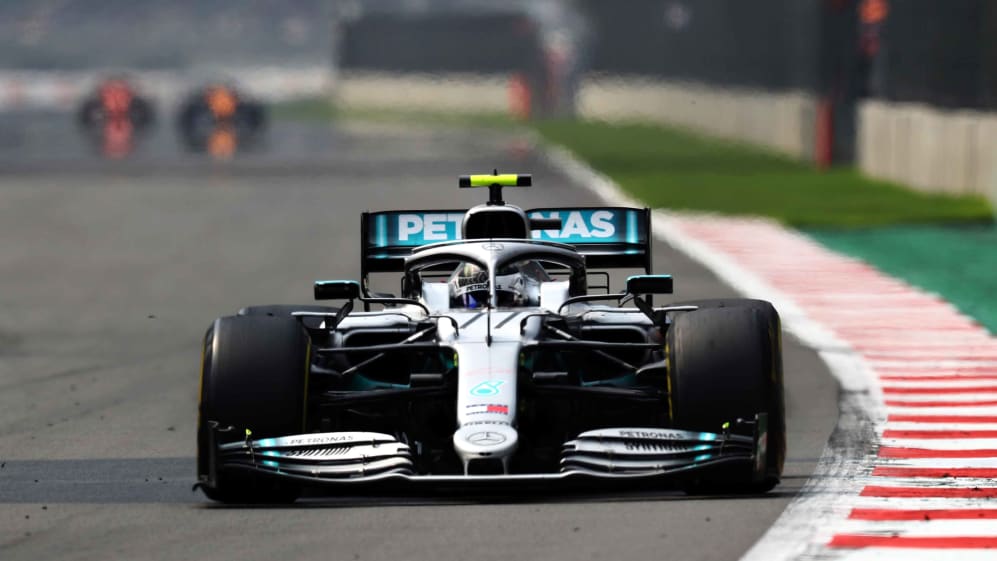 Mercedes boss Toto Wolff said that Valtteri Bottas's car was "in 1000 pieces" on Saturday evening in Mexico – which is why both of them were delighted by Bottas' eventual P3 finish.
A huge crash at the end of qualifying left Bottas's hopes of a Mexico GP win – and his car – in tatters, and he lost another place by the end of the race's opening lap after being jumped by the McLarens. But the Finn made it up from P7 to P3 by the flag, jumping two-stoppers Charles Leclerc and Alex Albon, as well as Verstappen, with whom he tangled on lap 4.
READ MORE: Hamilton closes in on title with supreme Mexico victory
"Monumental effort, that car was in 1000 pieces and I'm always surprised that something that looks like 1000 Lego pieces on the floor can actually race the next day," said Team Principal Toto Wolff after the race as he praised not only Bottas' mechanics, but the Finn's growth as a driver.
"Yeah, I'm really happy to see how confident and well he races. He's pushing Lewis hard and they're really benefiting from each other, they look at each others' data – the two have grown and the team has grown and this is exactly the kind of best case you can have between two drivers."
Bottas himself called it the "maximum" he could've achieved, given the crash, and the start that left him behind both McLarens as a Virtual Safety Car was deployed on lap one.
"Yeah, I think considering what happened yesterday it was a good day and I think it was a good race from my side personally. Where I started, with a bad start, still could recover into third – obviously with an ideal strategy from the team – but the pace was good on both stints and we could manage the tyre well."
READ MORE: Leclerc blames lack of 'decisiveness' for drop from pole to P4
Just 1.787s behind Ferrari's runner-up Sebastian Vettel at the chequered flag, Bottas declared that he couldn't make it a Mercedes one-two on a day where Mercedes were far from favourites.
"I was really trying everything I could but couldn't get close enough [to Vettel]… I think third was the maximum for me from where I started," he concluded.
Seventy-four points behind team mate Lewis Hamilton, Bottas is just about still in the hunt for the Formula 1 drivers' championship, a massive constrast to this time last year when he sat fourth in the championship after the Mexican Grand Prix – behind both Ferrari drivers and just ahead of Red Bull's Max Verstappen.
The improvement in Bottas's racecraft hasn't been lost on him, either.
He said: "I'm Definitely a lot better than the same time last year, feeling like I have the pace and confidence and a happy feeling in the car. Just need to continue and look forward to next weekend."
His first podium finish from outside third on the grid since 2017 sets Bottas up perfectly for the United States Grand Prix – where Bottas hasn't finished better than fifth in his six visits to the Circuit of the Americas.