Mercedes explain how they engineered Hamilton's Hungary win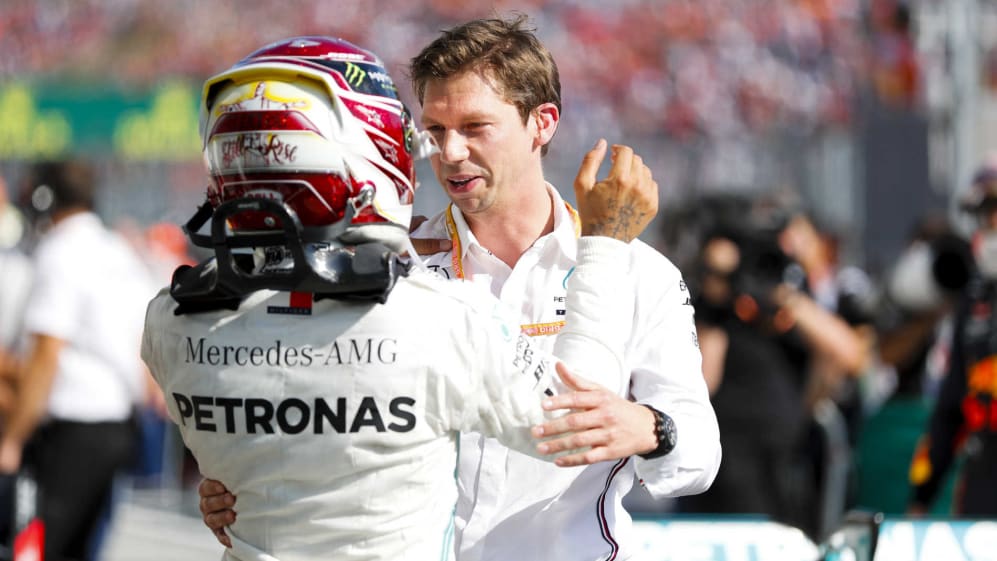 Mercedes demonstrated a strategic masterclass at the Hungarian Grand Prix to deny Max Verstappen a first career win from pole position. And who better to explain it than James Vowles? Mercedes' Chief Strategist explains how Hamilton secured victory in Hungary, and reveals the one mistake he made that Sunday.
With Verstappen starting from pole and controlling the race ahead of Hamilton, on a circuit known to be difficult for overtaking, Mercedes needed to take a calculated risk if they were going to win the race. On certain circuits, an undercut proves to be the answer: pitting before the car ahead for new tyres, emerging in clean air and setting a fast lap in order to overtake your rival while they're pitting. But on the Hungaroring, Vowles explains why they didn't choose that option.
"On the first stint of the race it was clear that in order to beat Verstappen we were either going to have to undercut him, or do an overcut and try and create a tyre offset," said Vowles on Mercedes' YouTube channel. "Obviously, we went for the latter of the two but we very much considered the undercut. The problem is we had two Ferraris in the pit window – both [Sebastian] Vettel and [Charles] Leclerc [behind us] for many laps.
READ MORE: Hamilton's father inspired Hungarian GP pace, says Wolff
"Eventually, Vettel moved out and it was only Leclerc in the window, and that was the decision point we had to make: do we want to stop and try an undercut?
"There were two problems. The first is the hard [tyre] has a small warm-up scope. It wasn't quite ready for the first few corners when you went out, so it's difficult to immediately be on the pace of Verstappen who would have stayed out, the second is: you would have to overtake a very fast Ferrari immediately on exit.
"And the reality is, when you are only a second and a half behind a car like Verstappen's, you are not going to make up all that time on an out-lap. So, we decided to stay long. Verstappen stopped on the first opportunity he could where he had a free air gap, that was the right thing for them to do, and that then led us to go long and offset."
They took the morsels of data from Friday, the little running that we had, and constructed models as to how our tyres and Verstappen's tyres would perform during the race. And they were spot on.
The job was made even more difficult as Mercedes had limited tyre data to work with, Friday's practice sessions affected by rain.
"No-one had long run the hard tyre, run it with fuel to understand how the wear, the degradation and how it would progress in the race. And that creates a lot of unknowns," he said. "Everyone went into the race, ourselves included, with the intention of one-stopping. It is incredibly difficult to overtake in Budapest, and the tyres should make it based on our forecasts of [tyre] life.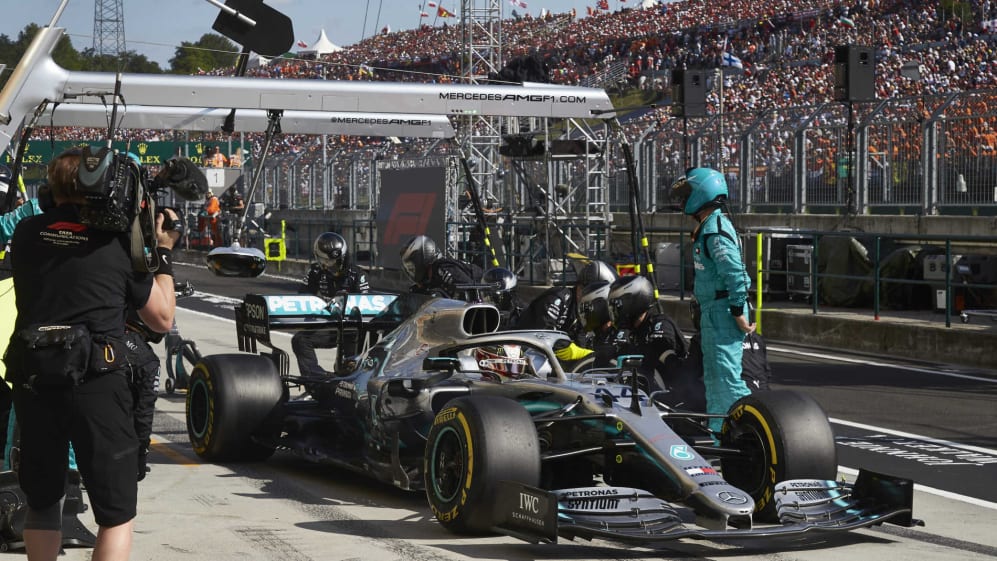 "As we went in it was clear there was no undercut opportunity, our next plan was to offset ourselves on tyres relative to Verstappen."
An offset strategy is one that puts the driver behind in a favourable position by giving him an advantage, in this case being a new set of medium tyres, to catch up to the driver ahead.
As Vowles said, that would "force [Verstappen] into a situation where he is using his hard tyre resource as much as possible, and maybe push him off the end of the [tyre wear] curve.
"We have a team behind the scenes that are working tirelessly. They took the morsels of data from Friday, the little running that we had, and constructed models as to how our tyres and Verstappen's tyres would perform during the race. And they were spot on.
"It is those models that enable us to understand that two-stop would very much lead to a fantastic situation at the end of the race, and that Verstappen's tyres should drop off the curve if we can pressure him enough.
RACE HIGHLIGHTS: 2019 Hungarian Grand Prix
"Once we had committed and pitted Lewis, it was clear that there was this huge mountain to climb. We had 20 seconds of race time that we had to make up, and then we had to overtake Verstappen at the end of the race. Lewis, rightly so, had concerns about that but every lap he delivered a lap time we needed in order to do that.
"It caused Verstappen to have to respond, and fight hard and use the tyre he had available to him to pull that gap further, but it was with no avail, ultimately. He fell off the tyre curve, as the team predicted, and we ended up with the win."
As a result, Mercedes pitted Hamilton for medium tyres on lap 48, giving him 22 laps to chase down Verstappen and overtake him. He executed the startegy perfectly. With the lead lost, Verstappen pitted late on for soft tyres to salvage the bonus point for Fastest Lap. Why did ercedes choose the medium rather than the faster soft compound?
"We had seen from Friday's work the soft wasn't as resilient, it had more degradation," said Vowles. "And that was in cooler temperatures than we were experiencing in the race.
"More so though, we need a tyre that is extremely strong right at the end of the stint, once you have caught up to the back of Verstappen, and the medium became the obvious choice."
Called up onto the podium to celebrate the victory with Hamilton, Vowles ended up dropping the Champagne, and full responsibility went to Hamilton for that.
"When you are up there, what you learn very quickly is Lewis has been there far more than you have," he said. "And he knows what to do. And from four seconds, because I counted it, before he should have really picked up the Champagne bottle, he had picked it up, shook it, and he had sprayed it in my eyes.
"You are now blind, you can't see anything at all. What's more, it's now dripping on the ground, I'm fumbling all over the place, and I appreciate I embarrassed myself," he said.
So there it was, the only mistake that Vowles made during the Hungarian Grand Prix.