Mercedes host first STEM Academy talk in new schools partnership led by Hamilton and Wolff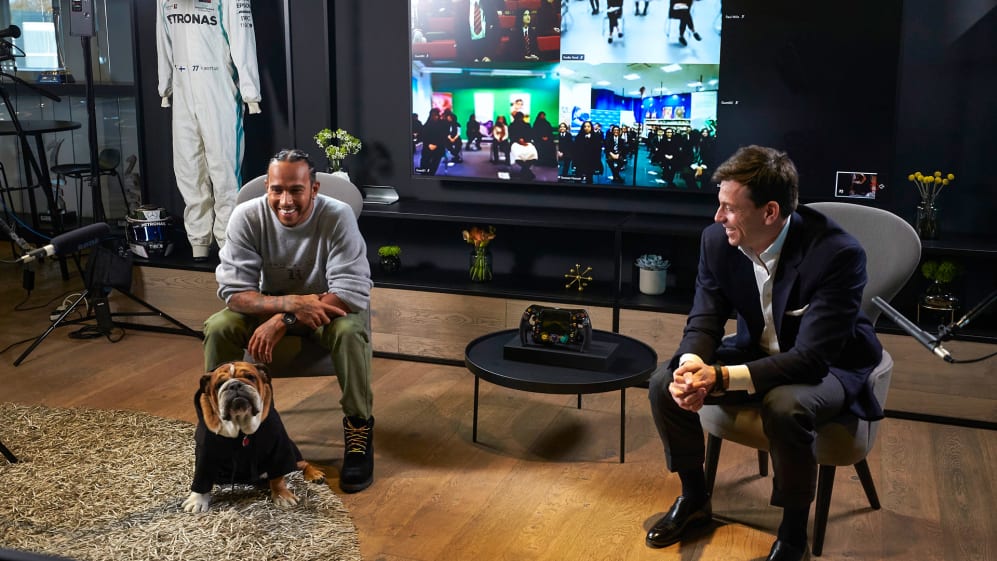 Mercedes Technical Director James Allison helped host the team's first event aimed at encouraging students from more diverse backgrounds into science and engineering careers on Saturday, as part of a partnership launched by Lewis Hamilton and Team Principal Toto Wolff.
The Mulberry STEM Academy was launched last November, and is a partnership between Mercedes F1 team and the Mulberry Schools Trust which provides a specialised programme for young people who have talent, passion and aptitude in STEM (Science, Technology, Engineering, Maths) subjects, providing them with extracurricular learning and inspirational experiences through vocational training, study and masterclasses.
More than 100 students at three London schools – the Mulberry Academy, Mulberry School for Girls and Mulberry UTC – applied for the scheme, with 40 successful. Most of the students at the Mulberry Schools Trust are from Black, Asian and minority ethnic backgrounds, which are under-represented in STEM careers. The STEM Academy aims to change that.
READ MORE: Hamilton vows to 'keep pushing' in fight for equality in 2021
And on Saturday, Allison and Mercedes' chief people officer Paul Mills spoke spoke to the 40 students, along with some of the team's existing graduates, who answered questions regarding career and education paths and shared their experiences working for the seven-time F1 champions.
Allison said: "I was honoured to be asked to take part in the first Mulberry STEM Academy event this weekend. Having heard from Toto and Lewis about the eagerness and inquisitive nature of the Mulberry students at the November launch, I was very interested to meet the group for myself and find out what has inspired them to dedicate their Saturdays and holidays to further study.
"I was not disappointed; the commitment and enthusiasm shown and the insightful questions asked, were inspirational. I have little doubt that all of the students we met on Saturday have bright futures ahead of them, but I hope that today's presentation will have offered them further encouragement to go on to study STEM subjects at university.
"I look forward to seeing how the STEM Academy programme develops over the next few months and the progress that the students make as they work alongside and within our team."
Dr Vanessa Ogden, CEO of the Mulberry Schools Trust and Headteacher of Mulberry School for Girls, said: "I am delighted with the success of our first event with Mercedes-Benz Grand Prix. Our Mulberry STEM Academy scholars were thrilled to meet the employee graduates, who were all highly aspirational.
WATCH: From F1 in Schools to McLaren
"Imaginations were sparked and ambitions raised, as our students listened to the different educational routes that can lead to a flourishing career in STEM. Our young people deserve the best and we know that exposure to high quality, stimulating events like this will propel them more quickly into exciting futures and desired destinations. We look forward to seeing our students grow in confidence as they progress through the programme over the coming months."
As of 2018, just 9% of STEM employees in the UK were from a BAME background, just 12% were women, and 24 were from low socio-economic backgrounds. The Silver Arrows aim to improve diversity and inclusion in engineering and motorsport with the 'Accelerate 25' scheme that aims to have 25% of new starters coming from under-represented groups for the next five years.