Hamilton vows to 'keep pushing' in fight for equality in 2021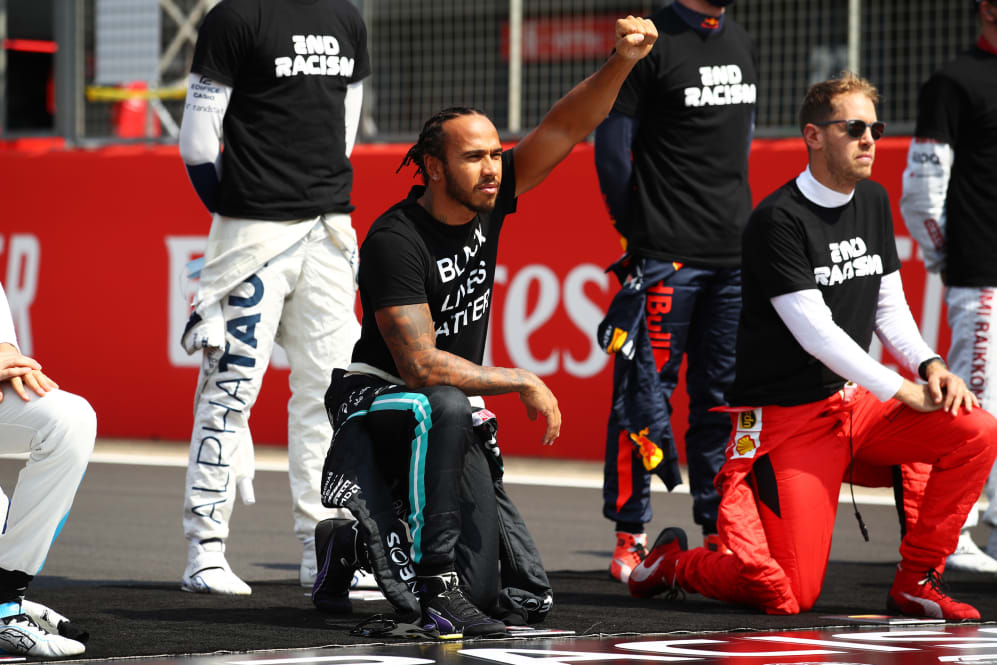 Last year saw Lewis Hamilton emerge as an important figurehead in the Black Lives Matter movement, and speaking ahead of the start of the new season, the seven-time champion took to social media to insist that he would "keep pushing" to improve diversity in the sport in 2021 and beyond.
Hamilton was vocal in 2020 in his calls to create a more inclusive motorsport landscape, leading to him setting up the Hamilton Commission with the stated aim of making the sport "as diverse as the complex and multicultural world we live in" – while a key part of Hamilton's new one-year deal with Mercedes for 2021 was based on the establishment of a charitable foundation with the mission of "supporting greater diversity and inclusion in all its forms in motorsport".
READ MORE: Hamilton and Mercedes nominated for Laureus World Sports Awards
And writing on Twitter ahead of the launch of Mercedes' new W12 challenger on March 2, Hamilton said he would keep pushing "as long as I have air in my lungs" to make motorsport more diverse.
"Last year some of us took a knee in support of equality which I am proud of," Hamilton wrote. "My question is, what's next? The inequities within our sport and within our world persist. Change is still needed. We must keep pushing to hold ourselves and others accountable. We have to keep striving for equality for all, in order to continue to see true and lasting change in our world.
Oops! Error retrieving Twitter post
"As long as I have air in my lungs," he added, "I will continue to fight for change in everything I do. I will work to create pathways and opportunities for kids of colour, within sciences, engineering and creative disciplines. Let's keep pushing."
Meanwhile, speaking about Hamilton's outspoken stance on diversity at the time of his new contract announcement, Mercedes' Non-Executive Chairman Markus Schafer said that Hamilton was "a warm-hearted personality who cares deeply about the world around him and wants to make an impact.
ANALYSIS: Why Hamilton's new Mercedes deal is only for one year – and what it means for 2022
"As a company," Schafer continued, "Mercedes-Benz shares this sense of responsibility and is proud to commit to a new, joint foundation to improve diversity in motorsport. Opening the sport to under-represented groups will be important for its development in the future and we're determined to make a positive impact."
Oops! Error retrieving Twitter post
In recent days, Mercedes have posted a picture of a black-filled paint gun being made up at their factory, suggesting that the W12 will once again be painted in that colour – as its W11 predecessor was in the wake of the death of George Floyd and the subsequent advent of the Black Lives Matter movement – with Hamilton due on track in the car for pre-season testing at the Bahrain International Circuit on March 12-14, ahead of a 2021 season that could see him crowned as F1's first ever eight-time champion.
Earlier in February, Formula 1 outlined three new areas of focus for the #WeRaceAsOne campaign which was launched last year, with diversity and inclusion at the heart of the initiative.
Stefano Domenicali, President and CEO, Formula 1, said: "Our WeRaceAsOne platform was very effective at raising the awareness of socially important issues and our steadfast commitment to make a positive change. We are very proud of it and the teams have embraced it fully.
"We know we must continue to move forward on these issues and the whole sport is united in doing this in the months and years ahead."