Mercedes 'not in the fight' with Ferrari and Red Bull says Hamilton, after worst Bahrain quali since 2009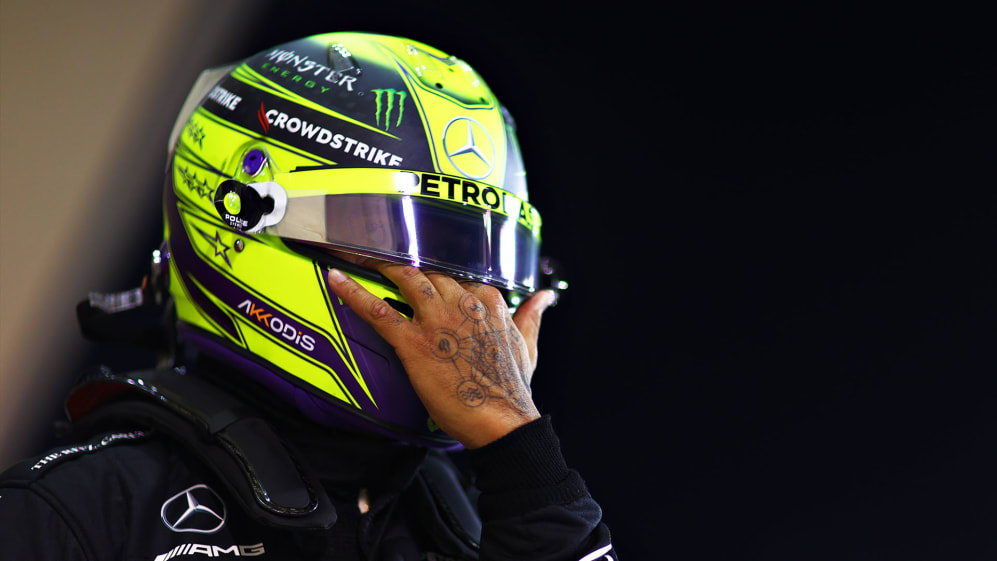 Were Mercedes sandbagging through winter testing? We got our answer in qualifying for the Bahrain Grand Prix, with the eight-time constructors' champions taking P5 and P9 on the grid for Sunday's race – with fifth-placed Lewis Hamilton saying Ferrari and Red Bull were in "another league" to the Silver Arrows.
Mercedes have been open about their issues throughout pre-season running, with their W13 seen to be suffering from 'porpoising' – while the drivers have complained of struggling to extract the maximum performance from the car.
READ MORE: Leclerc takes stunning Bahrain pole for Ferrari ahead of Verstappen and Sainz
And although some expected the team to come good in qualifying, Hamilton's P5 was the best Mercedes could manage in Q3, 0.680s off Charles Leclerc's pole time – marking Hamilton's worst qualifying performance here since 2009.
Despite that, the seven-time champ admitted after Q3 that he was actually relatively satisfied, considering Mercedes' struggles so far in 2022.
"I'm not saying I'm relieved [but] I'm generally really happy today," said Hamilton, "given where we've been the last few weeks, the struggles that we've had, the problems that we've had with the car; it's been a bit of a nightmare to drive.
FACTS AND STATS: Haas make first Q3 appearance since 2019, as Leclerc claims second Bahrain pole
"But we've just kept our heads down, kept working. I'm proud of everyone for just staying positive. And to get fifth in quali – those guys ahead of us are just in another league, so I'm generally happy with where we are. It's not the front row but we'll make improvements and do the best we can tomorrow."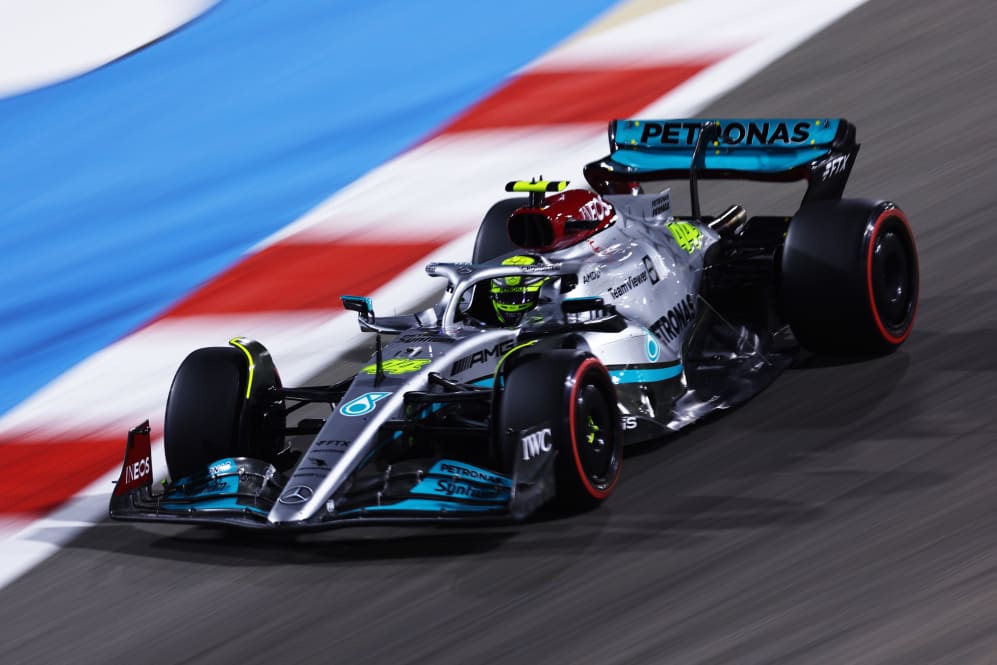 Asked where his fight would be in Sunday's race – with both Red Bulls and Ferraris ahead of him on the grid, his title rival from 2021 Max Verstappen in P2, ahead of Carlos Sainz and Sergio Perez – Hamilton joked: "Those guys will be going away! We're not in the fight with those [guys].
"They were a second ahead of us yesterday through race pace, so my battles are with the guys behind, most likely, but of course, I'll try to be as fast as I can and get ahead. But as I said, their performance is quite ahead of ours."
READ MORE: 'I knew it was a matter of time' says Leclerc after opening 2022 with pole position
Hamilton will start Sunday's race alongside his former Mercedes team mate Valtteri Bottas – but his current team mate George Russell could do no better than P9, after an experimental final out-lap went awry for the Briton.
"I think the third row was a minimum," said Russell. "But we're not here to accept the third row, and I had one shot and I wanted to try something different, I wanted to try a much harder out-lap to see if that changed the feeling of the car to give us a shot to fight for the second row or the front row.
"But clearly it didn't and it was totally the opposite," added Russell. "Obviously I'm disappointed with myself to have made that error and obviously lining up ninth is far from my expectations, but that's how the game goes and the race is tomorrow."
HIGHLIGHTS: Catch the action from qualifying for the 2022 Bahrain Grand Prix
Team boss Toto Wolff said that Mercedes had to be "realistic" about their current performance levels, adding: "[We are] the third quickest team on the grid. Lewis has put the car there and for George it was probably us misguiding him in his last outing, because we advised him to push the out-lap even stronger and probably, he had no edge anymore to the new tyre.
"Realistically it's about half a second that we're missing on a single lap," added Wolff. "Let's see tomorrow. I'm a little but wary about where we'll be tomorrow! But in any case, it's learning."