Mercedes one-two streak 'history in the making', says Hamilton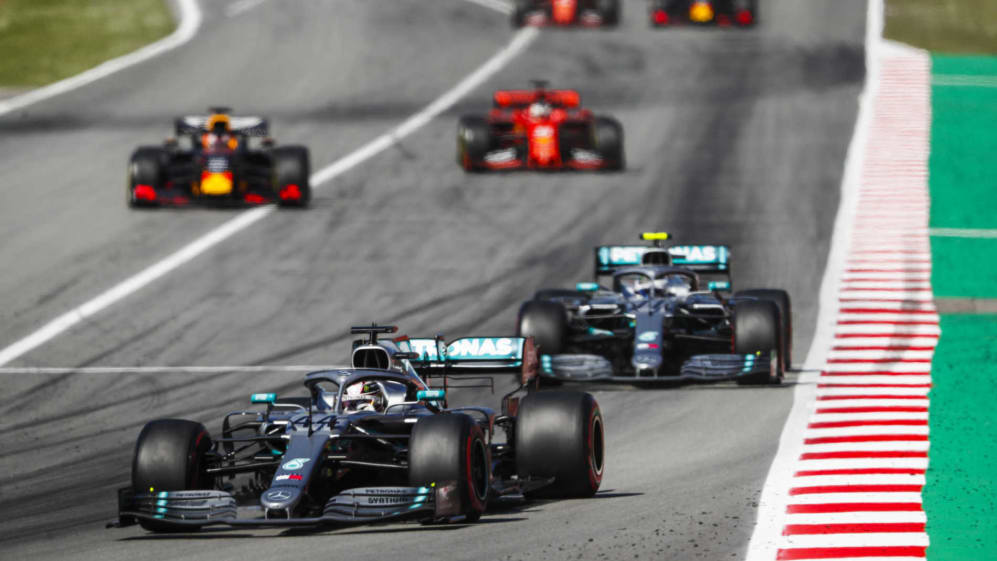 Five one-twos from five races. That's where Mercedes' record now stands in 2019 after Lewis Hamilton led home Valtteri Bottas at the Spanish Grand Prix. It's an unprecedented streak of dominance in F1 – and as Hamilton was quick to point out following his third win of the season, the team's achievements in 2019 are undoubtedly "history in the making".
The seeds of Hamilton's comfortable victory over Bottas were sewn at the race start, as he blasted away from P2 on the grid – where he'd ended up after being outpaced by a full-six tenths of a second by the Finn yesterday – while clutch issues saw Bottas make a slow getaway.
Hamilton was emphatically in the lead by Turn 3, and from then on wouldn't be headed, as he brought home his 76th career win.
"This is history in the making to have five one-twos," said Hamilton after the race. "Today was about trying to redeem myself from my poor performance yesterday.
"Yesterday was a bit of a nightmare, but race pace has generally been quite good for me, I've been really happy, comfortable generally in the races. When we went out to do the laps to the grid, I wasn't very happy with the balance still, so I had to make some changes, had to alter my driving style a little bit, but it worked well in the race scenario."
Particularly gratifying for Mercedes was the fact that the upgrade they brought to Barcelona – which Bottas had used to devastating effect to qualify over eight-tenths faster than Ferrari's Sebastian Vettel – had clearly paid dividends, while Ferrari's own upgrade could only yield a fourth and fifth for Vettel and Charles Leclerc in the race.
"We've brought an upgrade here obviously," said Hamilton. "Everyone worked so hard to make sure they brought a decent upgrade, something that delivered on every aspect and I'm very, very proud of everyone back at the factory and thankful for all their hard work… It was always faultless."
Mercedes' run of dominance means they open up their constructors' lead over Ferrari to a massive 96 points, while Hamilton – who also set fastest lap to claim a full 26 points from the weekend - takes back the lead of the drivers' championship by seven points from Bottas.