Mercedes reveal special heritage livery for German Grand Prix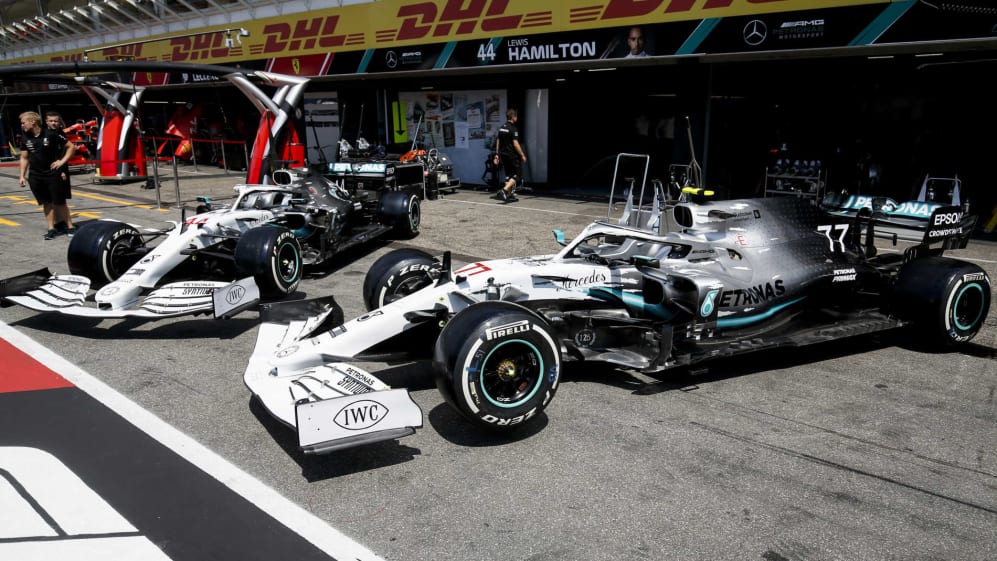 Lewis Hamilton and Valtteri Bottas's Mercedes W10s will run in special liveries that honour the Silver Arrows' heritage at this weekend's German Grand Prix, as Mercedes-Benz celebrate their 125th year of competing in motorsport, as well as their 200th F1 start.
A single 'Benz' competed in the first ever motor race, run between Paris and Rouen in 1894, and nine of the 15 finishers were powered by Daimler engines, while early Mercedes racing cars competed in Germany's national racing colour of white.
Mercedes later made a permanent switch to silver racing cars in the early 1930s, marking the birth of their famous Silberpfeilen, or Silver Arrows, nickname. Why? Well, according to the oft-told legend, their W25 machine was a little over the weight limit for a race at the Nurburgring in 1934, so the mechanics scraped off the traditional white paint, exposing the silver bodywork while also bringing it under the limit.
And it's that tale that Mercedes pay homage to at Hockenheim, with their livery honouring both their original white colours, and the paint being scraped away to reveal silver.
The team's race garage has also been redesigned for their home race, and features historic race posters from different eras in which the Silver Arrows competed.
For the Mercedes marque it's also their 200th start in Formula 1 at the 2019 German Grand Prix – which they're also the title sponsor of – their first having come at the 1954 French Grand Prix at Reims, which Juan Manuel Fangio won in the streamlined W196.
Mercedes say they also have one more visual surprise planned for the weekend to celebrate that specific era...
The world champions will feel confident of adding to their wins this weekend too, with Mercedes having won the last three races at Hockenheim, and currently leading the constructors' championship by 164 points from rivals Ferrari.