Mercedes strategy chief says Hamilton determined to 'fight' at Zandvoort after enduring 45g impact in Belgium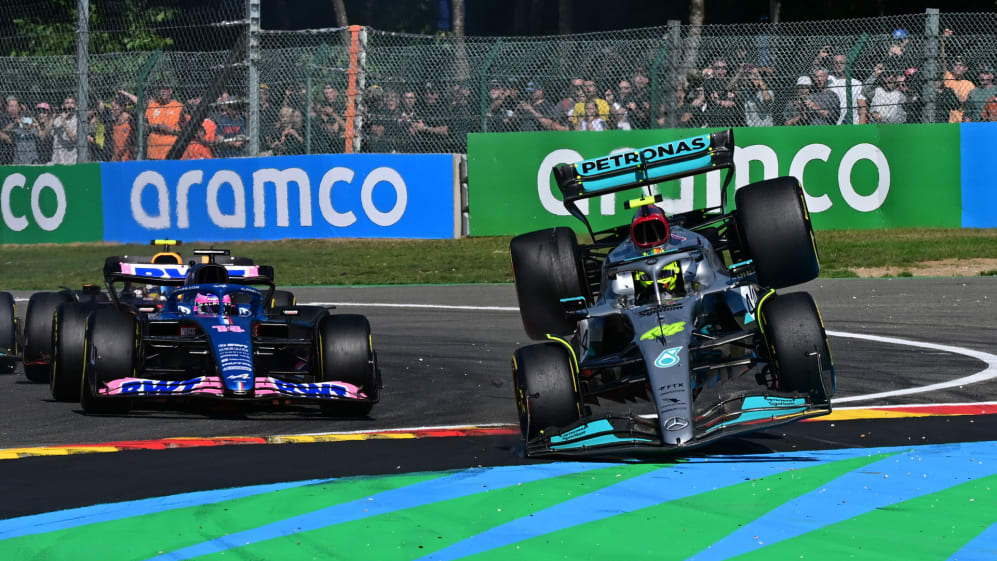 The impact of Lewis Hamilton's Lap 1 crash with Fernando Alonso at the Belgian Grand Prix measured 45g, according to Mercedes' Motorsport Strategy Director James Vowles, who revealed the extent of the damage of that race-ending collision.
Hamilton and Alonso came together on the opening lap last Sunday at Spa-Francorchamps, the clash causing Hamilton's Mercedes W13 to be thrown briefly into the air before thudding back to the ground at Les Combes. The seven-time champion ended up taking his first DNF of the season – and first since the 2021 Italian Grand Prix – as he retired at Spa.
READ MORE: Verstappen's home crowd and the latest on Piastri – 5 storylines we're excited about ahead of the Dutch GP
"It was a large, large impact," said Vowles in Mercedes' latest Race Debrief video. "It was measured at 45g on the SDR [Safety Data Recorder] in the car which is very big on a vertical load. He will be okay; he will be back in Zandvoort fighting.
"I think primarily for him he is frustrated: frustrated that he had a very fast race car, and a podium was possible but he, like all of us, [is] here to fight and continue moving forward."
Vowles revealed the specific reason for Hamilton's retirement at Spa, with the heavy impact threatening to cause terminal damage.
"There are enough photos floating around the internet to show just how high the car was and how it landed, and the impact was large. What we noticed almost immediately after the impact on the ground was a loss of coolant.
READ MORE: Punchy pace and shrewd strategy calls – How Gasly went from the pit lane to a points finish in Spa
"You can actually see on the onboard of Alonso that coolant really just flying out towards him and then you started to see temperatures rise fairly quickly and that was the primary reason for stopping him on track.
"It will now take a few days to review all the components; clearly there is going to be overloads to the suspension components and gearboxes and we need to make sure we understand the full extent of what's required before Zandvoort."
It is not yet clear whether Hamilton will need to take a new gearbox or engine components this weekend at Zandvoort.
Team Principal Toto Wolff said the team's disappointing Belgian Grand Prix – in which George Russell finished fourth after Hamilton's DNF – will only spur them on for The Netherlands.
POWER RANKINGS: A perfect 10 for Verstappen in Belgium – but who else impressed the judges?
"Belgium was a challenging weekend for us as a team, but those weekends are the ones that really fire you up and make you dig deeper," said Wolff. "There were such big extremes across the weekend; from the pace differences on Saturday and Sunday, to the difficult first lap for Lewis and George's late charge for a podium.
"We've been working hard to understand our Spa struggles and thankfully we don't have long to wait until we can bring utilise and maximise those learnings. What will make the difference for the rest of this season is how quickly and effectively we can continue learning, to deliver our best performance this year and next."