Feature
Miami is coming – but where else has F1 raced in the USA?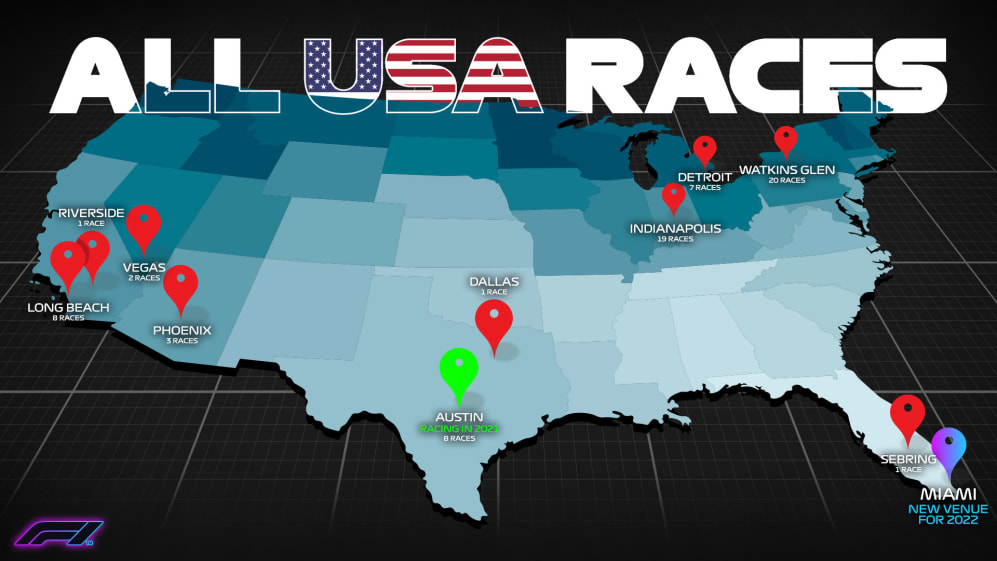 Miami will become the 11th US venue to have hosted a round of the Formula 1 World Championship in 2022, having signed a 10-year deal to do so this season – but where else has F1 raced Stateside? We look at each venue in turn...
MIAMI GP: Everything you need to know about F1's newest race - including how the track was designed
Indianapolis
19 races, 1950-1960 (as Indy 500) and 2000-2007 (as US Grand Prix)
For 11 years, from 1950 to 1960, the Indianapolis 500 formed part of world championship. However, it was virtually unheard of for any of the European-based F1 teams or drivers to make the trip to the States to compete in what was such a highly specialised race, run in different machinery. But F1 racing would eventually run at the Brickyard in anger, albeit in reverse thanks to the creation of a new circuit which twinned a substantial part of the famous oval with a new infield section to create a unique 4.1-kilometre road course.
The first of eight consecutive United States Grands Prix at Indy was held in 2000 and the grandstands were heaving, with an estimated 250,000 fans flocking to see the action. McLaren's David Coulthard got the better of Ferrari's Michael Schumacher at the start, but was subsequently punished for jumping the start. The German would go on to triumph, leading home team mate Rubens Barrichello.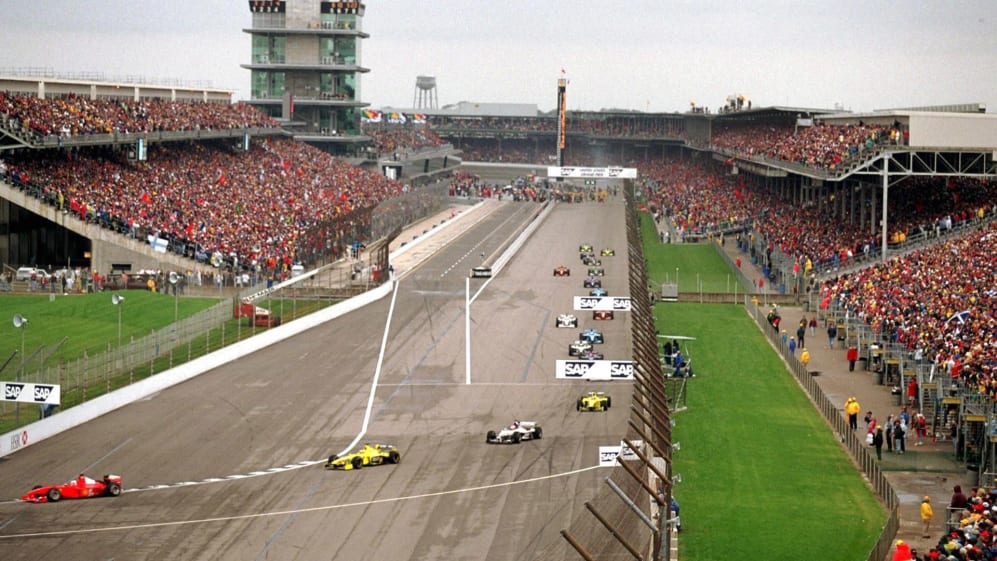 Sebring
One race, 1959
The first United States Grand Prix in the World Championship era took place in 1959 at Sebring International Raceway, a road course constructed on a former military airbase in Florida. It was the ninth and final round of the '59 season and excitingly for the first time since the inaugural championship in 1950, three drivers – Jack Brabham, Stirling Moss and Tony Brooks – had a shot at securing the world title.
Brabham was the favourite to take the crown, and duly led until 400 yards from the finish when somewhat incredibly he ran out of fuel. In a moment of high drama, 'Black Jack' then jumped out of his car and managed to muster just enough strength to push it across the line in fourth place before collapsing to the ground with exhaustion. It was unconventional, but Brabham had become Australia's first world champion, while his misfortune had enabled 22-year-old McLaren to become the youngest winner in F1 history – a record that stood until 2003 when it was eclipsed by Fernando Alonso, who was then eclipsed by Max Verstappen in 2016.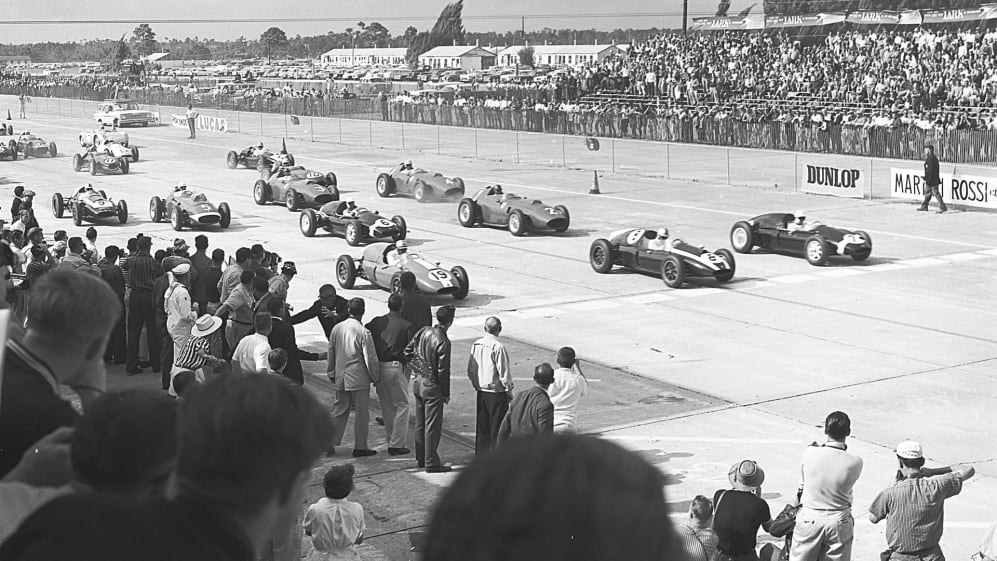 Riverside
One race, 1960
Riverside International Raceway, set in the city of Riverside in Southern California, hosted the United States Grand Prix in 1960. The track, which was back-dropped by the San Bernardino mountain range, was notable for its hilly topography and 1.8km (1.1 mile) straight.
The sole world championship race at the venue was dominated by Stirling Moss, who won from pole position in his Rob Walker-entered Lotus 18-Climax, beating works Lotus driver Innes Ireland by some 38 seconds. Though F1 racing never returned to Riverside, the track continued to operate until 1989 before it was sold off for real estate.
READ MORE: The king that was never crowned - Sir Stirling Moss remembered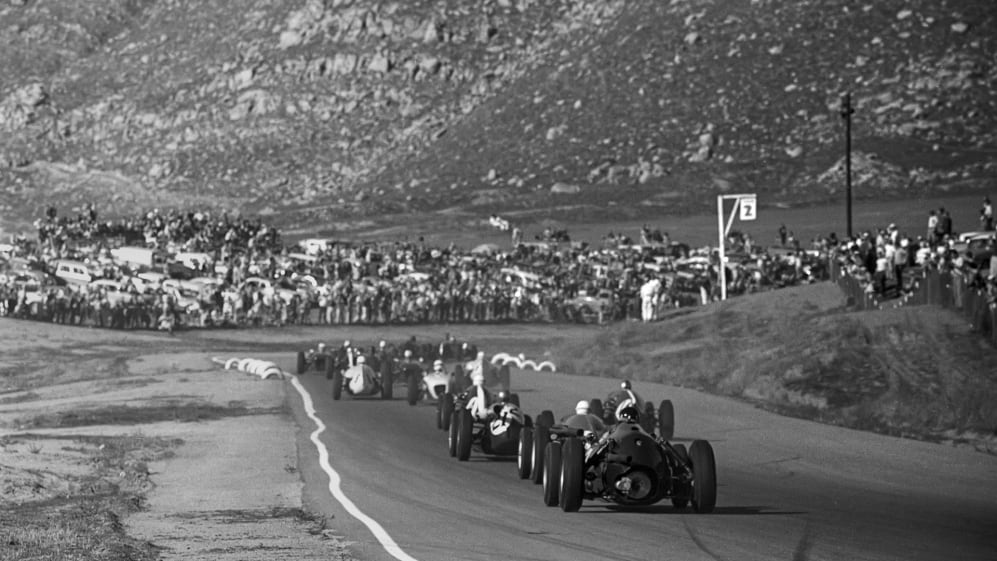 Watkins Glen
20 races, 1961-1980
After brief dalliances in Florida and California, the US Grand Prix found a more permanent home in 1961 – Watkins Glen in picturesque, upstate New York. 'The Glen', as it was known, was a gloriously fast track built around a wooded hilltop, and quickly became a drivers' favourite. Innes Ireland gave Colin Chapman's works Lotus squad their first world championship victory in the inaugural Watkins Glen race, sparking a run of British success that would continue for a staggering eight years.
The two most prolific British victors were Graham Hill and Jim Clark, each having won the race three times. The track, which always attracted scores of passionate fans, was extended by over a mile ahead of the 1971 race and went on to host a further 10 Grands Prix before disappearing from the calendar after 1980.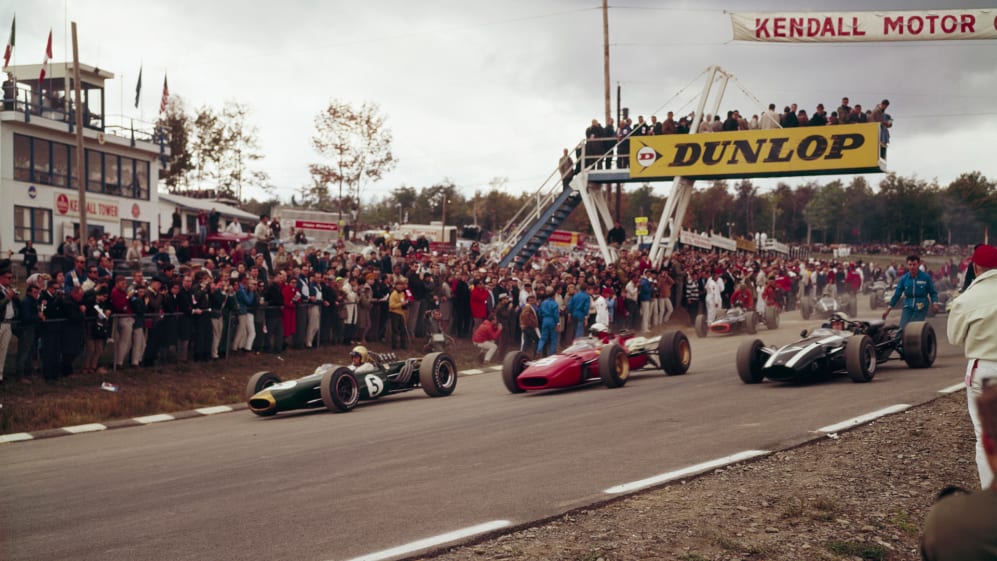 Long Beach
Eight races, 1976-1983
For eight years in the late seventies and early eighties, Formula One cars raced on the palm tree-lined streets of Long Beach, California. Like many street tracks, Long Beach - which was conceived as 'Monaco on America's West Coast' - was very bumpy and twisty in places, but there were high-speed sections too, most notably along the evocatively named Shoreline Drive and Ocean Boulevard.
There were several standout races in the history of the United States Grand Prix West as it was known, including John Watson winning from 22nd on the grid in 1983. But perhaps the best remembered is the 1977 race, which was won by home favourite Mario Andretti after a late tussle with Jody Scheckter. The Lotus driver would pass the South African with less than three laps to go to send the home fans into raptures, whilst Ferrari's Niki Lauda also overcame Scheckter to finish second.
PODCAST: Mario Andretti on his journey from child refugee to F1 world champion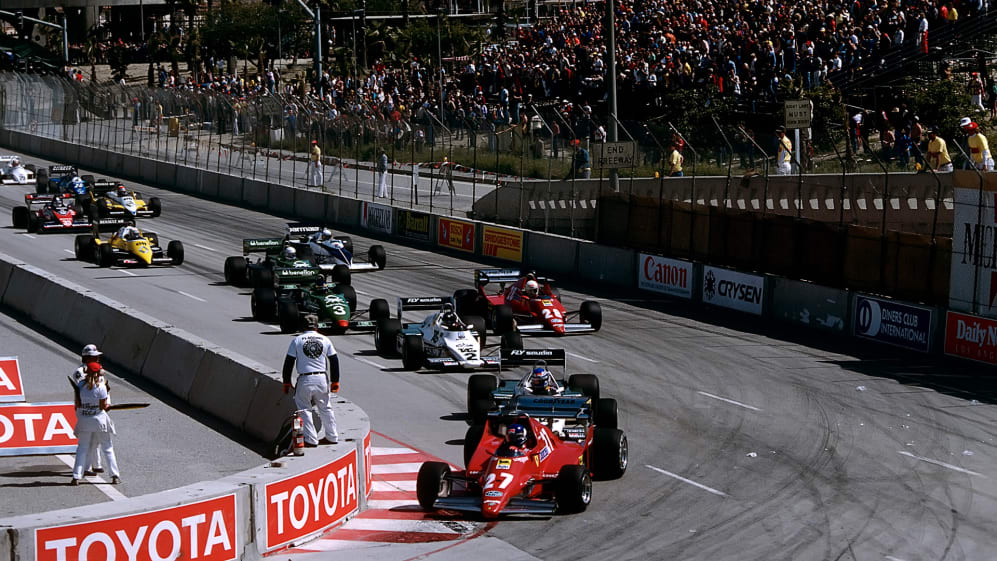 Las Vegas
Two races, 1981-1982
For those too young to remember it, the idea of holding an F1 race in the car park of the Caesars Palace Hotel and Casino in Las Vegas might seem absurd, but for two years in the early eighties it was a strange reality. The first race at the stop-start, concrete barrier-lined track was not only the final race of the 1981 season, but also a title decider.
WATCH: Racing in a Las Vegas car park
In contention for the drivers' championship were Williams' Carlos Reutemann and Brabham's Nelson Piquet, and after a tense race it was the latter who took the crown, the Brazilian finishing fifth behind winner Alan Jones (leading in this shot). F1 racing would return to the Nevada desert for the final time in 1982, for another title decider, with Tyrrell's Michele Alboreto taking the honours in the race as Keke Rosberg claimed the world championship.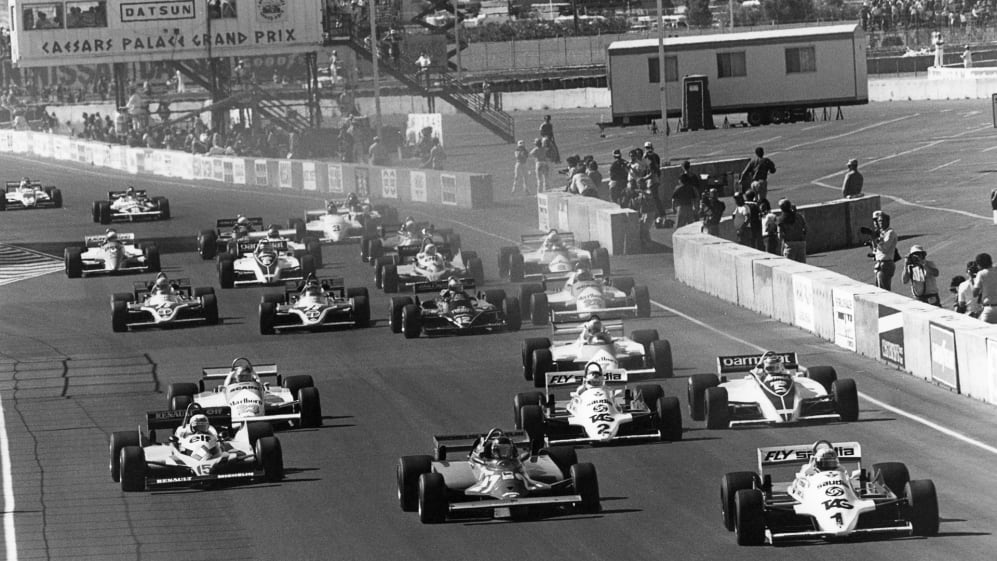 Detroit
Seven races, 1982-1988
The addition of a Detroit Grand Prix to the calendar in 1982 made the USA the first country to host three World Championship races in one season. Sadly though, the street track, which wound around the American car capital's downtown area, was bland and bumpy, with a predominance of slow 90-degree bends.
Ayrton Senna established himself as something of a Detroit specialist, winning at the unloved Michigan venue three times in a row between 1986 and 1988, while John Watson won from 17th on the grid in the inaugural race!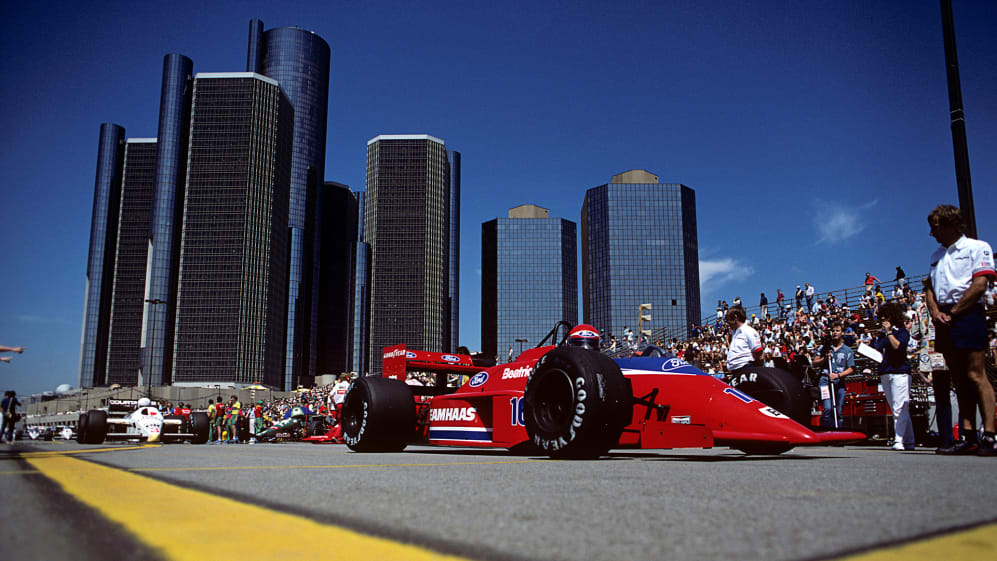 Dallas
One race, 1984
"The only thing good about it," said Alain Prost of Texas's first Grand Prix track, "is that suddenly Detroit is not so bad..." Thankfully for the Frenchman and his fellow F1 drivers, they would only race around the frightening quick, hugely bumpy circuit in Dallas's Fair Park on one occasion after a chaotic 1984 event.
Held, rather puzzlingly, in July when temperatures in 'Big D' regularly topped 100 degrees Fahrenheit (37 degrees C), it was little surprise when parts of the track surface started to break up, leading to the cancellation of morning warm-up.
Despite threats of a boycott from the drivers, the race eventually got underway as planned and it turned out to be something of a doozy with Williams' Keke Rosberg – aided by a water-cooled skullcap under his helmet – taking his only win of the year. But the enduring memory of the race for many was the sight of an exhausted Nigel Mansell collapsing after trying to push his crippled Lotus across the finish line.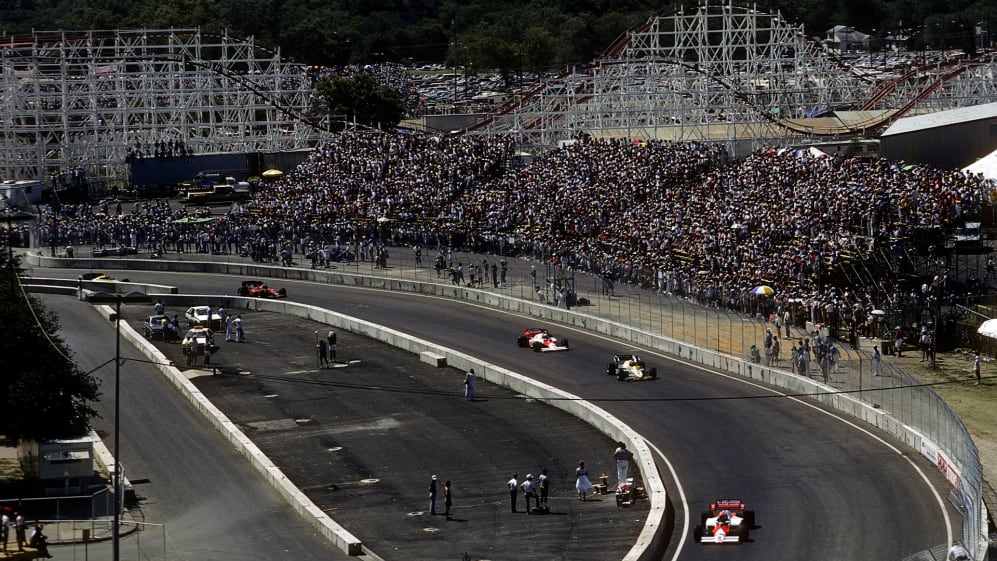 Phoenix
Three races, 1989-1991
The Phoenix street circuit was built around the Arizona city's grid system and so, like Detroit, it featured an abundance of uninspiring right-angled bends. As in Dallas, the inaugural race in 1989 was run in the intense heat of high summer and of the 26 cars that took the start, only six were running at the finish. The 1990 race, which took place in spring, was a much more exciting affair as Tyrrell's Jean Alesi famously battled McLaren's Ayrton Senna for victory.
READ MORE: 7 incredible season openers from each decade of F1
The Frenchman eventually lost the wheel-banging squabble, but by coming home second he'd marked his card as a future F1 star. Senna, meanwhile, cemented his position as king of American street tracks by dominating the final race in Phoenix in 1991.
Austin
Eight races so far, 2012-2019
After a five-year absence, the United States Grand Prix returned to the calendar in 2012 with a race at the brand new Circuit of The Americas in Austin, Texas – the country's first track purpose built for F1 competition. Unlike Texas's previous Grand Prix venue, Austin is eminently driveable, with circuit architect Hermann Tilke taking cues from the likes of the Senna S at Interlagos (for Turns 2 and 3), Silverstone's epic Maggotts/Becketts section (for Turns 4-6), and Istanbul Park's famous multi-apex Turn 8 (for Turns 16-18).
McLaren's Lewis Hamilton triumphed at the inaugural event after a late race pass on Red Bull's Sebastian Vettel (the winner in 2013), and the circuit held a classic in 2018 as Kimi Raikkonen took his last win for Ferrari and last so far...
And Austin will return to the calendar in 2021, hosting the United States Grand Prix on October 22-24 after a season-hiatus thanks to the global pandemic in 2020.
This article was originally published in 2014 and has been updated