Miscommunication caused Gasly, Hartley collision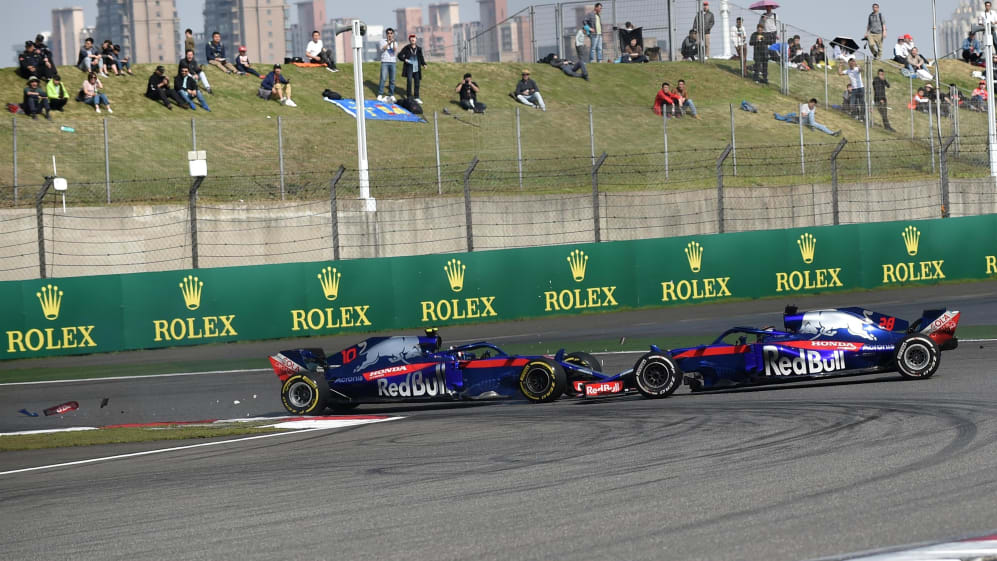 It was the incident that turned the Chinese Grand Prix on its head. But while it initially looked like an ambitious move gone wrong, it turns out Pierre Gasly's collision with Toro Rosso team mate Brendon Hartley was caused by a simple miscommunication.
The duo collided on lap 32 when Gasly, running fresher tyres, caught Hartley and attempted to duck inside at the hairpin. Hartley shut the door and the pair collided, sending the New Zealander into a spin, damaging both cars and spraying debris across the track.
Gasly was later handed a 10-second time penalty for causing a collision, but after the race he explained that he'd been told that his team mate would let him past at the hairpin as they were on different strategies.
"They told me on the radio 'OK Brendon is going to let you past at the end of the straight', as we had said with the engineers," the Frenchman, who finished 18th, said.
"So I expected him to let me by. I went on the inside and, I don't know if he didn't see me, he told me he didn't see me apparently, but I expected him to leave a bit of space for me to turn.
"I tried to brake to avoid him but it was too late, we made contact and that was it. It's a shame because it's the last thing you want to do, to have contact with your team mate and it's just a shame.
"I think we misunderstood each other, I expected him to do one thing and he probably expected something else."
Hartley, who ultimately retired the car when the team detected a gearbox issue, said he was planning on giving the position to Gasly on the exit of the hairpin, as he had done similarly earlier in the race.
"I've just been chatting with Pierre and clearly [it was] a miscommunication," he told reporters. "We swapped positions on the first stint as well because I was struggling on the ultrasoft.
"I let him by on the exit of Turn 14, and the second time I was asked, I planned to do the same, but my feeling is, I don't know, he must have thought that I was opening a door on entry, which was not the case."
In addition to his time penalty, the stewards penalised Gasly with two points on his licence on a weekend where Toro Rosso came crashing down to earth after a stunning fourth place last time out in Bahrain.
"Unfortunately, Toro Rosso didn't perform well," said Team Principal Franz Tost. "This weekend we struggled from the very beginning onwards - we were near the back on the starting grid, and during the race we couldn't find the pace we needed.
"In addition to this, we had the collision between the two drivers because of a communication misunderstanding, which is a real shame."
Toro Rosso are currently sixth in the constructors' championship with 12 points, ahead of Haas, Sauber, Force India and Williams.