Monday Morning Debrief: How two crucial choices by Red Bull blunted their attack on Mercedes at Spa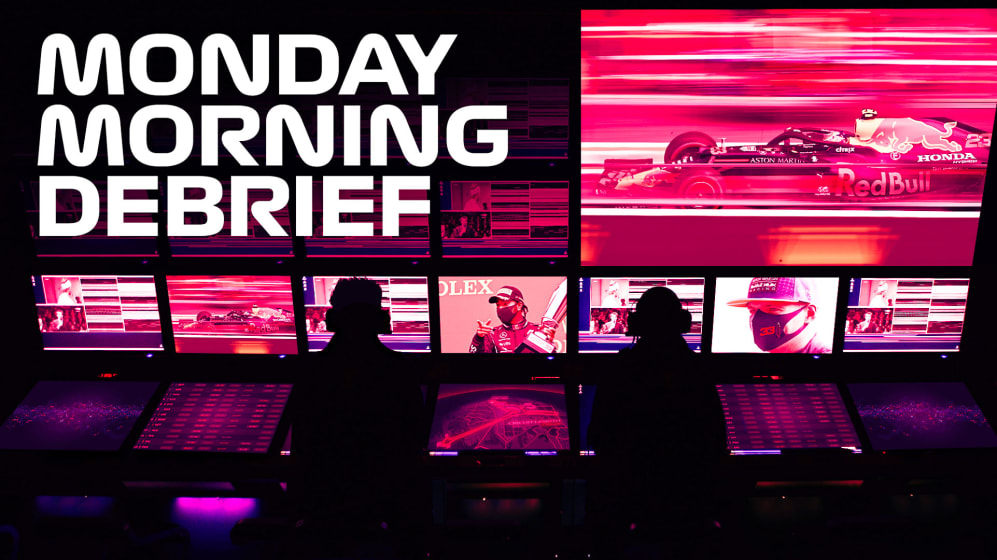 The Belgian Grand Prix may have looked like something of a cruise to victory by Lewis Hamilton, but as ever in F1, it wasn't quite that simple. In this week's Monday Morning Debrief, Mark Hughes explains why Red Bull weren't able to get closer to the Silver Arrows at Spa...
Although Lewis Hamilton led home a Mercedes one-two, two crucial choices by Red Bull actually formed the shape of this race. These choices were intimately connected and were to do with the unpredictable relationship between downforce levels and tyre behaviour.
Spa's unique layout, with a very downforce-rewarding middle sector but very low-drag demanding sectors 1 and 3, makes choosing the optimum wing level a complex business. That middle sector accounts for over 70% of the combined total of sectors 1 and 3. So although everyone has a lower downforce set-up here than at conventional tracks, there is invariably a choice to be made between low and very low.
READ MORE: Hamilton takes masterful fourth win at Spa from Bottas as Ferrari finish out of the points
Red Bull tried their very small wing on Friday morning – and the car seemed to like it. It made the RB16 8km/h quicker through the speed trap than with the bigger wing and was only losing it a couple of tenths through the middle sector.
Overall the lap times were similar and the balance of the car was, if anything, better on the smaller wing. But there was a complicating factor: the forecast for Sunday was rain. In which case, obviously the higher-downforce set up would be much better. That's what Red Bull chose to go with from Friday afternoon.
When the Mercedes engineers observed this, they doubtless felt relieved. For they too had been comparing wings. But the W11 seemed to prefer the higher-downforce wing. If Red Bull had gone for their lower downforce wing and Mercedes gone for the higher, the W11 would have been way too vulnerable at the end of the Kemmel straight into Les Combes. Hamilton and Valtteri Bottas would likely have been sitting ducks to a DRS-armed Max Verstappen. But that threat had been neutralised by the weather forecast.
The rain held off until after the race and in hindsight Red Bull wished they had chosen differently. The higher downforce settings gave both the Mercedes and Red Bull great pace through that middle sector in the initial phases of the race, but those speeds imposed loads on the tyres that they were finding difficult to deal with.
WATCH: PADDOCK PASS: All the reaction from the drivers after the Belgian GP
Just as at the British Grand Prix, this issue was made more acute by a safety car that led everyone to pit much earlier than planned – in this case by about 10 laps. A second stint of around 30 laps forced Hamilton, Bottas and Verstappen into backing off considerably as they felt the front tyre vibrations that invariably mean excessive wear. Because the tread does not wear evenly across the surface, an increasing mismatch of tread depth causes that vibration.
"With about 10 laps to go, I started to have really bad vibrations on the tyres," confirmed Verstappen, "and then I started to have a lot of understeer. Then we discussed: shall we do a pit stop? But I had Daniel [Ricciardo] in my pit stop window, so I said: 'Well, let's just go to the end then, and I'll just manage it'."
Not converting to a two-stop was the crucial second decision at Red Bull. If they had done so, it would have forced Mercedes into a decision of whether to do the same, so as to cover off Verstappen. But with Verstappen staying out, Mercedes could simply bank track position.
Ricciardo's Renault was in very low downforce trim. That's just where the R.S.20 likes to run anyway, but it proved absolutely the right choice. On Sunday, it had no particular tyre problems and Ricciardo was able to stay within Verstappen's pit stop window throughout.
He'd qualified just a couple of tenths adrift of Verstappen and Bottas and the super-low wing setting allowed the Renaults to be between 8-10km/h quicker at the end of Kemmel straight than the Red Bulls, 13km/h quicker than the Mercedes.
READ MORE: Gasly dedicates P8 to Hubert after 'intense' Eau Rouge overtake
So even if Verstappen (or the Mercedes pair) had made second stops, they would have exited behind Ricciardo and may well have been unable to pass. Alex Albon in the other Red Bull had just spent most of his race bottled behind one Renault or another.
So the last few laps of the race played out with the leading three drivers delicately nursing their rubber, with a charging Ricciardo catching them fast and setting the race's Fastest Lap into the bargain.