Report
Hamilton takes masterful fourth win at Spa from Bottas as Ferrari finish out of the points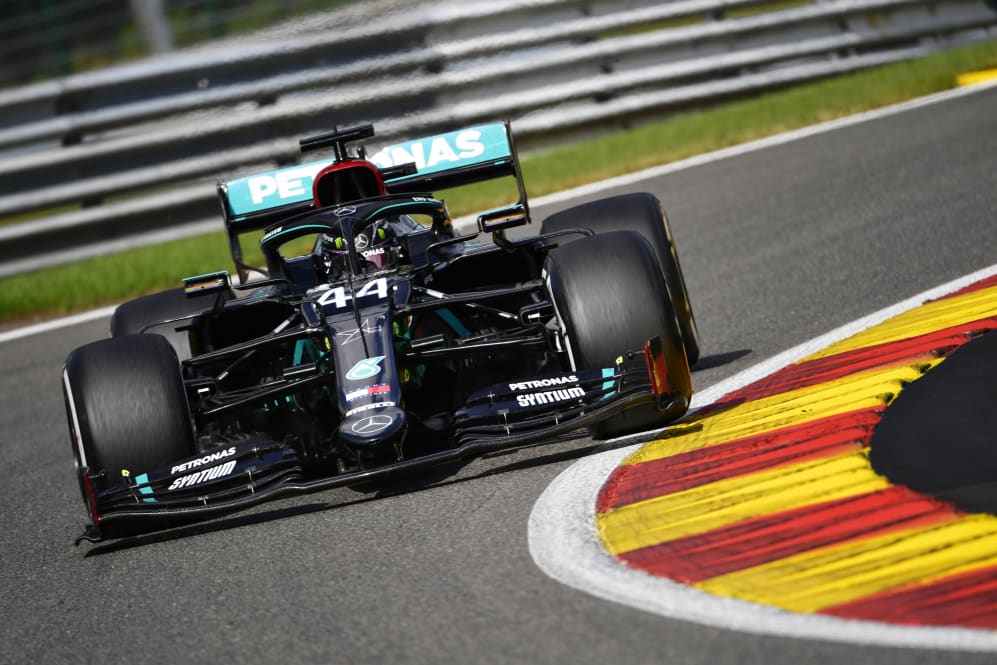 Mercedes' Lewis Hamilton swept to his fourth victory at the Belgian Grand Prix, leading home his team mate Valtteri Bottas as Red Bull's Max Verstappen took third to maintain his record of finishing on the podium at every race he's been classified in this year.
Following his dominant pole on Saturday, Hamilton resisted the first lap slipstreaming contest down to Les Combes to hold onto the lead, before retaining it for all 44 laps to close out his fifth victory out of seven races this year. Bottas came home around eight seconds behind his team mate, with Verstappen a further seven seconds down the road.
Renault's Daniel Ricciardo led home the team's best finish of the year in fourth, crossing the line under four seconds behind Verstappen after some rapid final laps, with Esteban Ocon overtaking the Red Bull of Alex Albon on the final tour to take fifth, Albon just holding onto sixth from the McLaren of Lando Norris.
An impressive drive from Pierre Gasly saw him take eighth for AlphaTauri, while the final points were taken by the Racing Point pair of Lance Stroll and Sergio Perez in P9 and P10 – with the Ferrari drivers Sebastian Vettel and Charles Leclerc finishing out of the points in P13 and P14 respectively.
McLaren's Carlos Sainz was unable to take the race start after a power unit led to an exhaust issue, while there was a Safety Car after 11 laps of 44, after a big crash for Alfa Romeo's Antonio Giovinazzi, with Williams' George Russell arriving on the scene and hitting Giovinazzi's wheel, which forced his own retirement – although both drivers were okay.
Meanwhile, Hamilton's fourth Belgian Grand Prix win sees him draw equal with Jim Clark and Kimi Raikkonen on third in the all-time list for Spa victories, behind Michael Schumacher and Ayrton Senna.
FORMULA 1 ROLEX BELGIAN GRAND PRIX 2020
Belgium
2020
Race results
POSITION
TIME
POINTS

1

Lewis

Hamilton HAM

Mercedes

1:24:08.761

25

2

Valtteri

Bottas BOT

Mercedes

+8.448s

18

3

Max

Verstappen VER

Red Bull Racing

+15.455s

15

4

Daniel

Ricciardo RIC

Renault

+18.877s

13

5

Esteban

Ocon OCO

Renault

+40.650s

10

6

Alexander

Albon ALB

Red Bull Racing

+42.712s

8

7

Lando

Norris NOR

McLaren

+43.774s

6

8

Pierre

Gasly GAS

AlphaTauri

+47.371s

4

9

Lance

Stroll STR

Racing Point

+52.603s

2

10

Sergio

Perez PER

Racing Point

+53.179s

1
AS IT HAPPENED
It was Bottas who was marginally the faster of the two Mercedes at the decidedly rain-less race start, but Hamilton angled his W11 towards his team mate and swept over to cover him off and led into Turn 1 from Bottas, Verstappen, Ricciardo and Ocon, who'd jumped Alex Albon off the line.
As they slipstreamed down to Les Combes – Hamilton recovering from a small wobble on the exit of La Source – the top four jostled for position, but ultimately, the order remained unchanged.
Hamilton led Bottas through the corner, while Ricciardo got down the inside of Verstappen and tried to tough it out around the outside of the left-hand part of the chicane, before Verstappen ran him out of road – Ricciardo then nearly managing to sneak through when Verstappen subsequently ran wide at Malmedy, before eventually accepting his fourth place.
READ MORE: Sainz's Belgian GP over before it starts after exhaust failure on lap to grid
Behind, Ferrari's Charles Leclerc had elected to start on the softs, and used them well to jump four places on the first lap up to P9, while Antonio Giovinazzi and Kevin Magnussen were on the move too, making up four and five places respectively on the first tour.
McLaren's Carlos Sainz missed all the fun, however, after a power unit issue on his MCL35 led to an exhaust failure on his laps to the grid which meant he couldn't take the start.
Pierre Gasly had jumped his AlphaTauri team mate Daniil Kvyat for P10 at the start despite being shod with hard tyres to Kvyat's mediums. And the Frenchman was racing beautifully in the early laps, resisting Sergio Perez's squeeze on the run down from La Source to take the Mexican at the inside of Eau Rouge for ninth, before nicking P8 from Leclerc a lap later.
By Lap 10 Hamilton was around 2 seconds clear of Bottas, who'd asked to use his push button to try and close up to and attack his team mate. "We agreed not to use it against each other," came his race engineer's response. "I never heard that," retorted Bottas.
Any worries Mercedes might have had about an intra-team battle were neutralised however, as Giovinazzi lost his Alfa Romeo on the exit of the Fagnes chicane, smearing his C39 down the outside wall and losing a tyre which then bounced scarily into the path of the following George Russell.
WATCH: Giovinazzi and Russell walk away after huge shunt in Belgian GP
Fortunately, it only took off Russell's own right-front wheel, with both drivers ending up parked next to each other before emerging from their cars shaken but healthy, and very much out of the race.
The Safety Car was duly brought out as the two cars were recovered, and the debris swept up, with all bar Gasly and Perez pitting, meaning that at the Lap 15 restart it was Hamilton from Bottas, Verstappen, Gasly, Perez, Ricciardo and Albon – who'd managed to jump Ocon in the pits, with the Thai driver the only one to take on mediums in the stop, as everyone else opted for hards.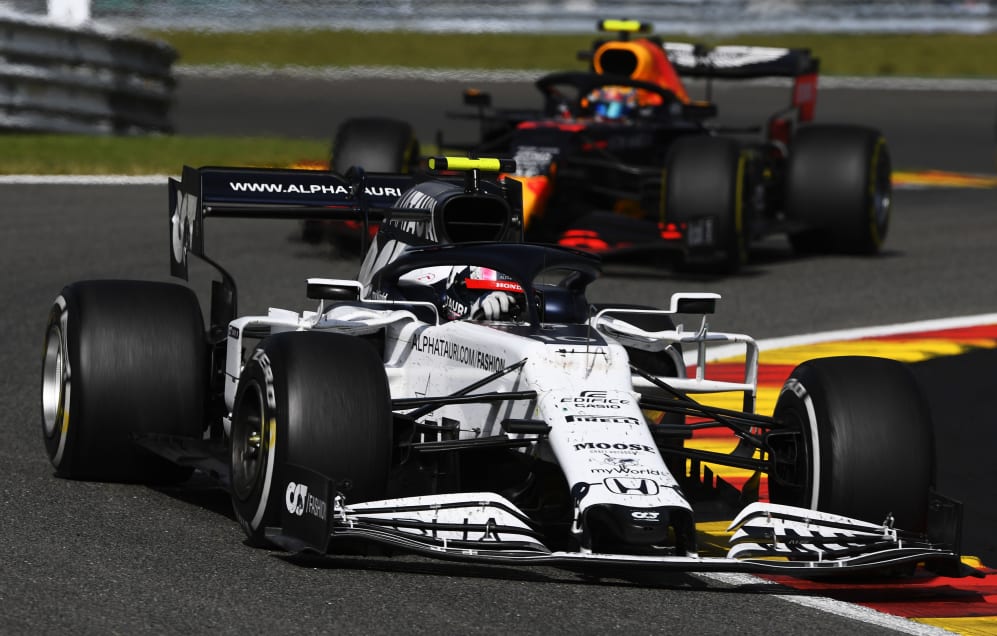 Hamilton nailed the restart and the order was unchanged bar Stroll taking Norris for ninth, while on Lap 16, Raikkonen demoted the works Ferrari of Vettel to P13 – Vettel having jumped Leclerc in the pits, after Ferrari weren't ready for the Monegasque, leaving him stationary for 10.4s. Perez had been left out on the soft tyres – and after losing places in quick succession to Ricciardo and Albon, Racing Point brought him in on Lap 19 for hards, dropping him down to 17th and last.
By Lap 22 of 44, it was Hamilton was a 3s lead from Bottas, who had Verstappen in close company, while over 10s behind the top three came Ricciardo in fourth – who'd breezed past Gasly down the Kemmel Straight on Lap 21 – with Gasly in fifth heading Albon, with Ocon, Stroll, Norris and Kvyat rounding out the top 10. Ultimately, Gasly was then unable to resist the superior speed of either Albon or Ocon, who passed on Lap 24 and Lap 26 respectively.
ANALYSIS: How and why are Ferrari so far off the pace in Belgium?
Having done some wheel-banging with his team mate on Lap 19, Leclerc was brought in on Lap 25 after just 14 laps on the hard tyres, Ferrari swapping him to mediums and keeping him in the box for five seconds, the team seen topping up the pneumatic pressure in the stop.
With the race settling down metronomically in the middle laps, it was only the alternative-strategied Perez and Gasly who were making serious waves, as they climbed their way into the points after their offset stops, with Gasly then nipping past Perez on the Kemmel Straight for P9 on Lap 40, before getting the second Racing Point of Stroll three laps later.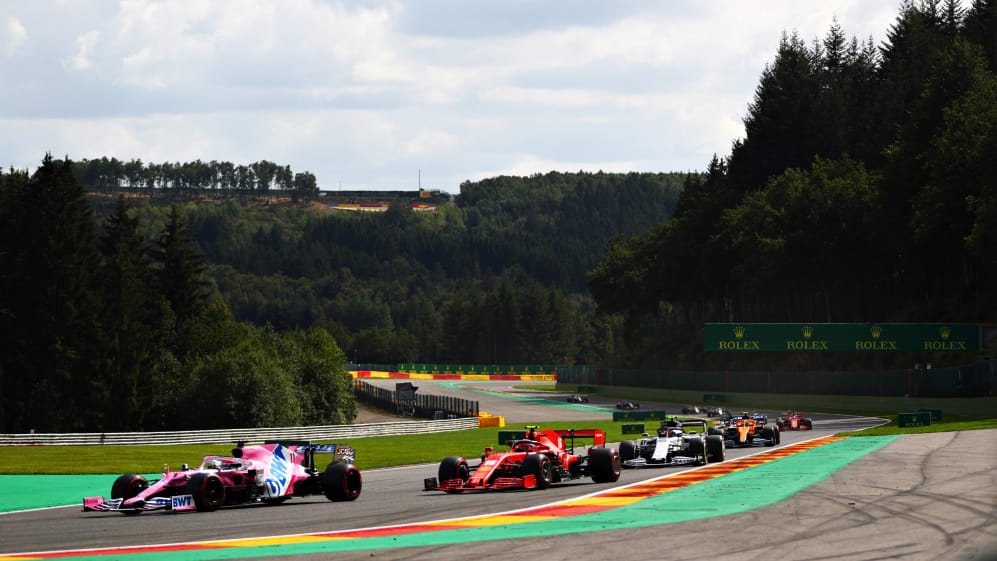 With three laps to go, Hamilton was seven seconds clear of Bottas, who was a further 7s up the road from Verstappen – although both Mercedes drivers were worried about the condition of their tyres, with some nervy radio calls to the team as fears of a 70th Anniversary GP-style repeat ending appeared to bubble up in the Silver Arrows camps.
Those fears ultimately proved unfounded, though, as Hamilton eased across the line to take his 89th victory, and fourth at Spa in a race where the threatened rain failed to materialise, with Bottas coming home second, seven seconds to the good over Verstappen, who'd once again somehow managed to summon up Mercedes-esque pace from his Red Bull RB16 in what was otherwise a "pretty boring" race, according to the Dutchman.
WATCH: The F1 drivers observe a minute's silence at Spa in memory of Anthoine Hubert
The real drama in the last act was just behind, however. With Verstappen's tyres also fading in the final laps, Ricciardo was flying in fourth place. He gave it all on the final lap, taking the fastest race lap to finish just 3.422s behind his old Red Bull team mate, and bringing about a spontaneous burst of applause from the Renault pit wall – although that may have just been Cyril Abiteboul celebrating the fact that he didn't have to get a tattoo, which he would have done if Ricciardo had passed the Red Bull.
Speaking of passing a Red Bull, Ocon did just that on the final lap, getting past Albon – who'd dropped dramatically off the back of Ricciardo in the middle part of the race – to claim fifth, as Renault matched their best result since returning to F1 in 2016.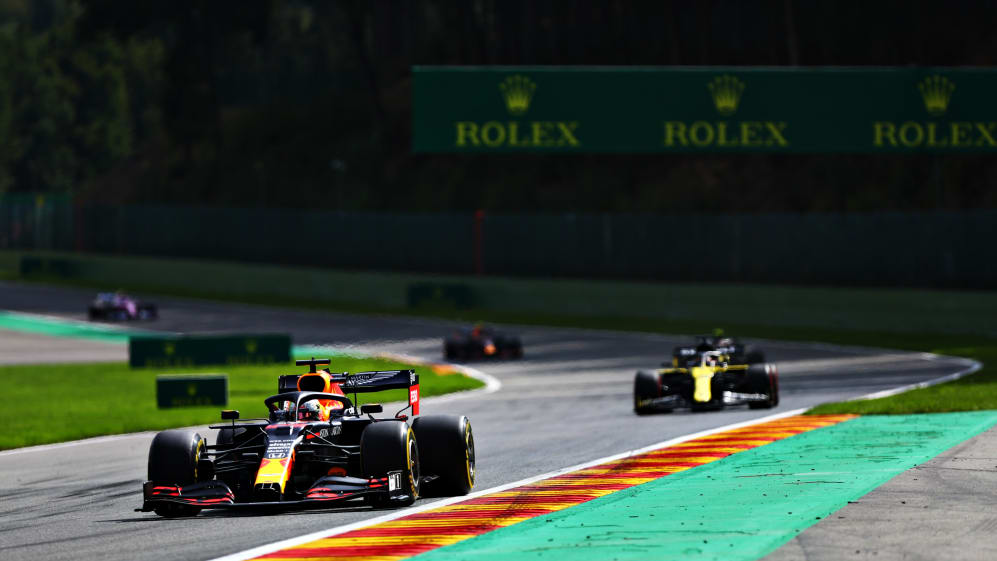 Lando Norris was also flying in the final laps, closing up to the back of the Ocon/Albon squabble before settling for seventh, just 1.062s behind Albon. Meanwhile, Gasly had once again demonstrated his excellent 2020 form – in what will certainly ramp up the pressure on Albon after a slightly underwhelming day for the Thai driver – as the AlphaTauri driver came home eighth, less than five seconds behind Albon.
Lance Stroll was classified ahead of Sergio Perez for the second race in a row, coming home ninth to Perez's 10th – the Racing Points' race pace having once again failed to shine as brightly as their midfield rivals, on a day when there'd been whispers of podium potential for the Pink Panthers.
Meanwhile Ferrari leave Belgium with work to do ahead of their home race at Monza in a week's time, as Vettel led Leclerc home in P13 and P14, Vettel having embarrassingly been passed by the Ferrari customer Alfa Romeo of Kimi Raikkonen on Lap 33 – for the second time that day.
So, that's now two victories on the bounce for Hamilton and his fifth of the season, as the Mercedes driver now extends his championship lead over Max Verstappen to 47 points – with 10 races left to go in this unusual year.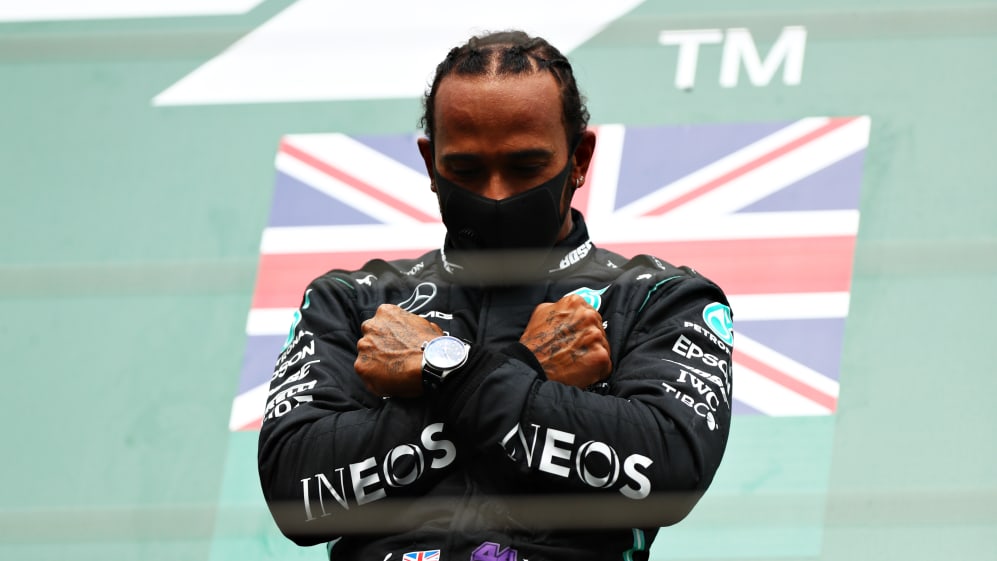 The key quote
"It wasn't the easiest of races. I had a lock-up into Turn 5 which started to give a bit of a vibration and then one into the last corner. The tyre temperatures were slowly dropping... and I was a bit nervous we might have a scenario like Silverstone at the end so I was nursing it.
"[At the start], out of Turn 1 I had a big snap trying to get on the gas to get the gap… I'm not sure if [Bottas] had to lift or what but he didn't have enough time to slingshot. No shake and bake today, so I'm grateful for that!" – Lewis Hamilton, Mercedes
What's next?
From one classic racetrack, we go straight to another, as Formula 1 heads to Monza for the 2020 Italian Grand Prix. Who can conquer the Temple of Speed next weekend? Tune in on September 4-6 to find out.