Feature F1 Unlocked
MONDAY MORNING DEBRIEF: With strategy on a knife-edge, how did Mercedes get the better of Aston Martin in Australia?
Because the tyre degradation is relatively low around Albert Park, invariably it's a one-stop race in ideal circumstances. Given the estimated degradation rates of each tyre, this defined the optimum strategy as starting on the mediums and switching to the hards at around Lap 20 (the soft didn't have a big enough range).
With the Lap 8 Safety Car, the question became would the slower pace you would need to drive the remaining 50 laps cost more than the 10s saving in pit loss time? Compared to staying out and pitting at around Lap 20, taking the extra 10s loss to the field but being able to push harder on much newer tyres for the remaining 38 laps?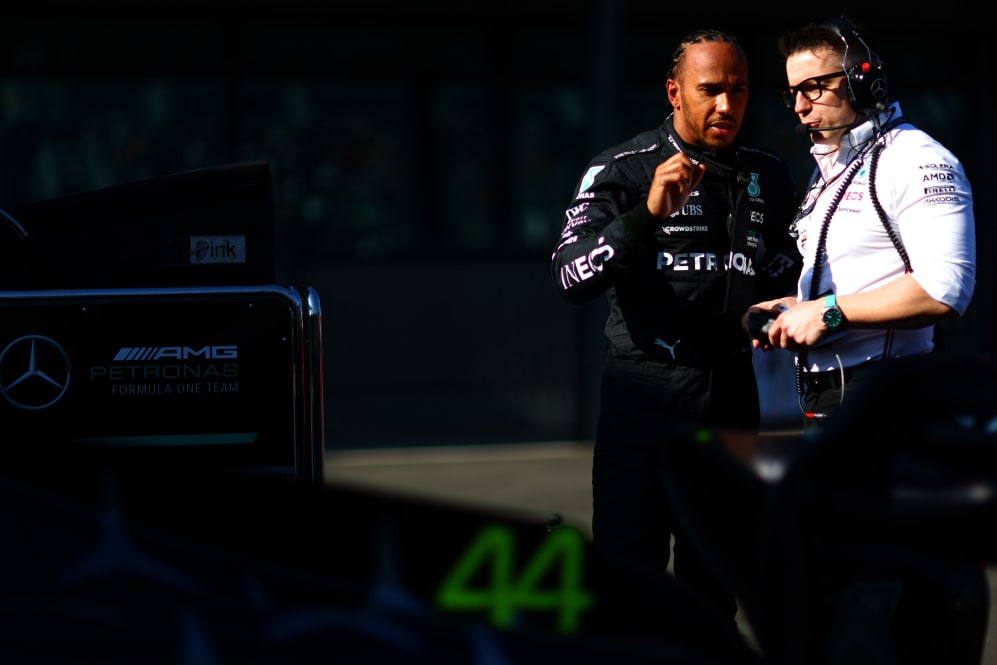 The numbers suggested that was a very close call. There was no obvious right answer in live time. Mercedes – running 1-2 at the time – were in the fortunate position of being able to have a foot in each camp. They brought in leader George Russell and left out Lewis Hamilton. Of the front-runners, only Ferrari's Carlos Sainz followed Russell in. Hamilton was now leading from Max Verstappen and Fernando Alonso.
Russell rejoined seventh. Hamilton radioed: "Hasn't that just put me at a massive disadvantage?"
"We don't think so," answered his race engineer Pete Bonnington. By their numbers, it was a very viable strategy.
READ MORE: Alonso reflects on 'rollercoaster of emotions' race as he takes third place in Melbourne
Red Bull and Aston Martin each figured it was too early to pit and adopted Hamilton's strategy. The subsequent red flag made that call absolutely the right one. They could now get their tyre changes for no time loss to the field at all, as they could be changed prior to going to the restart grid. The races of Russell and Sainz had just been severely compromised (though Russell would later retire with a power unit failure anyway).
But now that the red flag had effectively forced everyone to make that first tyre change very early, it meant there was a lot of tyre management necessary to get even the hard compound to the end. Once Verstappen had overtaken Hamilton and left the Mercedes well behind, Hamilton's task was to keep Alonso out of the 1s DRS range without overworking his tyres.
Graining of the front-left was the potential hazard. If that happened and the tread of the tyre began to open up, the wear rate would increase enough that a second pit stop would become necessary and the place would be lost.
HIGHLIGHTS: Safety Cars, red flags and high drama Down Under as Verstappen wins in Australia
Alonso and Aston understood the challenge very well. A few laps into this second phase of the race, with the Aston's tyres now fully warmed, it was suggested Alonso should begin to push into Hamilton's gap, "to see if we can make something happen."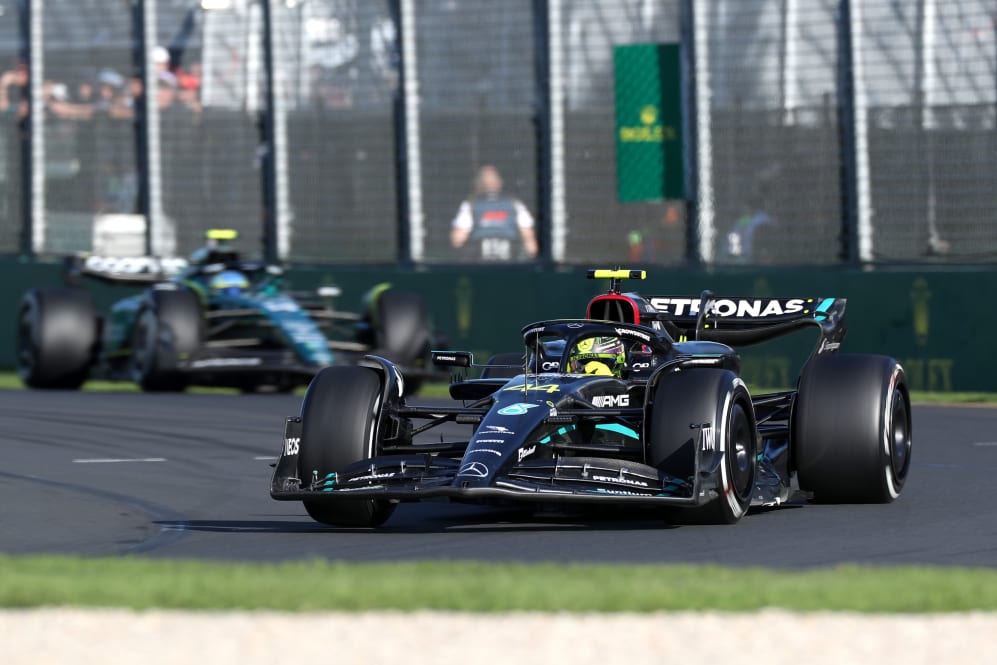 Alonso did so and his speed alarmed Hamilton, who radioed. "Alonso's got a lot of pace. I don't think this tyre will last at this pace." Alonso got to within less than 1s at the end of Lap 16, pulling out a lap 0.8s faster than he had been going. Although urged by Bonnington to keep managing his tyres, Hamilton was obliged to respond to Alonso and matched his pace on the next lap.
This was an absolutely crucial moment for Hamilton's race. Which of them would overwork their tyres first? Could he contain Alonso without opening out that front-left tyre?
READ MORE: 'It's just such a shame' says Mercedes' Russell after retiring with power unit issue in Australia
Ironically, George Russell's retirement on Lap 18 helped Hamilton out. The Virtual Safety Car it brought gave his tyres a couple of laps of respite and as racing got under way again near the end of Lap 19, the Aston took longer to generate temperature in its tyres than the Mercedes, allowing Hamilton to pull out of Alonso's DRS reach once more.
But the challenge wasn't over yet. Once Alonso had that tyre temperature, he was going to be coming back at him.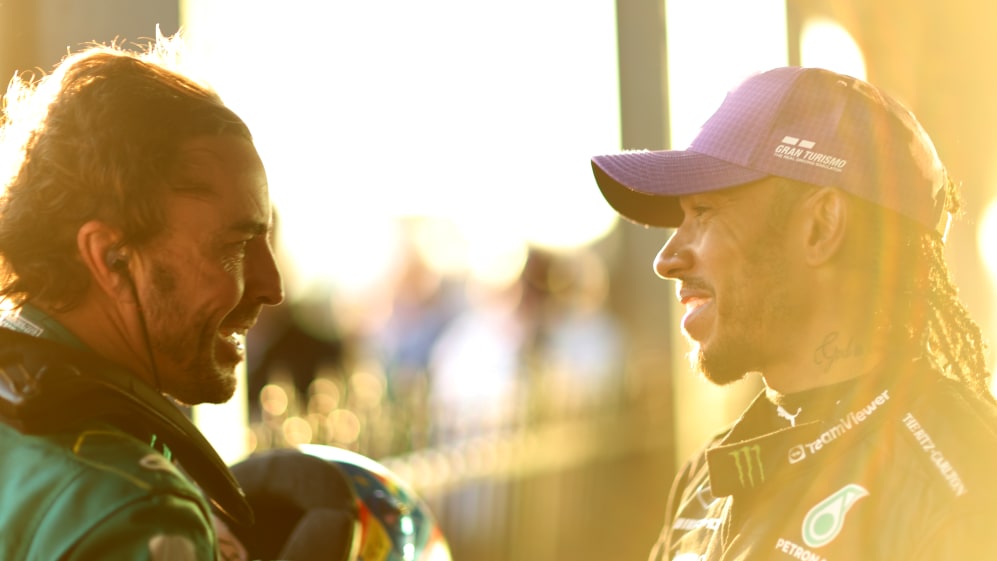 "It definitely wasn't easy keeping him at bay and keeping them out of the DRS zone," said Hamilton afterwards. "But it was really quite interesting, just to see where we were, where we were lacking, and where we were good.
"It turned out we had more tyre than I thought at the end. There was a moment where I thought the tyre was opening up and Fernando was applying pressure, then backing off, then closing the gap again. He had two or three charges which I had to then really up the ante and try to match him, which was tough. I was able to be around a tenth or so off him, or sometimes ahead.
FACTS AND STATS: Three champs on top in first-ever race to feature three red flags
"But definitely, with 18 laps to go, I was thinking jeez, I don't know if these tyres are going go all the way. But then he had a moment where he backed off and I was able to save a bit and then got into a good rhythm and I was able to just keep that gap exactly the same for those last 10 laps or whatever."
"On pace we were very close to Lewis," said Alonso, "right through the race – but every time that I tried to get close, yes he seemed to pick up the pace. I tried to put some pressure but, you know, he had an incredible race, no mistakes at all, as you probably expect from him, a champion. But only one lock-up, I think, Turn 13, in 58 laps. So I was trying to put pressure but nothing happened."
To read on, sign up to F1 Unlocked for free
You'll unlock this article and get access to:
Live leaderboard data
Epic experiences and rewards
Money-can't-buy competitions