Hamilton hails 'amazing' Melbourne podium as he says Mercedes closing gap to Red Bull will be 'tough but not impossible'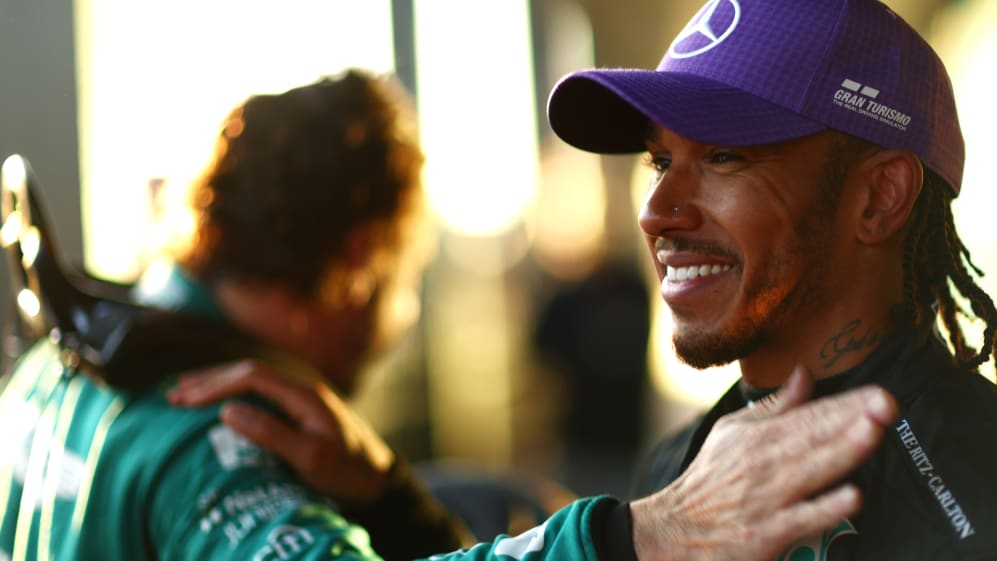 Lewis Hamilton reflected on a "crazy" Australian Grand Prix after scoring the first podium of the season for himself and Mercedes, saying it was "amazing" to be in the fight towards the front of the field.
Hamilton took second in a hugely dramatic encounter at Albert Park, punctuated by several Safety Cars and red flags, as he followed home Max Verstappen's Red Bull and kept Fernando Alonso's Aston Martin at bay.
READ MORE: Verstappen takes first-ever Australian GP win amid huge drama in Melbourne
Despite the collective Mercedes disappointment of team mate George Russell retiring from the race due to an apparent engine failure, Hamilton cut an upbeat figure after the race as he assessed the impact of their breakthrough result.
"I've got to say a huge thank you to everyone here in Australia and in Melbourne. I've had the best week here this week. The weather has been amazing today and this track or this town just continues to put on a great show," Hamilton said.
"[It was] really unlucky for George. From our side, we've got to look into it, our reliability has generally been very good. Otherwise, to get those points is really amazing today. I definitely didn't expect to be second, so I'm super grateful for it."
Asked how he was feeling in the W14 as the season develops, he continued: "I still feel uncomfortable in the car, though, the car is still not… I don't feel connected to it, so I'm driving as best I can with that disconnect.
READ MORE: 'It's just such a shame' says Mercedes' Russell after retiring with power unit issue in Australia
"I'm working as hard as I can to try and create that connect but I think it's a long project, but still, we've been down on performance, we are clearly down in straight [line] pace compared to the Red Bulls.
"For us to be up here fighting with Aston, it's just amazing at this point in the season, and we've just [got] to keep on fighting. [A] big, big thank you to all the people back at the factory, let's keep pushing. We can close that gap; it's going to be tough but not impossible."
Hamilton was also asked about his radio messages from the midway point of the race, as he indicated that the hard tyres he was running would be unlikely to make it to the chequered flag.
But he stressed: "I definitely wasn't bluffing. Honestly, I was having to push a lot, right at the beginning to keep Max behind and then Fernando was pushing. They're very, very quick.
READ MORE: 'It's the worst start to the season ever' says Ferrari's Leclerc as he laments Lap 1 DNF in Australia
"I think ultimately, [Alonso] was a little bit quicker today behind me, but I just managed to hold him, so for that I'm really grateful. And also, what a legend… we've got a world champion up ahead, three world champions in the top three, that's pretty mega!"
The result puts Hamilton fifth in the drivers' standings on 20 points, while Mercedes sit third in the constructors' battle with 56 points.