Feature
More Red Bull vs Ferrari action and Mercedes in trouble – What To Watch For in the Emilia Romagna GP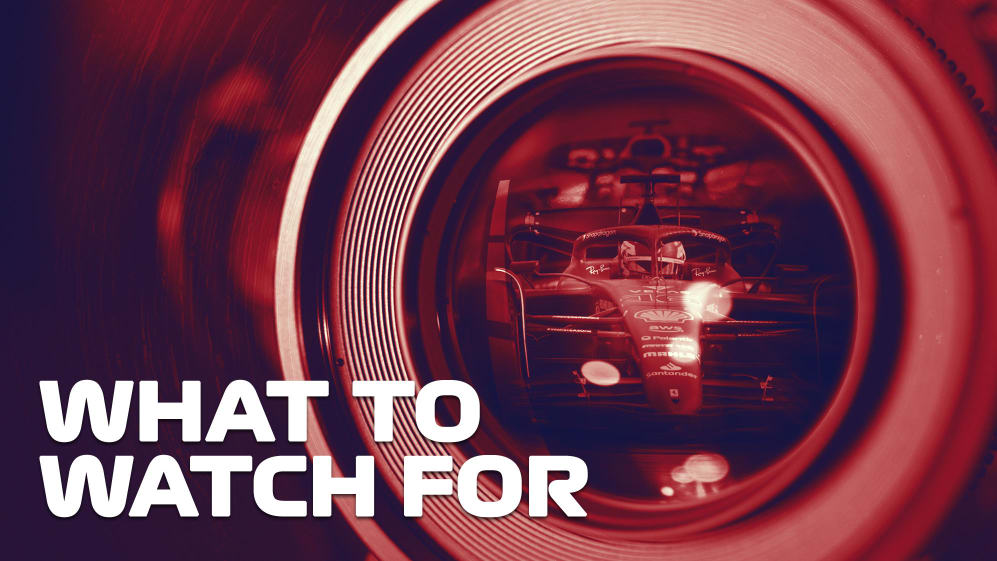 From the Red Bull and Ferrari fighting once again to McLaren looking strong; and from Mick Schumacher's first top ten start to Mercedes struggling, we pick out some of the key areas to keep an eye on at Imola…
Red Bull vs Ferrari, again
If there were concerns that Ferrari might run away with the championship after Charles Leclerc's dominant showing in Melbourne, those were well and truly allayed on Saturday in the Sprint as Max Verstappen fought back to win.
Verstappen had already taken pole position on Friday but we hadn't seen the full picture as Leclerc didn't get a final lap in as the track dried again due to red flags. And when the championship leader made the better start to pull away at the front in the early laps things looked ominous.
READ MORE: Verstappen snatches P1 from Leclerc in thrilling Imola Sprint
But Verstappen came back strongly and secured victory with a robust pass on the penultimate lap, setting up a mouthwatering scenario for the race on Sunday.
That's because the two rivals are joined by their team mates on the second row, with Sergio Perez climbing through to third and Carlos Sainz fourth after difficult qualifying sessions. It's going to be a huge fight between the two teams when the lights go out…
McLaren locking out the third row
Another sign from Melbourne was a strong showing from McLaren, who made a big step forward after a tough start to the year to finish with both cars in the top six at Albert Park. And they proved that was no fluke with an impressive opening two days in Imola.
Lando Norris qualified third and held that position for the first half of the Sprint before he slipped back to fifth behind the quicker Perez and Sainz, but he then found team mate Daniel Ricciardo in his mirrors as the second McLaren held station and ensured a repeat finish from Australia.
READ MORE: 'We will be a faster car tomorrow' – Ricciardo upbeat about McLaren's chances after Imola Sprint
Although McLaren will be encouraged by back-to-back competitive weekends, Valtteri Bottas was closing Ricciardo down quickly late on, so securing another pair of top-six finishes in Sunday's race will not be simple.
But they've put themselves in the best possible position to score heavily once again, and also pick up the pieces from any potential dramas between the Red Bull and Ferrari drivers ahead.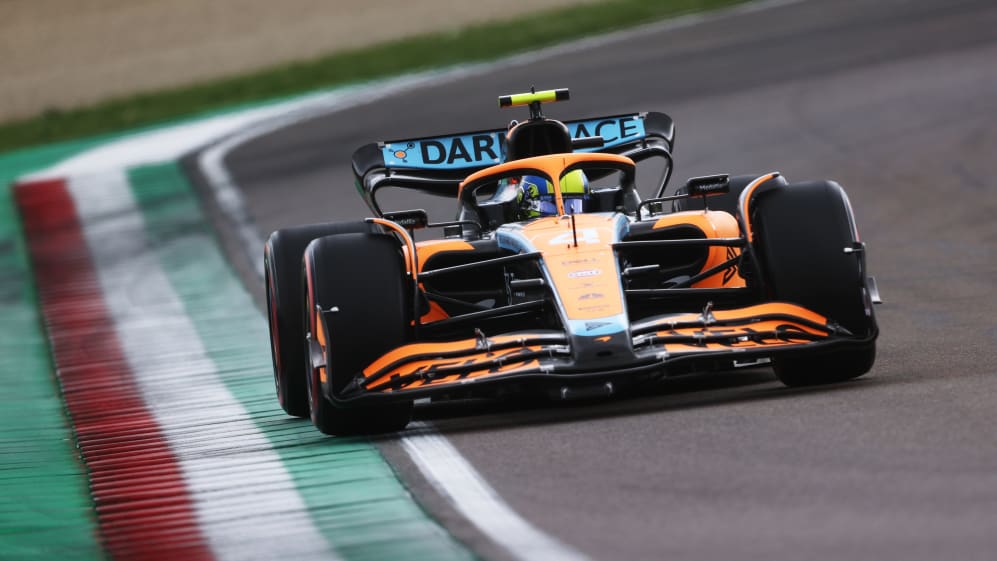 Mick Schumacher chasing his first points
There was a wholesome moment between Sebastian Vettel and Mick Schumacher after the Sprint as they were interviewed together discussing their battle. It was the Haas driver who came out on top as he climbed up to 10th place by the flag after starting on the medium compound tyre, ensuring the first top-ten start of his Formula 1 career.
It's a result that shouldn't be overlooked, as Schumacher ended up just three seconds behind the other Haas of Kevin Magnussen despite the Dane starting third. Magnussen was eighth but it represents an impressive performance from his less experienced team mate, and one that has put him right in the mix for points.
READ MORE: 'If we can fix it, we can fight for the win' – Leclerc reveals key struggle after losing Imola Sprint to Verstappen
Schumacher has yet to score in his F1 career and the Sprint format means he was two positions outside the points on Saturday. But if he can hold onto his starting position – or even make progress up the order – then he'll finally end that wait in the Grand Prix itself.
The key will be the opening laps – with Mercedes' George Russell starting right behind Schumacher – as well as his ability to handle the pressure of being truly in the mix for points for the first time.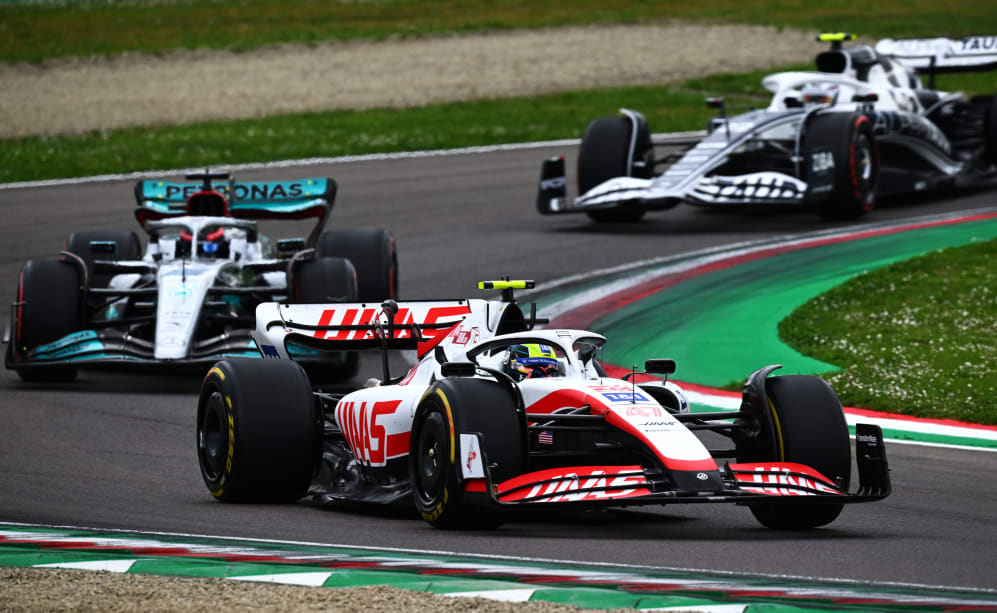 Mercedes with it all to do
George Russell might have entered the race weekend sitting second in the drivers' championship but that has already changed as a result of the Sprint, with Sainz moving above him after the Spaniard's fourth place finish and the first event offering points that Russell failed to score in.
He started and finished the Sprint in P11 – a result he says was due to finding it difficult to overtake despite having a quicker car at his disposal. It's tough to disagree with that assessment when you factor in that Russell was quickest overall in FP2. However, the same couldn't be said of team mate Lewis Hamilton in the Sprint after he lined up 13th and slipped back a place on a frustrating day for Mercedes.
READ MORE: 'There's nothing I can do' – Hamilton despondent after losing position in Imola Sprint
Despite bringing some upgrades to Imola, Mercedes are clearly finding it difficult to resolve their car handling problems – and in particular the porpoising that has hampered them since the official test in Bahrain – and look further back in the pecking order this weekend than at any of the other three races so far this season.
The Silver Arrows were also second in the constructors' championship when they started the weekend but have already dropped behind Red Bull after Saturday's results, and are more likely to be looking over their shoulders at McLaren unless the two drivers can deliver some pretty remarkable recovery drives on Sunday.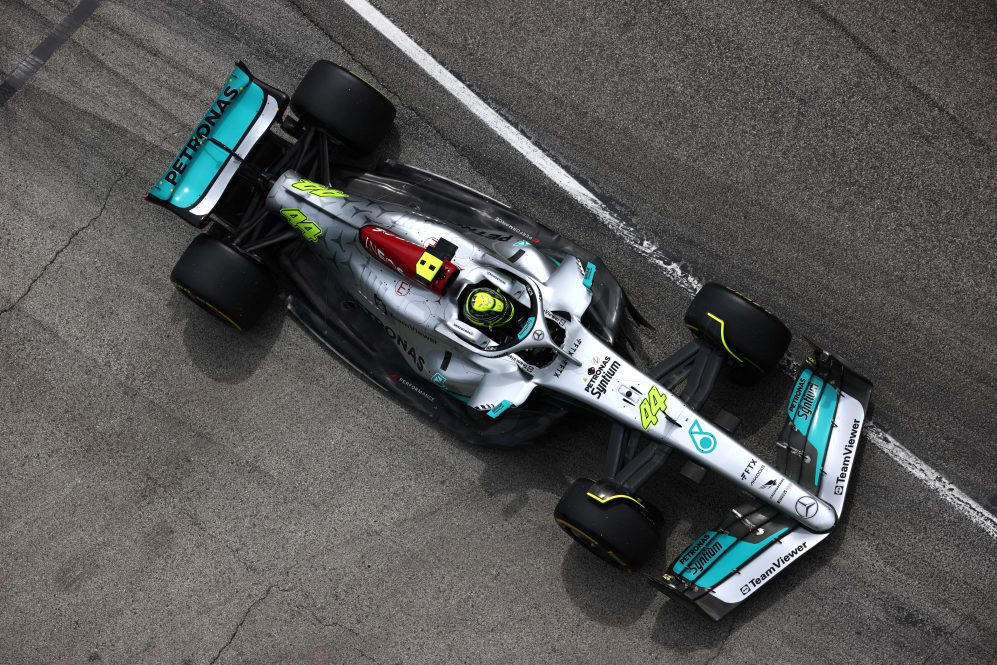 DRS influence
One of the more notable aspects of the racing in the Sprint was the impact of the DRS, with some major pace differences between certain cars as the likes of Perez and Sainz climbed through the field from lowly starting positions.
For cars that were more closely-matched in terms of pace, overtaking was a little more challenging but a gap of around 0.7s at the finish line tended to lead to a move taking place into the first braking zone.
READ MORE: Who gained the most positions – and Emilia Romagna GP grid spots – in the Sprint?
While that allows teams to factor overtaking into their strategies, we've also seen multiple occasions this year when fights have gone on for a number of laps because of the ability to push hard on the tyres, and so the strong DRS could also keep battling cars close.
Only one DRS zone means the majority of moves are likely to take place in the same section of track, but if a driver can remain within a second after being passed then they will have every chance of regaining the position on the following lap. As we've learned from the first three races, fights are rarely over after the first move in 2022.
HIGHLIGHTS: Watch the action from the Sprint as Verstappen outduels Leclerc at Imola