Video
MUST-SEE: Highlights and best bits as late drama sees Russell seal Virtual Spanish GP win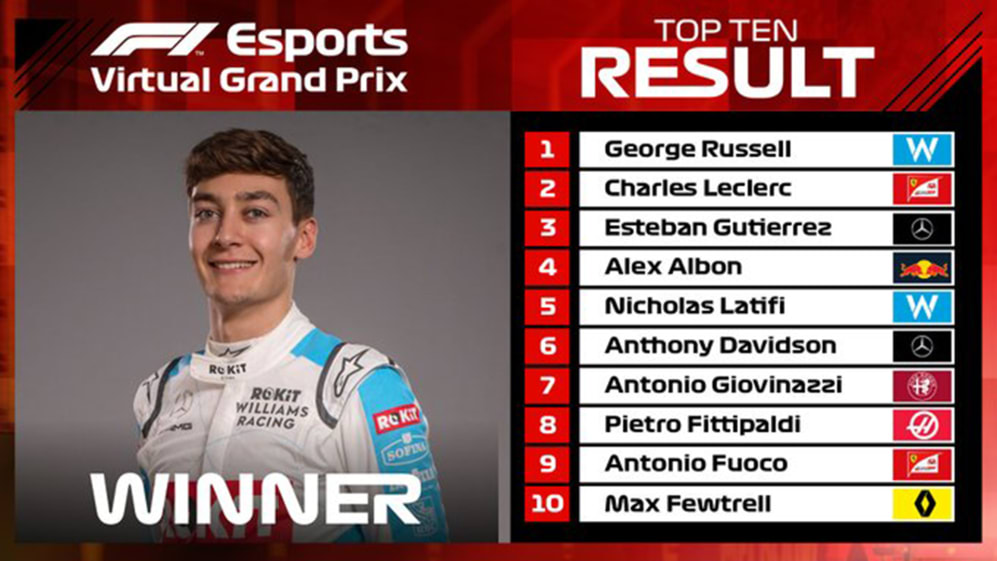 Drama at the finish as Leclerc and Russell battle it out
Russell may have started on pole, but it was Leclerc who was smiling after the first couple of corners after he muscled his way past the Williams in Turns 2 and 3 and then set about chasing after Esteban Gutierrez, who had taken the lead from Russell off the line.
By the end of Lap 1, Russell was down in fifth, while Leclerc took the lead on Lap 2 and was looking like he could run away with it.
The Ferrari man may have thought he was sitting pretty but on Lap 20 Russell pumped in the fastest lap of the race up until that point and suddenly found himself closing rapidly on the Monegasque.
READ MORE: Charles Leclerc on taking virtual racing by storm - and why he can't wait to race Vettel
Five laps later he overtook Leclerc for the lead on track, but he already had a three-second time penalty for track limits infractions.
All Leclerc had to do was stay within three seconds of the Williams and his third Virtual Grand Prix victory would be assured, but then with just a lap to go, Leclerc himself was slapped with a three-second penalty of his own, and a jubilant Russell was able to cruise to the line to take the win.
Barcelona lose at home in El F1 Clasico
Joining the Formula 1 regulars on the grid for the race were Real Madrid goalkeeper Thibaut Courtois and Barcelona midfielder Arthur Melo – the two stars staging an F1 version of El Clasico on the track.
But despite home advantage for Barca man Melo, it was Courtois who won this battle, coming home a very respectable 12th – ahead of drivers like David Schumacher, Nicolas Hamilton and Vitantonio Liuzzi – while Melo was propping up the field in last, a lap down.
READ MORE: Guanyu Zhou seals F2 Virtual victory after tussle with last week's winner Arthur Leclerc
But they weren't the only two footballers in the race, with Manchester City star Sergio Aguero also making his F1 Esports debut, and for a first-timer he did very well, finishing 14th.
And the best thing about all this? We got through that whole footballers section without doing the 'they're good at corners' gag.
Oops! Error retrieving Twitter post
Best overtake of the day
Despite pre-race warnings from the pundits about the difficulty of overtaking around this track, we actually saw a number of decent moves. But this one was probably the best of the lot, as Leclerc powers down the straight before hustling his way around the outside of Esteban Guitierrez in the Mercedes to take the lead of the race on Lap 2.
Oops! Error retrieving Twitter post
Best post-race interview of the day
We've all had to sit through plenty of dull post-race interivews from drivers who are simply trying to get through the process without saying anything remotely controversial.
But in this somewhat less-pressured environment the drivers seem a little more relaxed and are letting their excitement shine though – though we'd suggest winner George Russell doesn't get too much more excited given his post-race comments...
Oops! Error retrieving Twitter post