'My seat broke in pieces' – Ocon reveals the damage caused by Hungary collision that forced him and Gasly to DNF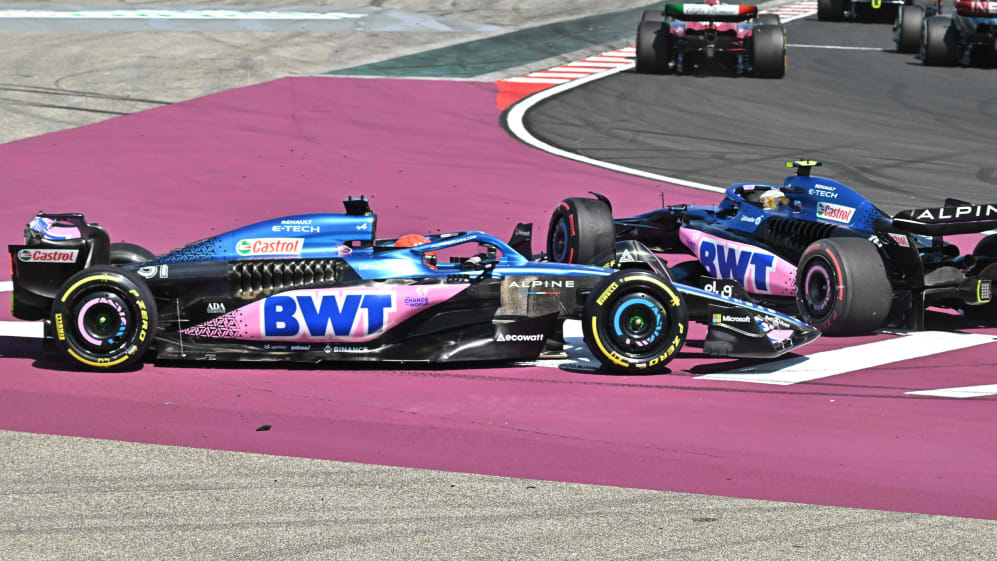 Esteban Ocon revealed his seat was broken into two pieces in the collision that knocked both he and his Alpine team mate, Pierre Gasly, out of last weekend's Hungarian Grand Prix on the opening lap – with both drivers giving their view on the Turn 1 incident.
Ocon started the race from 12th and, as he made his way down to Turn 1, he was hit in the rear by his former team mate Daniel Ricciardo, who had been sent into him by the Alfa Romeo of Zhou Guanyu. This sent Ocon's A523 off the ground and into the side of Gasly.
READ MORE: 'Disappointed' Zhou apologises for his part in opening lap incident at Hungarian GP
While both drivers could continue on and bring their vehicles back into the pit lane, it was determined by the Alpine mechanics that there was too much damage for either to continue. And speaking to the media later, Ocon revealed the extent of the damage on his car.
"[I] just suffered a strike into Turn 1," said Ocon. "It's just a mistake from Zhou in the back, that lead us to a massive hit. I took off by three metres, four metres, I don't know, on the rear wheels, and when I landed it was a big hit.
"My seat broke in pieces, in two parts. So, that tells you how much the impact was, and unfortunately both cars were out after that. Those are the consequences from racing in the back, people tend to take more risks.
MONDAY MORNING DEBRIEF: No points but plenty of positives from Ricciardo's first race back
"We knew it and we suffered from it today. We are going to be racing again next week and that's the good thing, that we can forget quickly this weekend."
Asked how he was feeling after the collision, Ocon responded: "So far, I'm still warm, so it's okay. I'm lucky enough to be between a team of very professional people, and I should be well taken care of."
Gasly, on the other hand, lined up 15th but unlike many on the grid, opted to start with the soft tyres. That decision looked to have paid off as he made a fast start, but unfortunately that was all he could do on Sunday.
"I mean it's very very frustrating," acknowledged Gasly. "I'm especially disappointed for the whole team because we are losing both cars already after Turn 1. I took a really good start, managed to pass a couple of cars, managed to position myself well into Turn 1, brake late, pass some other guys.
READ MORE: 'What we've been doing is unbelievable' – Verstappen hails 'incredible' moment as Red Bull make history with F1 victory sequence
"And in the end, from what I saw and heard, Zhou touched Daniel, who touched Esteban, and then Esteban ended up on top of me. It's just unfortunate, but clearly not what we would have liked."
Asked if points were possible had his race not ended early, Gasly replied: "We knew the whole weekend we've been lacking pace and we were not fast enough. But I definitely think we could have fought for a point or two if everything would have come my way. But unfortunately it didn't."