Feature
MY UNTOLD STORY: Five inspiring people share their journeys to working in F1 – and how the sport can be a vehicle for change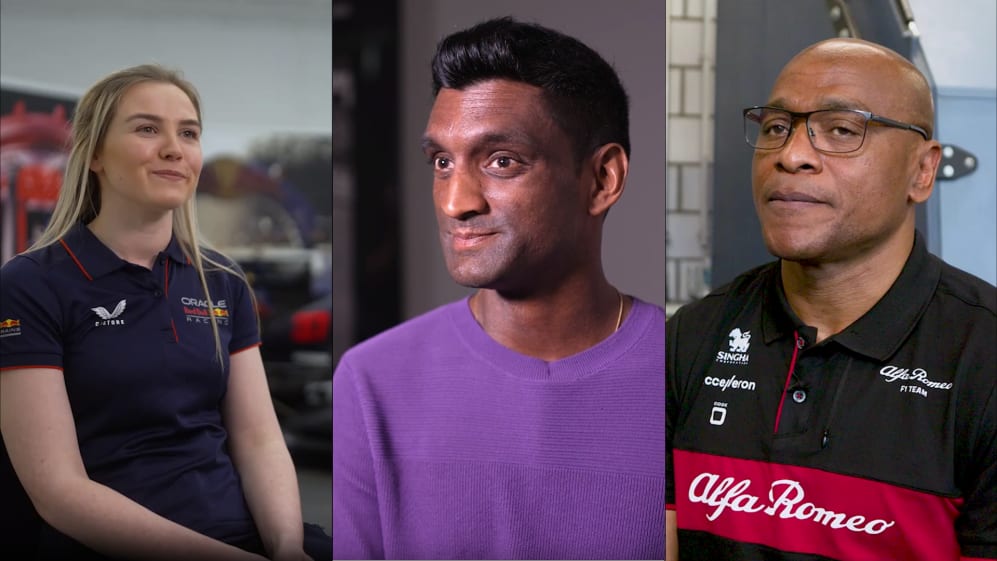 There are many people from diverse backgrounds working in Formula 1, and while many work for the sport itself, others ply their trade within the teams, working hard to bring fans unending entertainment. But how well do you know their names and their stories?
In the latest instalment of the 'My Untold Story' series, we sit down with five inspirational people to discuss their upbringings, and their roles in the sport. They also talk about their hopes for the younger generation as their stories show that no matter your background, there are career opportunities within Formula 1.
MY UNTOLD STORY: Six inspirational people share their amazing journeys to working within Formula 1
Aimee Gibbard – Research and Development Test Engineer at Red Bull Racing
Aimee discusses her role at Red Bull and how it helps the team perform on race weekends. She talks about her upbringing, and explains how going to her father's garage when she was a child fuelled her passion for engineering, and why he is her hero.
As well as that, she opens up about the hard times she faced during her teenage years, how they affected her in school, and how she got into university. Lastly, Aimee explains how going through a student placement and getting experience at Touring cars helped her seal what was a dream move for her and her father to Red Bull.
Martin Toba Chidyanga – Finisher, Mechanical Fabrication Metal at Alfa Romeo
Martin begins by talking about his family and how the events of his birth gave him his name Toba. Martin then opens up about his upbringing and how, like Aimee, working at his uncle's garage on the weekend gave him his love for engineering.
READ MORE: Formula 1 committed to 'delivering positive lasting change' on sustainability and diversity and inclusion, says Domenicali
At 22 he made a vital decision to leave Kenya for Switzerland, and he also explains how an internet ad saw him get his role at Sauber. He describes his job at the team, how it helps in the building of the F1 car, and why respect has played such a big part during his time in Formula 1.
Lawrence Barretto – F1 Correspondent and Presenter at Formula 1
Lawrence opens up about his love for working in Formula 1, and why he thinks he has the best job in the world. He also talks about how his love for F1 was fuelled by watching an epic title decider back in the 1990s with his father.
READ MORE: How Singapore is setting the trend for sustainable night racing on the F1 calendar
He also talks about his upbringing, and how his career choices helped push himself out of his comfort zone. Lastly, he explains how he got his job at Formula 1, what his role entails, and how he thinks the sport is making progress to becoming more diverse.
Hillary Cheng – Aerodynamicist at Mercedes F1
Hillary starts by discussing her role at Mercedes and how she helps the team achieve the performance they are looking for on the car. She later reflects on her upbringing and how she loved racing and planning Autocross events when she was younger.
READ MORE: How Sebastian Vettel made Turn 2 at Suzuka a hive of activity with his 'Buzzin' Corner' project
She talks about her university experience and how seeing what the Formula Students built put her on the path to F1. Hillary also reveals some of the negative experiences she endured before joining Mercedes, and she shares her advice to the younger generation.
Jack Bridge – Commercial Partnership Executive at Formula 1
Jack opens up by revealing that he suffers from haemophilia, and explains how it affected him in school, and still does today. He talks about his love for swimming before sharing the pride he took in being selected to be a part of Team GB at the 2012 Paralympics, and the immense joy he took in breaking the British record.
READ MORE: F1's use of DHL biofuel-powered trucks reduces carbon emissions by an average of 83%
He explains why he chose to go back to university, before later going back into competitive swimming. Jack later details how he got his job at Formula 1, and what it entails, and how he hopes the sport can be a vehicle for change.