Feature
MY UNTOLD STORY: Six inspirational people share their amazing journeys to working within Formula 1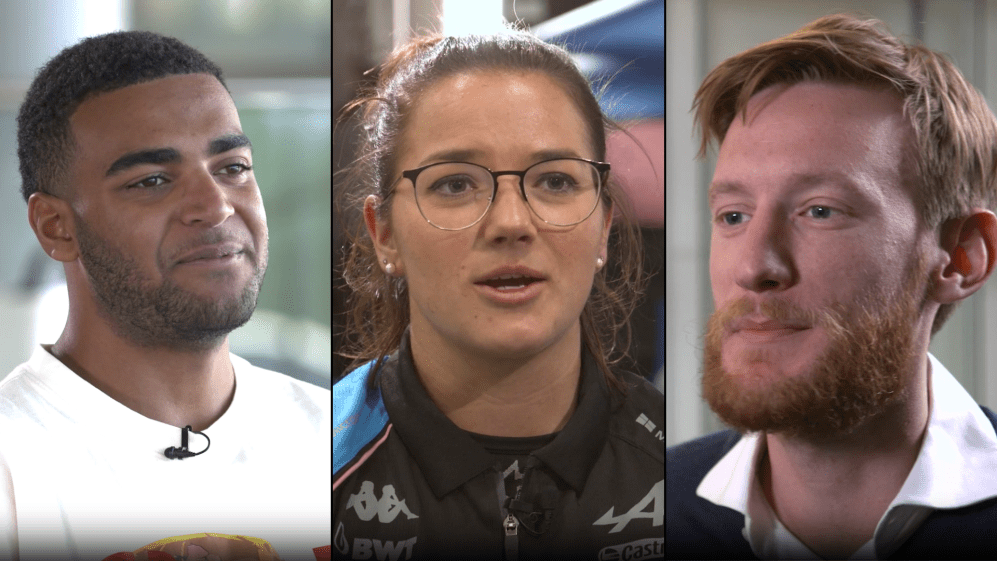 There are many people from diverse backgrounds working within Formula 1, from the organisation itself to the teams that bring fans endless entertainment. But how well do you know their names and their stories?
In this 'My Untold Story' series six inspirational people from different walks of life tell us all about their upbringing, roles in Formula 1, and also their hopes for the younger generation. Together they showcase that, no matter what your background, a career working in Formula 1 could be for you.
READ MORE: Formula 1 committed to 'delivering positive lasting change' on sustainability and diversity and inclusion, says Domenicali
Filippo Giussani – CFD Software Developer at Aston Martin
Filippo is a member of the LGBTQ+ community who discusses how his childhood involved watching Formula 1 with his family, especially his father and brother, and what he does in his current role at Aston Martin.
He explains why his participation in the sport can be used to inspire the younger generations, why the likes of Lewis Hamilton and Sebastian Vettel's messages on allyship are so important, and how that could lead to change.
Emily Billingham – FIA Systems Analyst
Emily is another who opens up about her childhood as she explains why she opted to leave school early despite being a very strong student. She goes onto detail how she got her role timekeeping in Formula 1, and how Motorsport UK played their part in helping her do so.
READ MORE: 'If you can't see it, you can't believe it' – Susie Wolff on new global initiative F1 Academy Discover Your Drive
She talks us through the interview process and why the 2020 Hungarian Grand Prix is a poignant moment in her career. Lastly, Emily explains what her new role at the FIA entails, and why she believes there are more roles in motorsport for women.
Joe Onyuma – McLaren Social Media Executive
Joe opens up about how a rugby injury when he was younger revealed an issue with his spine, and left him unable to bend down for six months. He explains how, inspired by his mother, this brought about his love for cameras, which has led him to where he is today.
READ MORE: 'A turning point in the history of motorsport' – Inside F1 Academy Discover Your Drive
He talks through the challenges he faced growing up, and the comments he would get that would leave him confused. Joe reflects on his role at McLaren and what he enjoys the most about working with the team, before highlighting the impact of Lewis Hamilton and why his success inspired him as a child.
Kimberleigh Hillsdon – Haas Stores and Parts Supervisor
For Kimberleigh, spending time with her family at races sparked an interest in mechanics and motorsport. In this episode she talks through her career to date and how an apprenticeship at the age of 16 caused her to walk away from the automotive industry for four years.
READ MORE: Hamilton praises F1 Academy 'progress' with all 10 Formula 1 teams having drivers and liveries in 2024
Those years away ended up reigniting her passion for the industry and she goes on to explain how the job at Haas brought her back into the sport. Kimberleigh also discusses the barriers women face in trying to enter motorsport and why, even though there has been progress made, there is still plenty to do to break down these barriers.
Cleo Collins – No.2 mechanic at Alpine
Cleo discusses her role at Alpine and how her love for the sport started out as a hobby with friends, and included a track day at Brands Hatch when she was 19. She reflects on how that hobby led her to make the decision to leave the family business and move into motorsport.
FORMULA WHY: How Formula 1 is striving to become a more sustainable sport
Cleo explains how her time with Accelerate reinforced her love for motorsport, how she made it onto W-Series and the feeling she got when she joined Alpine. She shares advice for the younger generation of women interested in motorsport and why she believes role models are so important.
Rodrigo Azevedo – Senior Editor for Creative Media at Formula 1
Rodrigo discusses his upbringing in Brazil in his untold story and how watching Ayrton Senna with his father played a major part in growing his love for Formula 1. He also opens up about how he decided what to do in his career, and the decision to leave home to move to the UK.
READ MORE: Formula 1 and Tottenham Hotspur FC join forces to find the next generation of F1 drivers
He explains how his father falling ill played a huge part in his decision to apply for the role in Formula 1 and why it felt special to work at F1 for him. Lastly, he explains what he loves about his role, sharing what he does when at the track and back in the UK office.