Feature
NEED TO KNOW: The most important facts, stats and trivia ahead of the 2023 Hungarian Grand Prix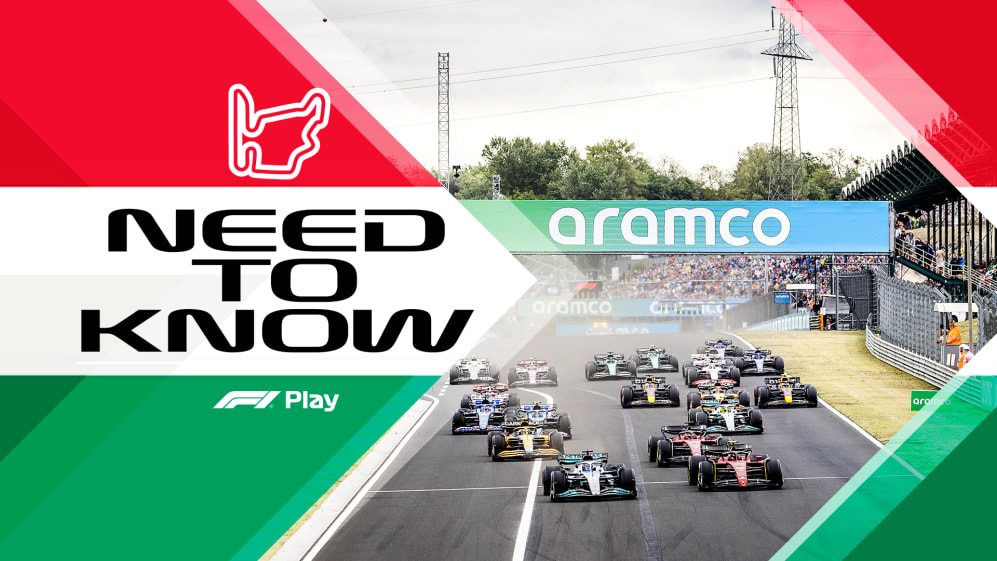 F1 moves on to Hungary for the penultimate round before the summer break. Ahead of the weekend, Need to Know is your all-in-one guide with stats, trivia, insight and much more. You can also see how fans have voted using our F1 Play predictor game.
The action will kick off with FP1 and FP2 on Friday July 21, followed by final practice and qualifying on Saturday July 22 and the main event itself, the Hungarian Grand Prix, on Sunday July 23.
IT'S RACE WEEK: 5 storylines we're excited about ahead of the 2023 Hungarian Grand Prix
Vital statistics
First Grand Prix – 1986
Track Length – 4.381km
Lap record – 1m 16.627s, Lewis Hamilton, Mercedes, 2020
Most pole positions – Lewis Hamilton (8)
Most wins – Lewis Hamilton (8)
Trivia – Esteban Ocon took his maiden F1 win in the 2021 race, while George Russell claimed his first-ever F1 pole at the 2022 event
Pole run to Turn 1 braking point – 476 metres
Overtakes completed in 2022 – 99
Safety Car probability – 38%*
Virtual Safety Car probability – 38%*
Pit stop time loss – 20.84 seconds
*From the last eight races in Hungary
FAN VIEW: The disparity between Max Verstappen and the rest of the grid in the F1 Play victory predictions is significant, with the reigning world champion accounting for a staggering percentage of votes. His count in the early going is above 95%, with Lando Norris in the resurgent McLaren the only other man to put up more than 1%.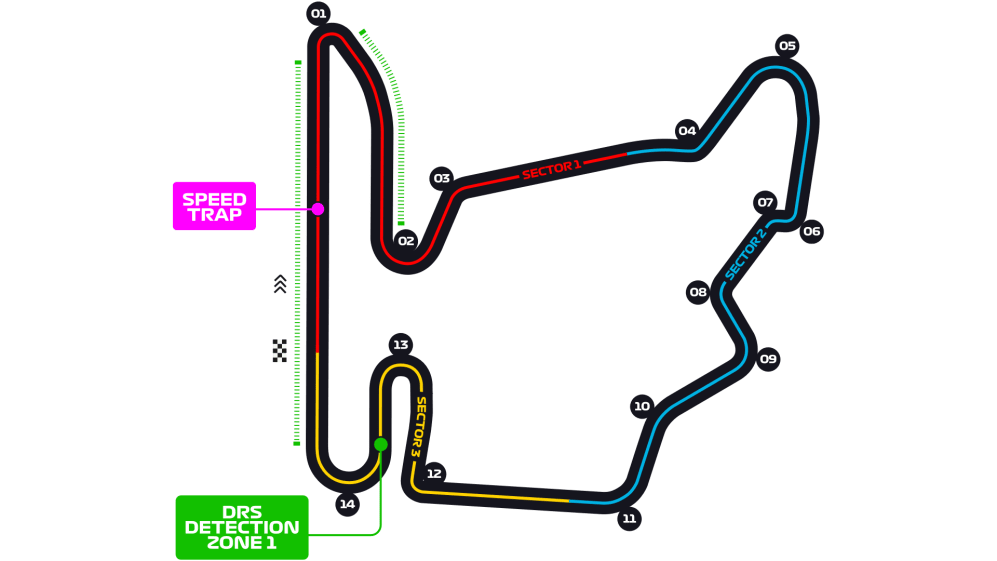 The driver's verdict
Jolyon Palmer, former Renault F1 driver: Budapest feels like a small circuit when you're there but there's plenty that goes into it with 14 corners. The first sector is basically two corners: a big braking zone at Turn 1, which is a relatively straightforward right-hander, but quite bumpy in the braking area, so it can induce some front locking, before heading into Turn 2, which is slightly downhill.
The middle sector is one of those ones where you've got to find a rhythm because out of pretty much every corner you need to be positioned for the next corner coming through it. You go from Turn 4 into 6, then you get a tiny breather, but it carries you through the next sweeping section, building speed all the way.
WATCH: 5 great Hungarian Grand Prix battles from the F1 archive
In the final sector, sometimes the tyres are starting to overheat and you start to scramble around for a little bit of grip there. In the race, you've got to think about setting up your overtake coming out of Turn 14, the final corner, because that is your one chance to do something into Turn 1 and, if not, into Turn 2. If you don't get it done there, you're probably going to be following for the next lap.
I had some good battles here in GP2, and while it's not easy to overtake in Hungary, you can. The layout of the circuit lends itself to overtaking at Turn 2, particularly as you can go inside or outside, so it can be hard to defend. It's a nice one to have some battles at.
Last five Hungarian GP pole-sitters
2022 – George Russell (Mercedes)
2021 – Lewis Hamilton (Mercedes)
2020 – Lewis Hamilton (Mercedes)
2019 – Max Verstappen (Red Bull)
2018 – Lewis Hamilton (Mercedes)
THIS WEEK IN F1: 10 quiz questions on all the F1 news ahead of the Hungarian Grand Prix
Last five Hungarian GP winners
2022 – Max Verstappen (Red Bull)
2021 – Esteban Ocon (Alpine)
2020 – Lewis Hamilton (Mercedes)
2019 – Lewis Hamilton (Mercedes)
2018 – Lewis Hamilton (Mercedes)
FAN VIEW: Alongside his victory chances, well over 80% of F1 Play gamers believe Verstappen will be the fastest man over a single lap this weekend, after he claimed that honour at Silverstone last time out. The rest are mere also-rans.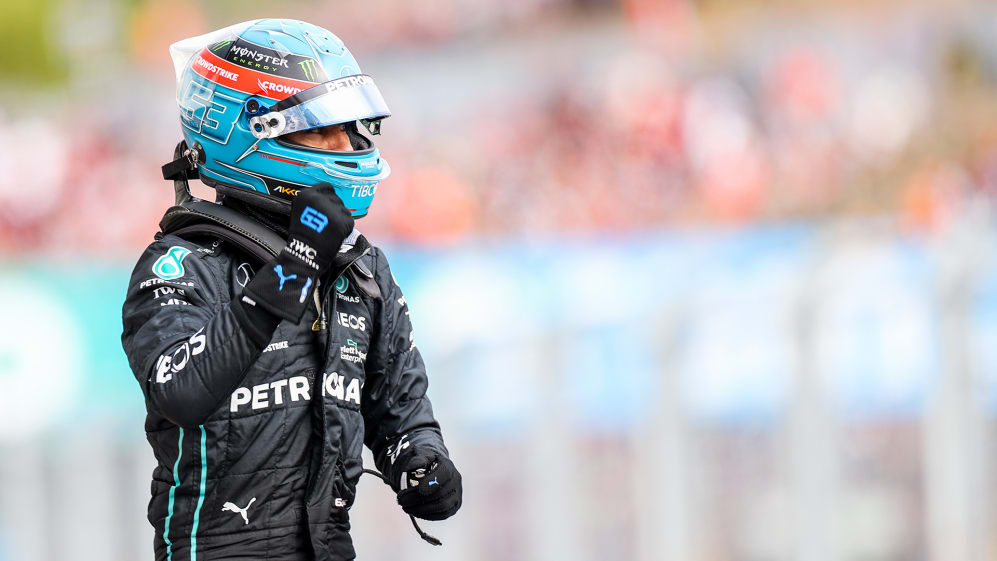 Strategy and set-up keys
Bernie Collins, former Aston Martin F1 strategist: Budapest is a high downforce track featuring several big braking zones that's generally difficult to overtake on – often described as Monaco without the walls – meaning a strong qualifying result, and securing track position, will be vital to success.
Given this factor, the race has typically been a one-stop, but an unexpected performance from the hard tyre last season resulted in teams preferring softer compounds and a two-stop race. For 2023, Pirelli have brought a softer compound range of the C3, C4 and C5, so we seem set for another multiple stop race.
DESTINATION GUIDE: What fans can eat, see and do when they visit Budapest for the Hungarian Grand Prix
But that's not the only tyre related change for this year's event. Having been planned for Imola, the 'Alternative Tyre Allocation' will debut this weekend, with 11 sets of tyres available to the drivers (3x hard, 4x medium and 4x soft) as opposed to the usual 13. If it's dry during qualifying, hards will be enforced in Q1, mediums in Q2 and softs in Q3.
A large decrease in lap times through qualifying due to track evolution and softer compounds mean drivers and the pit wall will have to adapt quickly, with different tyres requiring different warm up, braking and power application, which could make calculating a qualifying cut off (if a driver is safe or not) more challenging.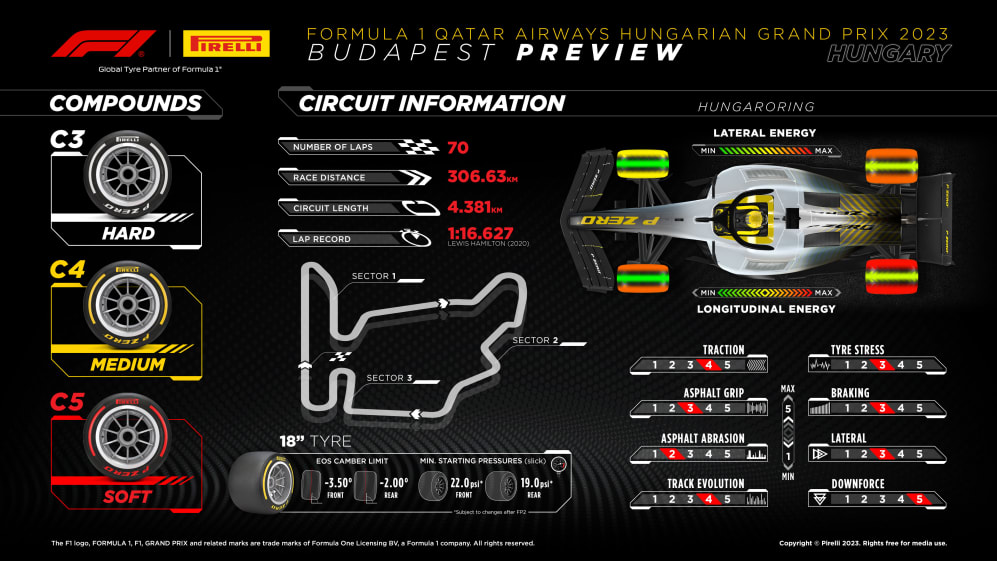 The need for track position mentioned above will also push teams into sub-optimal pit stop laps in order to gain or retain places, while there is a low DRS effect around the 4.381km track, which is the only venue on the calendar to feature 1A and 12A corner numbers!
Track temperatures are typically high in the European summer, but if any rain arrives there is potential for several sections to feature rivers – for example between Turns 1 and 2, where there is often a flow of water over the circuit.
READ MORE: Formula 1 and Sky Group announce details of first-ever children's broadcast at Hungarian Grand Prix
Conversely, due to high ambient and track temperatures, when it stops raining the track dries very, very quickly. This is what caught teams out in 2021 and resulted in Lewis Hamilton being alone on the grid at the restart after the red flag.
Another important note for consideration is that the Hungaroring features the fourth longest run from the grid to Turn 1, placing high importance on launch performance combined with the difficulty in overtaking.
FAN VIEW: Verstappen's Red Bull team mate, Sergio Perez, is no longer seen as the likeliest man to follow him home, with Lewis Hamilton favoured for second place in the F1 Play votes. Norris, meanwhile, has gone from a distinct podium outsider to very much in the mix here. As for outsiders, think George Russell and Carlos Sainz.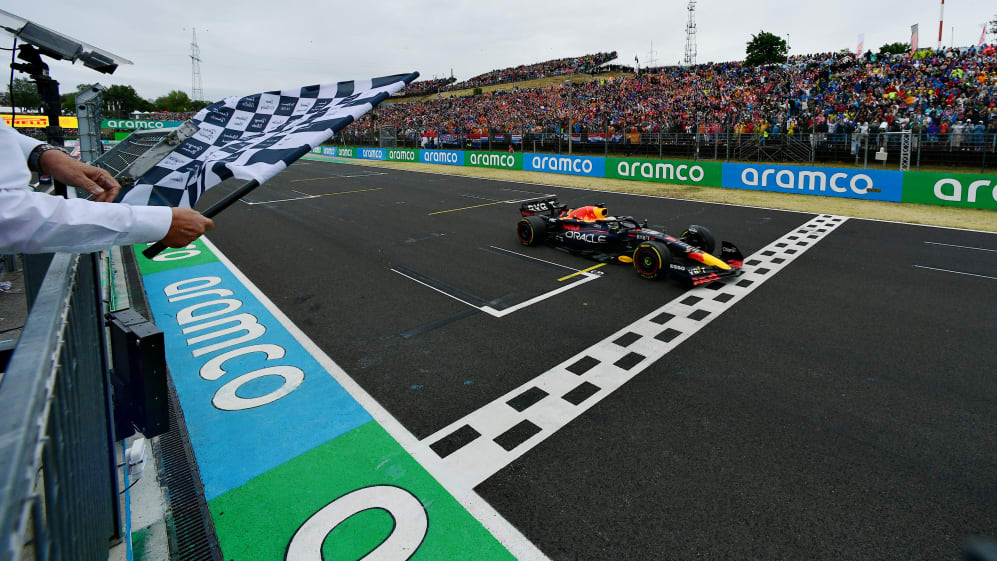 Current form
It's been a theme of these Need to Know guides so far this season, but Max Verstappen and Red Bull arrive in Hungary looking to extend their remarkable purple patch – the Dutchman going for seven successive wins, and the team looking for 12 on the bounce.
Should Red Bull succeed this weekend, either via Verstappen or team mate Sergio Perez, they would set a new outright record for the most victories in a row in F1 history, moving one clear of the 11 set by McLaren during the 1988 season.
READ MORE: Horner says Ricciardo's 'objective' is Red Bull seat in 2025 as he gets set for Hungary comeback
But following upgrades that launched Lando Norris and Oscar Piastri into contention last time out at Silverstone, McLaren will be doing all they can to ensure that sequence is not beaten outright, and embark on another trophy-filled chapter.
That's not to mention Mercedes, Aston Martin and Ferrari, who have all shown impressive turns of speed at various points in 2023, while Alpine – who went head-to-head with McLaren for P4 in the constructors' standings last year – are keen to fight back with updates of their own.
The battles stretch throughout the field as Williams look to defend P7 from Haas and Alfa Romeo after leapfrogging them with Alex Albon's latest points finish in Britain, while AlphaTauri prop up the rear but can now call on the experience of F1 returnee Daniel Ricciardo for the second half of the campaign.
FAN VIEW: The McLaren pace appears to be very much for real, so no wonder that Norris' team mate, Oscar Piastri, is seen as a lock for points at the Hungaroring following that excellent Silverstone P4. Another team going strong on F1 Play right now is Williams, and Alex Albon again has plenty of support.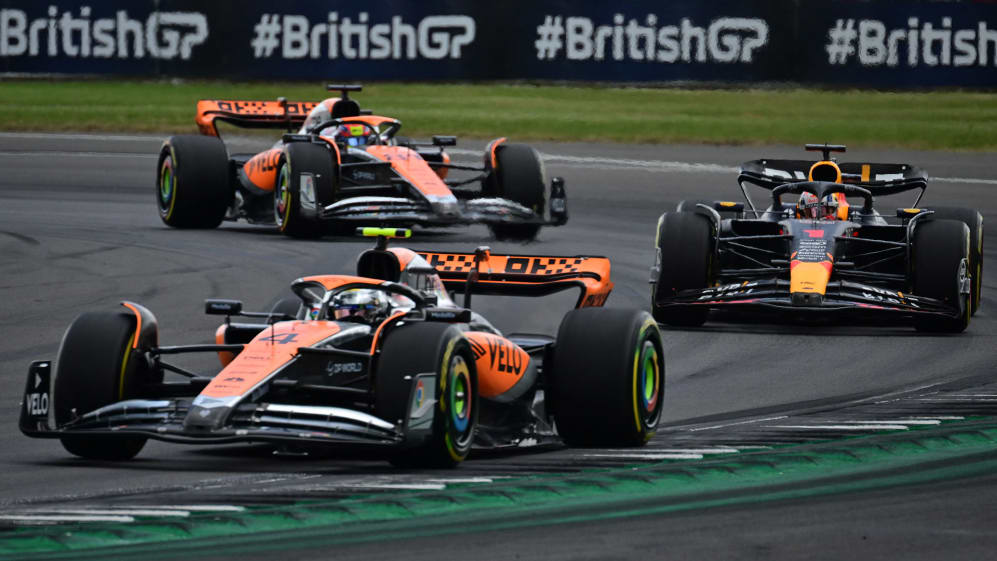 Iconic moment
There are so many iconic moments to choose from over the several decades of racing at the Hungaroring, but one particularly dramatic race – and landmark result – came during the 2006 season.
Starting back in 14th, Button excelled in the tricky wet/dry conditions to rise up the order and bring himself into contention, meaning he could capitalise when long-time leader Fernando Alonso lost a wheel nut and spun off.
BEYOND THE GRID: F1 engine guru Mario Illien on powering McLaren to success, hybrid tech, top secret projects and much more
After a hatful of podium finishes and several near-misses, it marked the first victory of Button's F1 career, the first for Honda as a constructor since John Surtees' win in Italy in 1967 and the first for a Honda engine since Gerhard Berger's triumph in Australia in 1992.
Check out the action, and post-race emotions, in the video player below...