Feature
NEED TO KNOW: The most important facts, stats and trivia ahead of the 2023 Spanish Grand Prix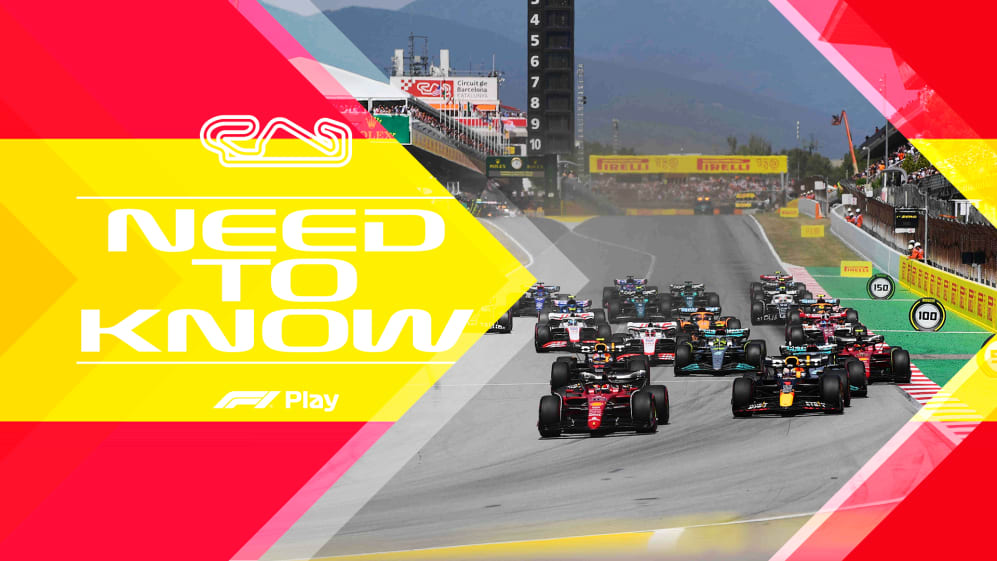 Formula 1 heads straight from Monaco to Spain for another weekend of racing. Need to Know is your all-in-one guide with stats, trivia, insight and much more. You can also see how fans have voted using our F1 Play predictor game.
The first two practice sessions at the Circuit de Barcelona-Catalunya, which no longer features a chicane in the final sector, will take place on June 2, followed by qualifying day on June 3 and the Grand Prix itself on June 4.
IT'S RACE WEEK: 5 storylines we're excited about ahead of the Spanish Grand Prix
Vital statistics
First Grand Prix – 1951 (Pedralbes)
Track Length – 4.657km
Lap record – N/A (due to 2023 configuration change)
Most pole positions – Michael Schumacher (7)
Most wins – Michael Schumacher and Lewis Hamilton (6)
Trivia – Fernando Alonso's most recent F1 win came at the Circuit de Barcelona-Catalunya in 2013
Pole run to Turn 1 braking point – 595 metres
Overtakes completed in 2022 – 75
Safety Car probability – 50%*
Virtual Safety Car probability – 25%*
Pit stop time loss – 22.88 seconds
*From the last eight races in Spain
FAN VIEW: Max Verstappen is dominating the F1 Play voting for the win in Barcelona, taking more than 80% of the early votes. Spaniard Fernando Alonso – bidding for his first victory in a decade – is next on the list with just over 10%.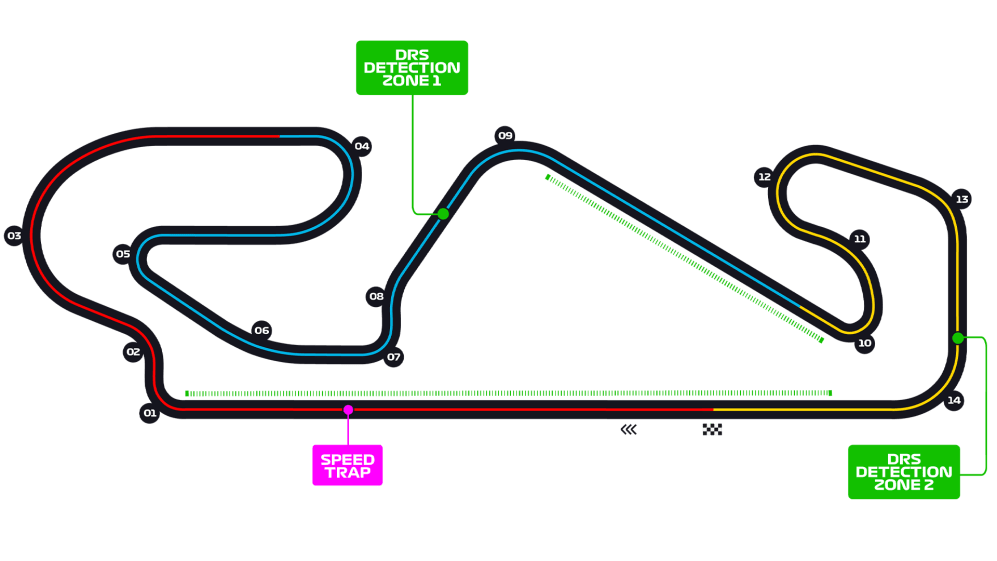 The driver's verdict
Jolyon Palmer, former Renault F1 driver: Barcelona is a nice circuit, but everyone knows it like the back of their hand, which kind of makes it feel like home, because it's the one that we have historically spent a lot of time driving at, although not during testing this year.
It's really flowing and tough on the neck and the body because of the long corners coming through Turns 3 to 4 and Turn 9. It's also tough on the front-left tyre, with tyre wear generally high in Barcelona thanks to abrasive tarmac.
THIS WEEK IN F1: 10 quiz questions on the latest F1 news ahead of the Spanish Grand Prix
Overtaking is pretty tricky, with Turn 1 pretty much the only spot you can pass at – it's also the trickiest corner. Turn 4 to 5 is a nasty, downhill braking zone, which again can sucker you into braking a little bit late, but because there's a bit of camber on it, you can miss the apex slightly and not lose a heap of time.
The previous final sector was not a pleasure to drive. You had to balance your tyre performance in the first and final sector, it felt really slow, and you squirmed your way around the final chicane trying to compete the lap. But that's all gone for 2023.
Last five Spanish GP pole-sitters
2022 – Charles Leclerc (Ferrari)
2021 – Lewis Hamilton (Mercedes)
2020 – Lewis Hamilton (Mercedes)
2019 – Valtteri Bottas (Mercedes)
2018 – Lewis Hamilton (Mercedes)
Last five Spanish GP winners
2022 – Max Verstappen (Red Bull)
2021 – Lewis Hamilton (Mercedes)
2020 – Lewis Hamilton (Mercedes)
2019 – Valtteri Bottas (Mercedes)
2018 – Lewis Hamilton (Mercedes)
READ MORE: Formula 1 and DHL introduce biofueled trucks for European races in 2023 to reduce carbon emissions
FAN VIEW: Verstappen was simply spectacular in nailing down that epic pole lap in Monaco and, unsurprisingly, he leads the F1 Play voting to repeat the feat in Spain this weekend. The reigning world champion has more than 60% of votes, with Red Bull team mate Sergio Perez a very distant second on just 12%.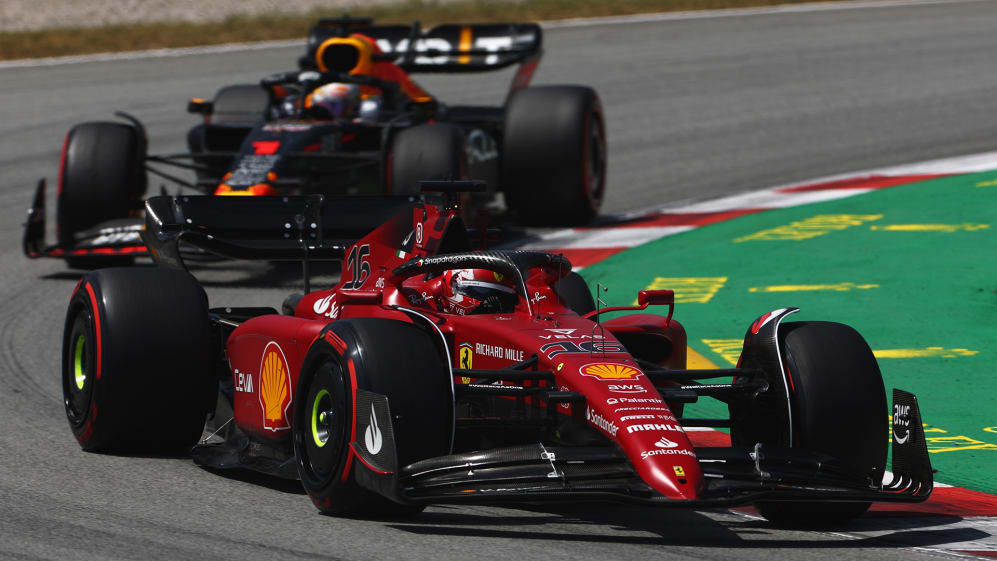 Strategy and set-up keys
Bernie Collins, former Aston Martin F1 strategist: Barcelona provides an all-round test of F1 machinery with its mixture of high, medium and low-speed corners, but a key tweak for 2023 sees the removal of the chicane in the final sector and the return to a layout last used back in 2006.
Not only will the chicane's exit result in a quicker lap time and potentially impact how drivers approach tyre life in qualifying, given that there will no longer be a fiddly final section to navigate, the tweak is also set to improve overtaking opportunities, while likely increasing the pit lane time loss as cars will be going faster.
READ MORE: Formula 1 and Sky Group to co-produce Grand Prix broadcast for children
Indeed, tyre degradation, braking, on-throttle time and engine deployment maps will all need adjustments, meaning drivers and teams have plenty to relearn and simulations to prove when cars hit the track on Friday.
Spain has typically been a multiple stop race in the past, with overtaking possible due to higher degradation levels, which leads to a powerful undercut. However, it is not a track position race, so many have made the mistake of gaining track position by stopping too early or not converting to an additional pit stop strategy early enough.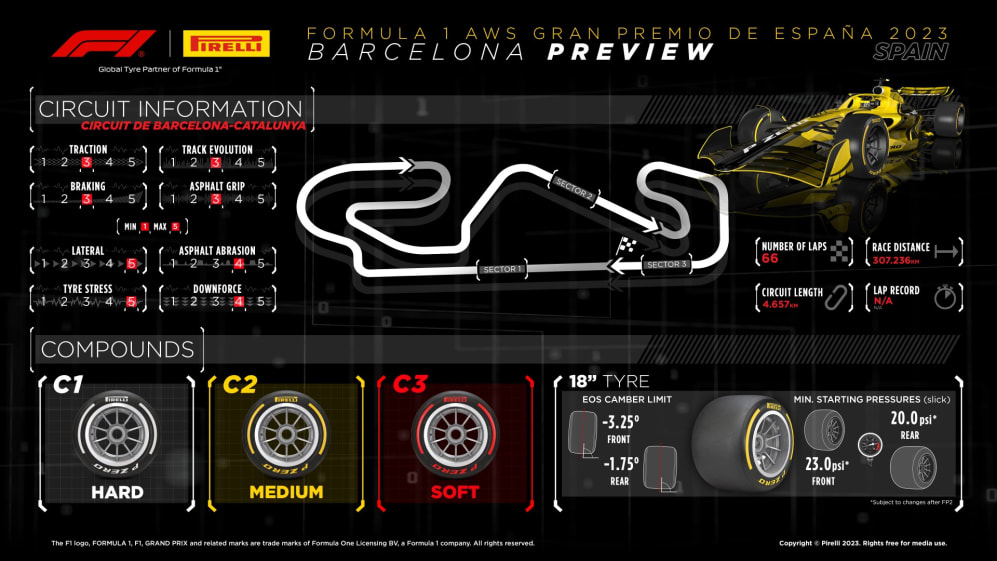 In 2022, the hard C1 tyre was avoided, with teams opting for multiple stops on softer compounds. With Pirelli bringing the new C1 (along with the C2 and C3) for 2023, which is not as slow, perhaps teams will use this and reduce the number of pit stops.
In another tyre-related note for this weekend, the field will test a revised Pirelli construction during FP1 and FP2, with the modification due to be introduced from the British Grand Prix onwards – crucial data for Pirelli, but runs that could hamper teams' understanding of the new layout.
READ MORE: Pirelli set to introduce new slick tyre spec at Silverstone
Finally, Barcelona is a popular venue for unleashing upgrade packages, given its slot on the calendar and the familiarity of the track. Having debuted their revised W14 – featuring more conventional sidepods – last time out in Monaco, it will be the first proper opportunity for Mercedes to gauge where they stand.
FAN VIEW: Not so much of an outsider now after last weekend in Monaco, but Alpine's Esteban Ocon is the new kid on the block after that brilliant third place in the Principality. He is snapping at the heels of the usual podium suspects via F1 Play – they include Ferrari's Charles Leclerc and Carlos Sainz and Mercedes' Lewis Hamilton.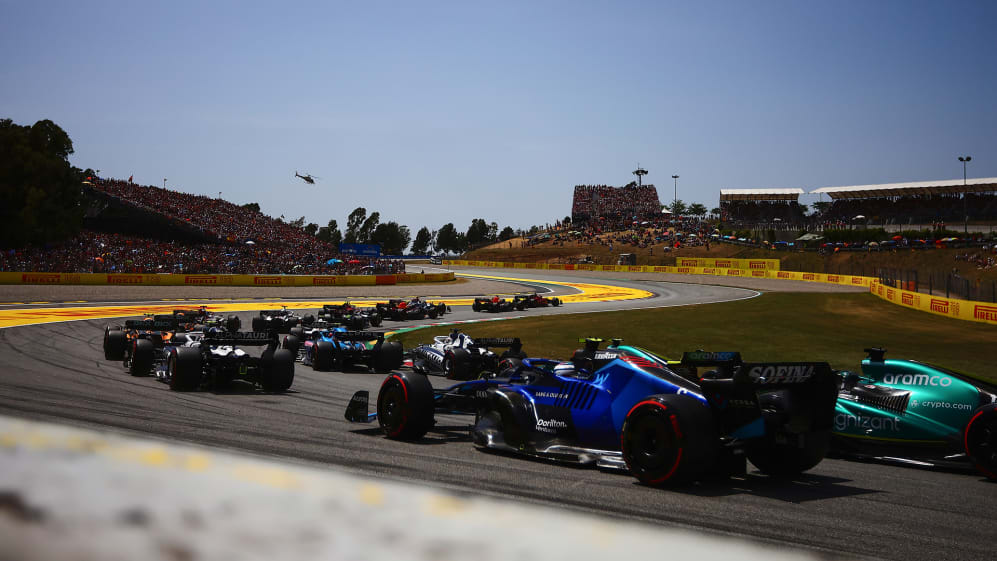 Current form
Red Bull remain the team to beat as F1 heads to Spain, with Max Verstappen's classy victory on the streets of Monte Carlo ensuring that the Milton Keynes operation have won all six races held so far this season.
Meanwhile, Verstappen has moved 39 points clear of team mate Sergio Perez in the driver' standings, taking full advantage of the Mexican's point-less Monaco weekend following a costly crash in the first qualifying phase.
READ MORE: Vasseur insists there is 'big room for improvement' with current Ferrari car ahead of Spanish GP
It means Fernando Alonso is now just 12 points away from Perez after yet another podium in the green Aston Martin machine, adding to his quartet of top-three finishes with a new season-best result of second place.
Alonso and Aston Martin will be pushing for more of the same this weekend as the Spaniard returns home to his adoring fans, and to the scene of what remains his most recent Grand Prix victory with Ferrari back in 2013.
But there will also be plenty of attention on Mercedes, who can put their Monaco upgrade package through its paces in more suitable surroundings, while Ferrari are set to introduce new developments of their own.
FAN VIEW: The Alpine pair of Ocon and team mate Pierre Gasly are pretty much seen as locks for the top 10 on F1 Play after their recent improvement, while McLaren's Lando Norris and Oscar Piastri are also attracting plenty of support. The other driver strongly fancied for points in Spain is Yuki Tsunoda of AlphaTauri.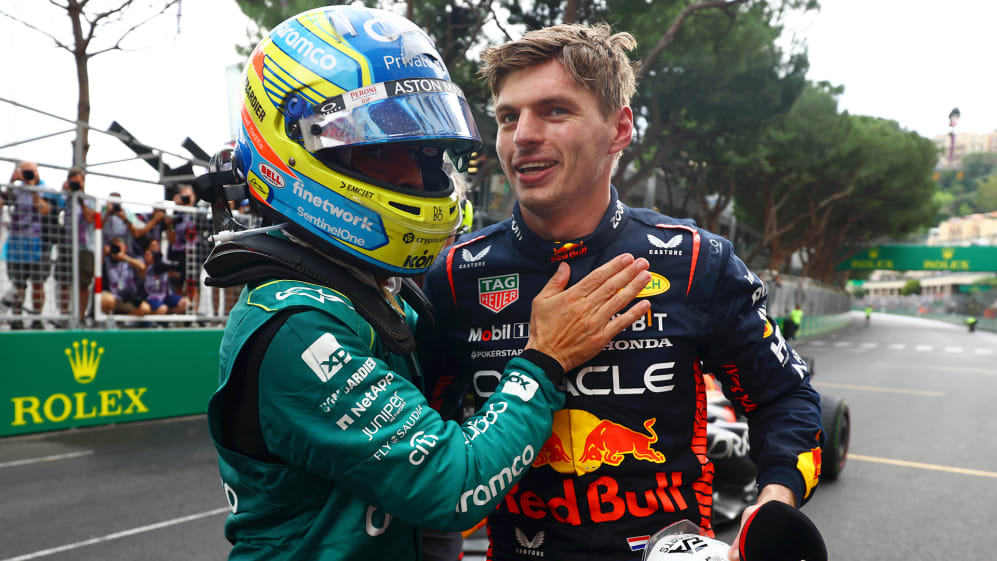 Iconic moment
Lewis Hamilton and Nico Rosberg experienced one of the biggest flashpoints during their time as Mercedes team mates at the 2016 Spanish Grand Prix, with the pair coming to blows on the opening lap.
Having claimed pole position, Hamilton lost out to Rosberg on the lengthy run down to the first corner and, as he attempted to get back ahead between Turns 3 and 4, the two Silver Arrows dramatically made contact.
READ MORE: Schumacher to get first W14 laps after Spanish Grand Prix as Mercedes confirm debut
With both Hamilton and Rosberg out on the spot, an unexpected opportunity presented itself to their rivals, one that Max Verstappen seized with both hands to take a spectacular victory on his Red Bull debut.
Watch all the drama in the video player below...