Feature
Newly-crowned five-time champion Lewis Hamilton by those who've known him - and raced him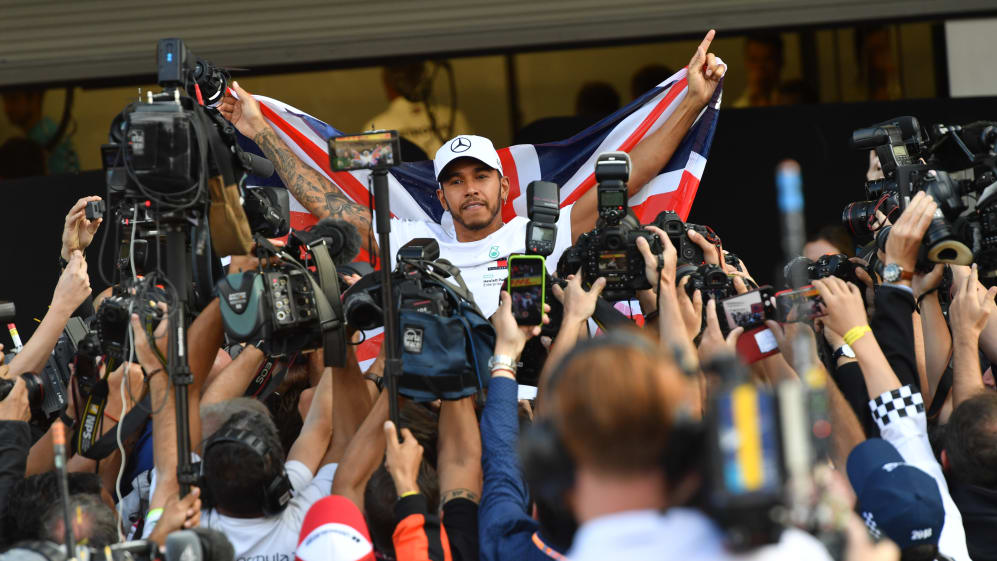 Lewis Hamilton's speed over one lap is just something else. With 81 pole positions to his name – the next best is Michael Schumacher on 68 – you could justify the Briton as being the fastest driver of all time. He's still 20 shy of Schumacher's win record of 91 – a feat that when it was achieved was viewed as unbeatable.
But having averaged 10 wins per season over the last five years and two seasons left on his contract, Hamilton is in a strong position to match it, particularly if Mercedes can maintain their current level of form.
"He has been the differentiator," said Mercedes Team Principal Toto Wolff of his charge's performance this year. Mercedes have not had the fastest car for much of this year and yet Hamilton has done with the car what only the greats are able to do – win against the odds.
No wonder Hamilton described this campaign, the 12th of his career, as his best season. He wrapped up the championship with two rounds to go, has shown supreme mental strength, avoided making the litany of mistakes that derailed his rival Sebastian Vettel's title charge and has scored 15 podiums – of which nine were wins – in 19 races. That's phenomenal consistency.
But Hamilton's career hasn't always been smooth sailing. He missed out on the championship in his rookie year in 2007 at the death, had an uncompetitive car for the second-part of his McLaren career and took a massive gamble leaving the team that had supported his career all the way to Formula 1 to join Mercedes at a time when they had scored just one win in four seasons on returning as a works squad.
To celebrate Hamilton's incredible achievement, which moves him into the echelons with only Michael Schumacher and Juan Manuel Fangio as the drivers to have won five world championships or more, we hear from those who have watched or raced against him…
Nico Rosberg
2016 world champion
Active in F1 from 2006-2016, Hamilton's team mate 2013-2016
"Five titles – unbelievable. It's crazy to think – and equalling Fangio. He can seriously go for Schumacher's records now. He's got two more years on the contract, and Schumi is only two titles away, 20 race wins away, even that's possible in two years.
"It's amazing. He can really try to become statistically the best of all-time, which is unreal, but it is a possibility, and I'm sure he's going to be motivated by that.
"Mercedes and Lewis [were] getting everything perfect, it just completely went apart in a big way. That's why it's now such a big difference in the championship, and it's finished so early.
"He has the same speed as he showed in karting, he is just as difficult to beat in go-karting as he is in F1. There were some different aspects that came into it in F1, which I didn't know from karting – his strength in the media and team internally. He's quite instinctively strong."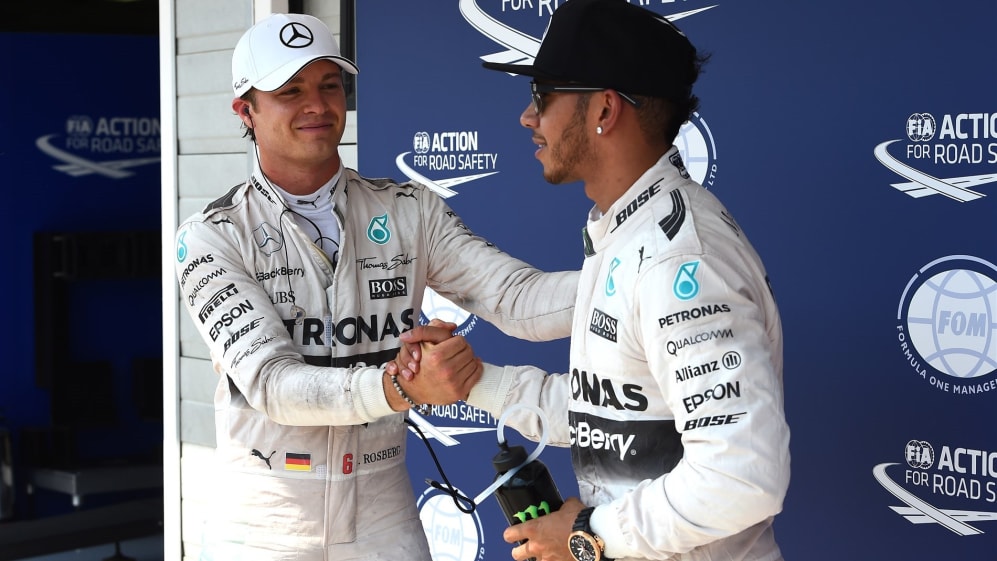 Sebastian Vettel
2010, 2011, 2012 and 2013 world champion
Active in F1 from 2007-present, runner-up to Hamilton 2017 and 2018
"He drove superbly all year and was the better one of us two. So I told him well deserved and to enjoy it – number five is something incredible. I congratulated him and asked him to keep pushing for next year, I need him at his best to fight him again.
"There can only be one winner and he is the one who deserves it this year. Congratulations to Lewis. He was just the better man, full stop.
"He drove very consistently, he was very fast and they were able to use the advantage when we were maybe struggling but that's a quality, not luck. He sealed the championship with two races to go and drove really well. Lewis is the hero of this year."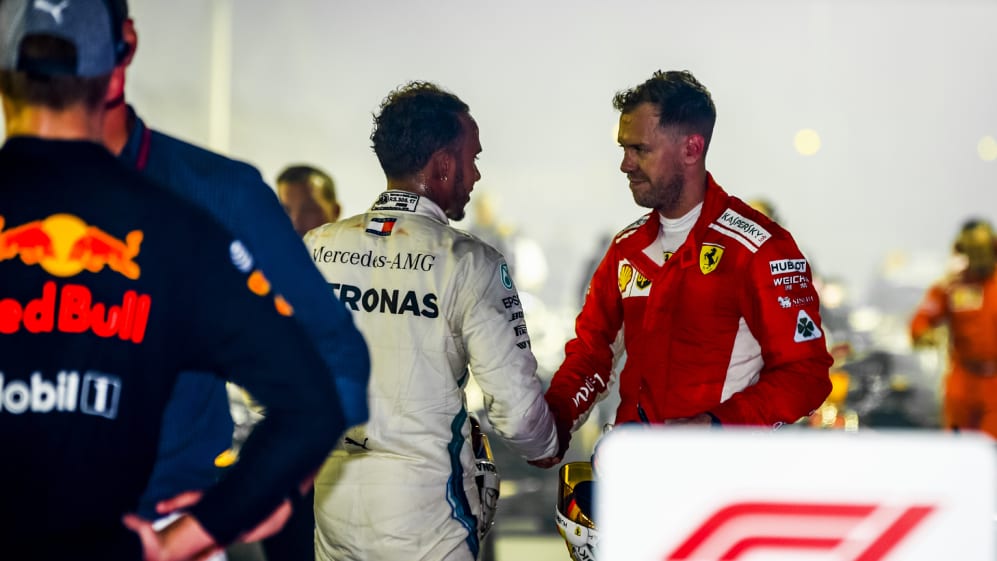 Fernando Alonso
2005 and 2006 world champion
Active in F1 from 2001-present, Hamilton's team mate 2007
"Lewis has showed the talent from day one, and fighting for the championship in his rookie year, winning in 2008. Probably at that time, we all agree that five or seven world championships will be possible. Then it was a little bit down due to the performance of the car for a couple of years.
"And then switching to Mercedes at that time, we all were thinking that maybe was not positive – because at that time Mercedes were struggling in 2013, and things like that.
"I'm happy for him because he showed the talent from day one. He was able to win races when the car was there to win it but he was able to win races in some of the seasons when the car was not in the top of the form, like 2009. It's impressive – and now it's time to enjoy for him, so I'm happy.
"Michael [Schumacher], [Juan Manuel] Fangio, [Ayrton] Senna, [Alain] Prost, Lewis - probably this will be the top five [in history] but it's difficult to compare different times and different ways to win those championships.
"Lewis winning five now and being the same as Fangio is a great achievement and if one had to do that in our generation, I'm happy that it's Lewis because he showed the talent and he showed the commitment."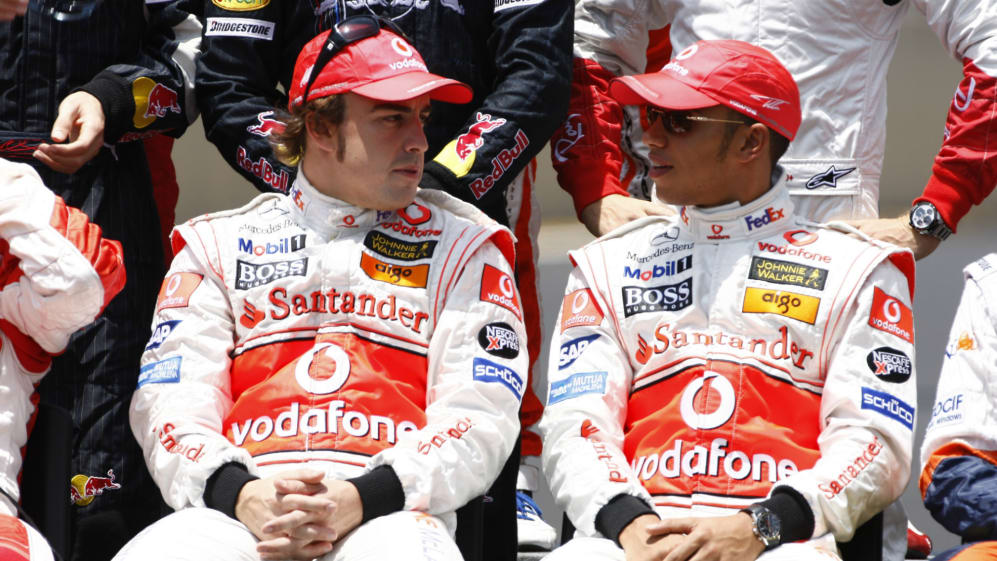 Daniel Ricciardo
Seven-time Grand Prix winner
Active in F1 from 2011-present, Hamilton's rival 2011-present
"Certainly my competitive side will always believe that I'm the best and that in that car I can do the same thing, but I definitely give him all the respect and it's definitely not a go at Lewis.
"He's been pretty awesome at being able to do what he's done continuously on track for the best part of a decade, but also done his own thing away from the track. For him to live the life he's living but still keep up such a performance, all credit to him.
"Also this year people realised that you can have the fastest car but you have to be able to perform week in, week out. Seb, for the most part, has had a fast car all year.
"But when you're fighting for the title it's those little one percenters that Lewis has got on top of more often than him and that's really what's dictated the pace of the championship now.
"I give Lewis full respect - the talent's always been there, the speed's always been there, everyone knows that, but for him to maintain this level of intensity, this level of speed and commitment is pretty strong. I certainly have no problem with applauding him on that, he deserves it. He deserves that this year 100 percent."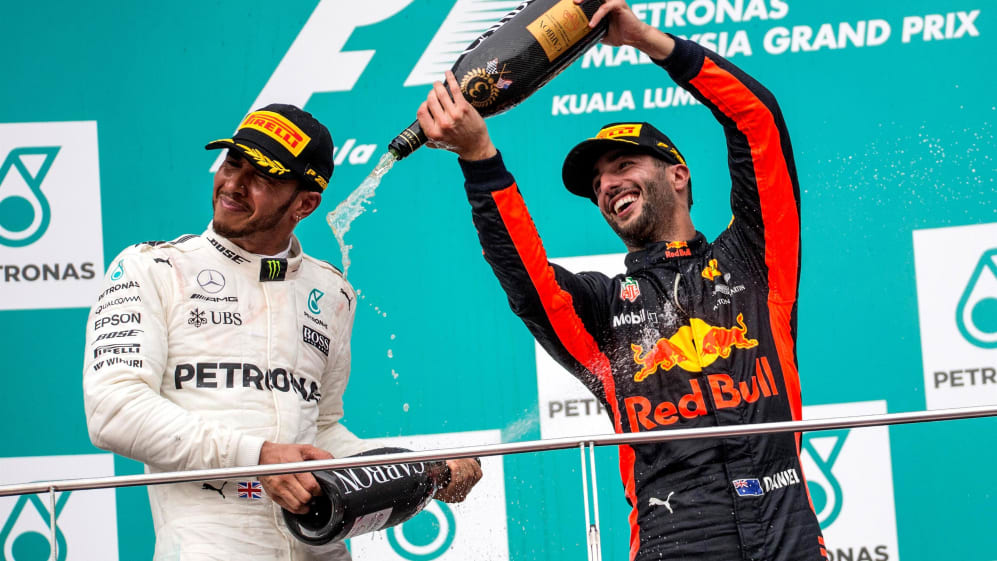 Valtteri Bottas
Three-time Grand Prix winner
Active in F1 from 2013-present, Hamilton's team mate 2017-present
"When I joined the team and got to know him a bit more, (it became clear) that he's a very nice guy and he works hard. Maybe much harder than many people think.
"He is definitely very quick and what comes together for him to be quick is a long story with fine details, but he is obviously very experienced in Formula 1 and is still hungry for more which I think is the main thing.
"He has got the talent so I think from his first year in Formula 1 he has been performing well and has been able to build on that every year and to keep hungry to win more which has allowed him to do that. Every driver still has their weaknesses but some drivers have less of them.
"Being alongside him has been good for me to try and improve some of my weaknesses. I'm happy to be his team mate.
"He's had another great season. He's been strong all year, especially in the second half, and he hasn't really had many setbacks this year, so he got a big amount of points and well done to him for the title; he really deserves it."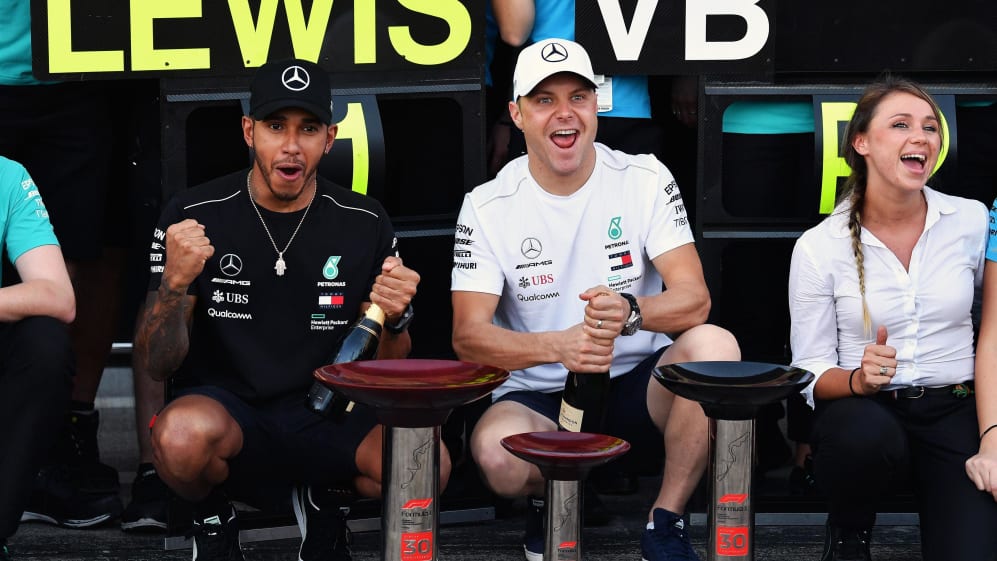 Carlos Sainz
Active in F1 from 2015-present, Hamilton's rival 2015-present
"Lewis is probably one of the biggest talents F1 has ever had. No one doubts that. He has been spot on with the timing of his decisions. Obviously there is a bit of luck, you cannot predict that you are going to win titles with Mercedes like he predicted.
"But he has been really smart and is a super talented to deliver all those world titles. Hats off because the way he is driving this year is also something very special. He is delivering always under pressure, with incredible results and laps.
"Probably this is the year that is making him be seen by all like the year that says he is one of the best ever. The way he has driven this year is a great example for all the youngsters like us.
"I speak with Lewis, actually more than I thought, and more than first expected. I have always had a good relationship with him. I sit with him in briefings quite a lot and we chat a bit about many things. He asked me about McLaren the other day, so you can see that he is also interested even if he doesn't look like it.
"I remember here last year after the Austin race he came to me to tell me the good job I'd done on changing teams and delivering such a strong result. He is actually paying attention to what is going on around him and in the paddock. I have always had a lot of respect for him. He has also been respectful to me."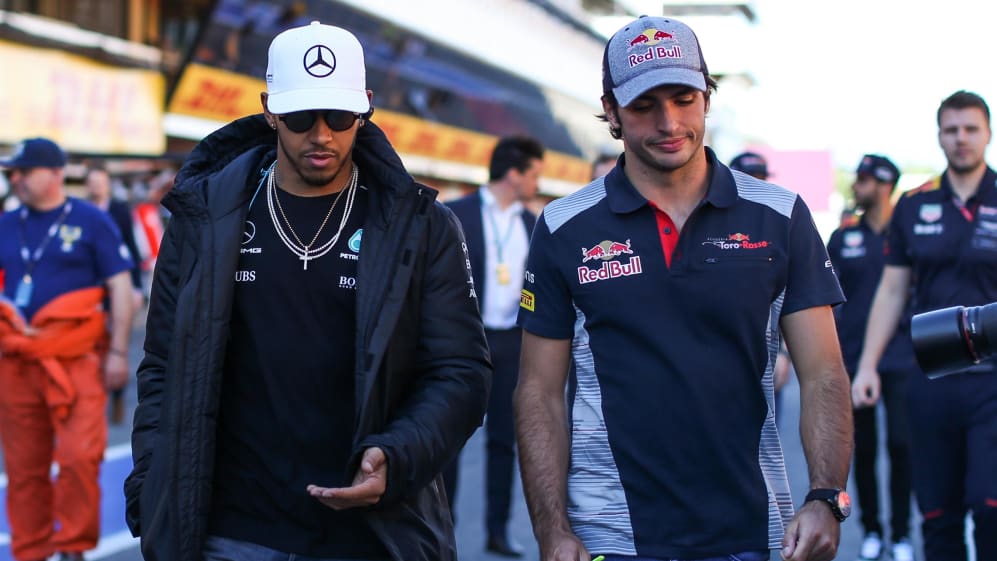 Jacques Villeneuve
1997 world champion
Active in F1 from 1996-2006
"I think it's his best season, where he has been the most focused all year and hasn't put a foot wrong. He was aggressive when he needed to be and defensive when he needed to be. He chose his moments, he never made a mistake. When you hear him on the radio, he's super focused.
"In my opinion, he's better than Michael Schumacher. He's very positive and rarely negative. He respects his rivals and they respect him. It is an impressive quality. It is how every champion should be. This year, he has simply been unbelievable.
"He's a complete driver. He's always been in the best car, but he chose to be there. He took the risk of jumping from McLaren to Mercedes. He's always improving. He didn't allow himself to become lazy, like some others have done."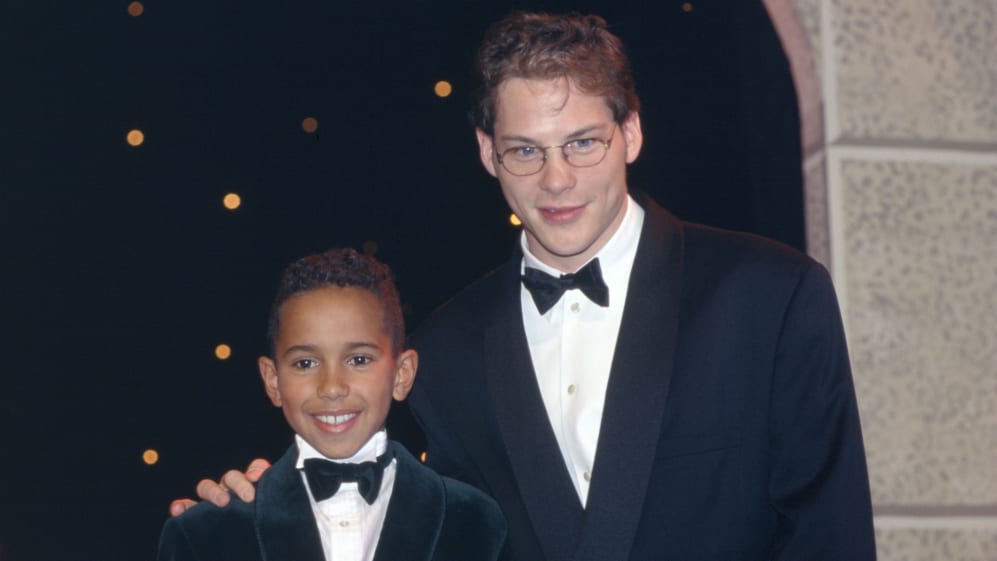 Toto Wolff
Mercedes Team Principal, worked with Hamilton since 2013
"[Perhaps his biggest strength is] keeping his calm and holding his nerve. We had times when the car was good enough to win and times when the car was not good enough to win. But he was very stable.
"[He has] the ability of combining talent with hard work, intellect and emotional intelligence. All great champions have all four of them. If one is missing, you can still be a successful racing driver but you are never going to achieve this greatness.
"As long as he is in a good car and continues to enjoy it in the way he does today, there is more to come.
"But the reason he has won the fifth championship is that he concentrates on the job in hand and does not look too far away. Because before you win a seventh there is a sixth to win, and we haven't scored a single point for that one.
"This is the best Lewis I've seen in the last six years. He's driven better, he's been better out of the car. Very, very complete. But as we try to reach for more it's never completely complete."