'No air to be cleared' with Verstappen says Russell as Mercedes prepare for podium battle in Miami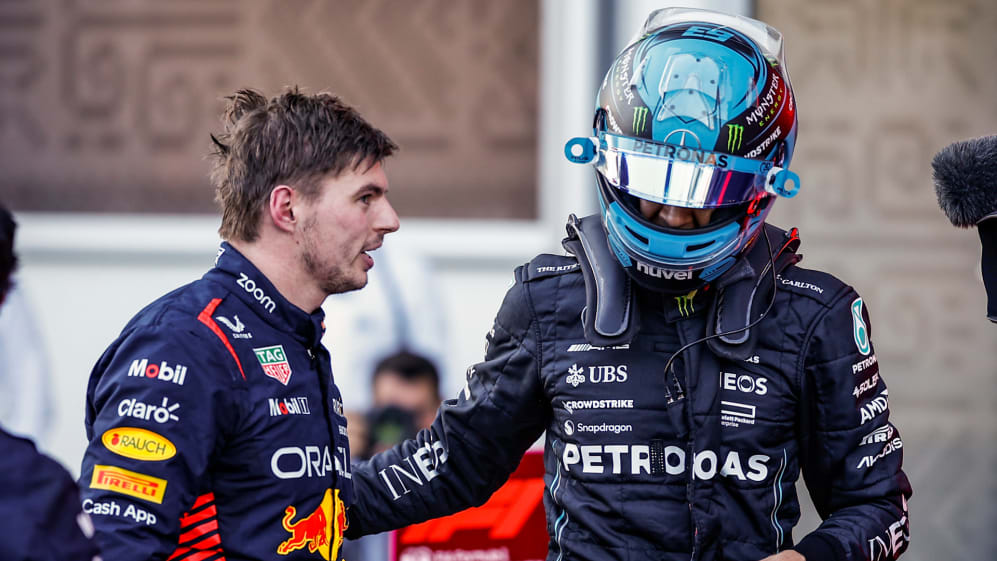 After tense exchanges on and off the track with Max Verstappen in Azerbaijan, Mercedes driver George Russell said he had put the matter behind him in Miami.
Russell and Verstappen came together at Turn 2 during Saturday's Sprint in Azerbaijan, which led to a fraught exchange where the Red Bull driver retorted hotly to Russell's apology.
In Miami, Verstappen said he was "absolutely fine" with Russell, as the Mercedes driver offered up his views on the spat.
NEED TO KNOW: The most important facts, stats and trivia ahead of the 2023 Miami Grand Prix
"I mean, from my side there's no air to be cleared," he said. "I'll welcome and say hello to him if he passes by and I'm sure we'll shake hands when we bump into each other. For me, it's history now, and it's behind us, so my views to him are still the same – I still respect him and think he's a great driver. Obviously things are said in the heat of the moment but yeah, we move on."
He added: "I'll continue racing the same way as I always would.
"I mean, a lot's been said about that coming together but from my side it's pretty straightforward: went for a move, got the move done, and obviously he was pretty upset about it. But, you know, that's racing and these things happen. We're all here to fight, and that's what F1's about."
Mercedes sit third in the standings before the second-ever Miami Grand Prix, after a race in Azerbaijan that saw Russell finish eighth and his team mate Lewis Hamilton finish sixth.
DESTINATION GUIDE: What fans can eat, see and do when they visit Florida for the Miami Grand Prix
"Clearly our car isn't quick enough; we need to continue to do a better job and we'll go again this weekend," Russell said. "Hopefully it'll be a slightly smoother weekend and we can battle it out with Aston Martin and Ferrari.
"I think last year for all of us, [Miami] was one of the toughest races of the season but I think it's exciting when it's difficult. Nobody wants an easy ride and it gives you an opportunity to do something different from the rest."