No further action over Grosjean and Sainz clash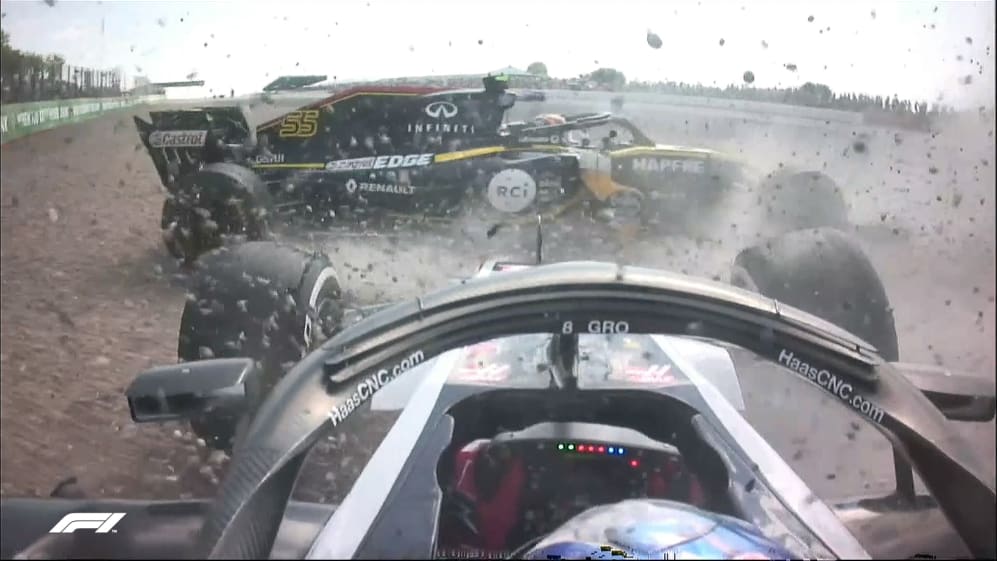 In a British Grand Prix weekend that witnessed some hefty shunts, the crash between Romain Grosjean and Carlos Sainz was amongst the most spectacular. But following post-race analysis, the stewards opted not to dish out blame to either the Haas or the Renault driver.
Trying to make his way into the points having started P16, Sainz attempted a move around the outside of Grosjean going through the flat-out Copse corner. Grosjean, on the inside, was seen to correct the steering before making contact with Sainz's Renault, with the two cars then pounding into the barriers – although fortunately both drivers were unhurt in the incident.
After reviewing the footage from the incident, the stewards – including nine-time Le Mans winner Tom Kristensen – deemed that that "neither [Sainz or Grosjean] was wholly or predominantly at fault", noting that Grosjean understeered in turbulent air from Sainz's car, and took no further action.
Asked about the incident, a disappointed Sainz gave his view, saying: "I think it could have been avoided – but this is Formula 1. We gave each other just enough room and I think he lost the car.
"I was risking to try and overtake Romain, made a move around the outside into Copse and I think he just lost a bit the car on entry and we just tangled."
In the immediate aftermath of the incident, Grosjean was immediately on the radio to his Haas team, breathlessly telling them, "He just turned into me, mate".
However, interviewed after the race, the Frenchman – who also had a first-lap tangle with his Haas team mate Kevin Magnussen – was more equivocal about the crash.
"I haven't seen much," he said. "Obviously Carlos can say I didn't leave him enough room, I can say he didn't leave me enough room. It's a shame it finished like that. It was still possible to score points."
Asked more generally whether he was happy with the performance of his Haas team, who last weekend in Austria scored their best ever F1 finish, Grosjean said: "Yeah, we are looking very strong everywhere, but we're just not managing to get seventh and eighth which we should most of the races."
Sainz's retirement will be particularly hard for the Spaniard to swallow after he saw his Renault team mate Nico Hulkenberg claim the prized 'best of the rest' tag at Silverstone, finishing sixth in the race after employing a unique strategy that saw him only use the medium and hard tyres.