Podcast
'No one cracked' – Ricciardo reveals the moment in 2021 when he realised McLaren were 'a bunch of winners'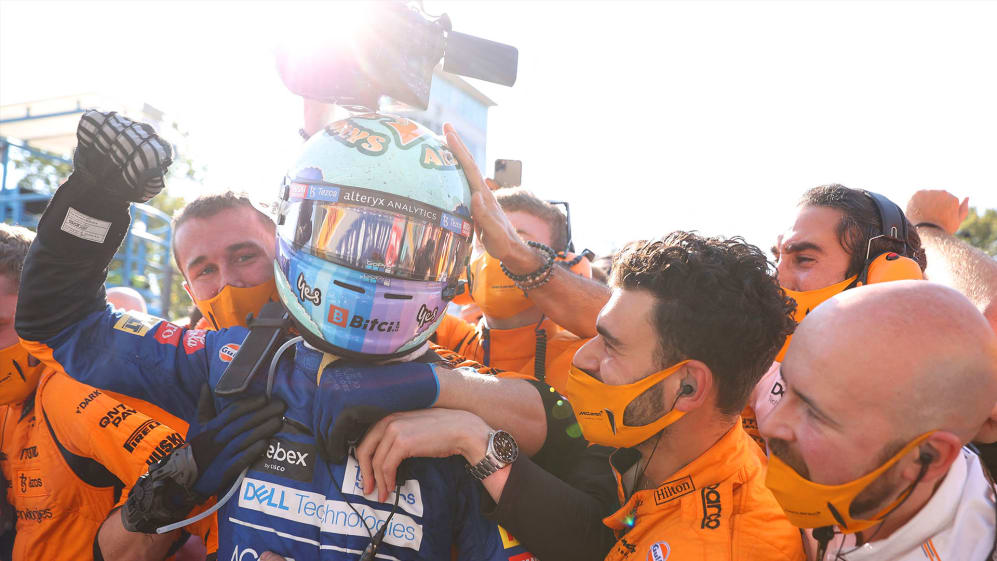 Daniel Ricciardo's decision to swap Renault for McLaren for 2021 raised eyebrows in the paddock. But the Australian has revealed that winning this season's Italian Grand Prix at Monza justified his decision – but probably not for the reasons you might expect…
Ricciardo's start to life with McLaren wasn't the easiest, as he struggled to get on terms with the team's MCL35M. But it all came good after a stellar weekend in Monza, as Ricciardo secured McLaren's first win since 2012.
LONG READ: How Olympian race engineer Tom Stallard helped coach Daniel Ricciardo to Monza victory
And speaking on this week's episode of our official Beyond The Grid podcast, Ricciardo admits that his own first victory since the 2018 Monaco Grand Prix had helped to restore his belief that he was a true race winner.
"It was needed, no doubt about it," Ricciardo tells Beyond The Grid host Tom Clarkson of the victory. "You don't really lose faith in yourself, because you know what you're capable of, but if you haven't done it for a while, then of course it's like… 'Am I not 100% in this corner, am I at 98 now and I don't even know it?' So you get these… little voices.
"But I think the truth is, I knew it when I led – I got the start and as soon as I pulled out of the first chicane in the lead, I literally remember going out and I had a smile and I said, 'The pit crew right now must be going nuts, we're leading.'
"But I felt comfortable, and that was all I needed. I was like, 'Yeah, this is not overwhelming for me, this isn't a forgotten feeling.' In my head, I'm telling myself, 'This is where I belong, this is where I want to be.' And I really drove that race with a comfort and a calmness. At times I was singing to myself, I was tapping the wheel, I was just enjoying it. And I wanted to enjoy it."
READ MORE: Ricciardo says Monza win was 'the boost we all needed'
Ricciardo rightly revelled in his performance, as he also led home McLaren's first one-two since 2010. But according to the Australian, interviewed for the second time on Beyond The Grid (you can listen to his first episode here) his biggest takeaway from the weekend was the realisation that his new McLaren team really did have the mettle of winners.
"What [the win] did for the team was just as powerful," says Ricciardo. "Because the team's been on this trajectory, they've had podiums, but to get the win… confirms a lot of belief that the team have in themselves to get it done.
"And even going to the mechanics, we had the fastest pit stop of that race in Monza. To do that when the team is not notoriously known for the fastest pit stops, so to execute that in probably the hardest-pressure pit stop of the year, that is what I took from that weekend – like, 'Man we've got a group of winners here.' And that makes me really excited.
READ MORE: Daniel Ricciardo set to drive Earnhardt NASCAR stock car at US GP after winning bet with Zak Brown
"And the truth is, Monza proved everything, because it's the win but it's everything that happened around that, that showed that no one cracked. No one cracked! That is really important."
Listen to the full episode of Beyond The Grid with Daniel Ricciardo in the audio player above – or tune into the episode via your preferred podcasting platform here.