Daniel Ricciardo set to drive Earnhardt NASCAR stock car at US GP after winning bet with Zak Brown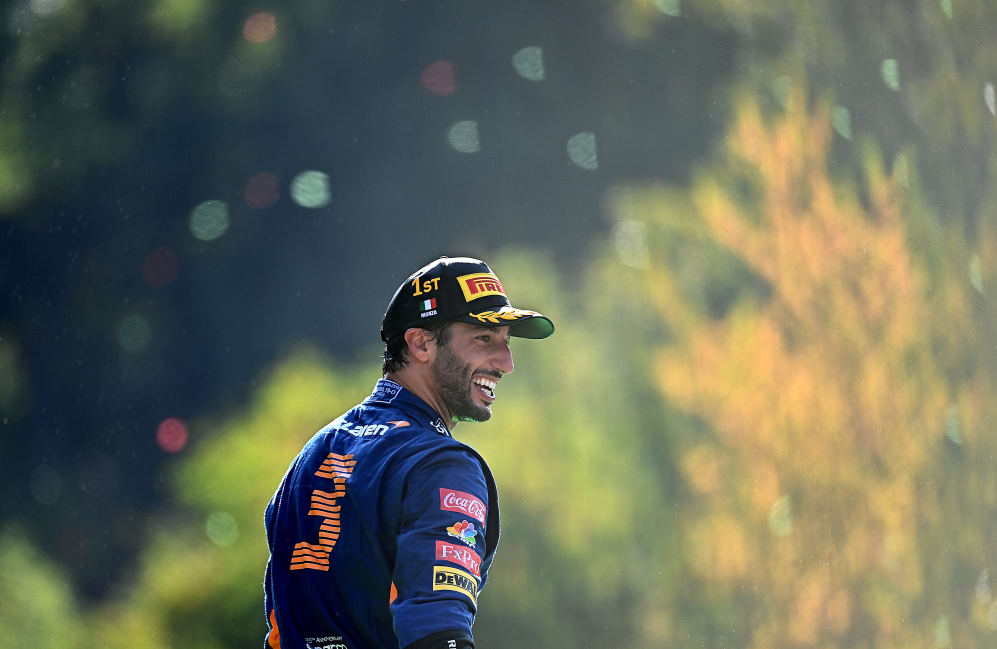 Daniel Ricciardo is preparing to get behind the wheel of a NASCAR stock car at Circuit of The Americas this weekend as McLaren CEO Zak Brown honours a bet he made with the Australian.
Brown offered his new-for-2021 recruit Ricciardo a drive in Dale Earnhardt Sr's 1984 Chevrolet Monte Carlo on the condition that the ex-Renault driver scored a podium for McLaren this season.
Ricciardo went one better than that and led a McLaren one-two at Monza ahead of team mate Lando Norris. This weekend, he gets his reward and will treat spectators to a demonstration of the blue-and-yellow stock car ahead of the United States Grand Prix.
READ MORE: Ricciardo happy to move on from 'pretty painful' Turkish GP after early stop costs him in Istanbul
"Dale Earnhardt Sr's 1984 Wrangler Chevrolet Monte Carlo. Get us that podium and the drive is all yours," was Brown's challenge after the season-opening Bahrain Grand Prix.
And when Ricciardo did the deed, Brown Tweeted: "A deal is a deal."
Oops! Error retrieving Twitter post
As for the McLaren driver, he said after Monza that it will be a special moment when he finally gets behind the wheel: "Yeah, there's like a couple of things today, like… Dale Earnhardt – big hero of mine – and to have a chance to get behind the wheel of one of his cars is crazy. That will certainly be a 'pinch me' moment."
LONG READ: How Olympian race engineer Tom Stallard helped coach Daniel Ricciardo to Monza victory
But the Honey Badger said that he perhaps deserved a bit more than just a drive in the stock car after delivering McLaren their first F1 win since 2012...
"I'm like, maybe he gives me the car? I think it was always a podium, I get to drive it. We never talked about a win, so I gave him my shoe that he drank out of, so maybe he gives me the car. It's a good trade," joked Ricciardo.