No strategy regrets for Verstappen after Spa Sprint triumph as he issues caution ahead of Belgian GP start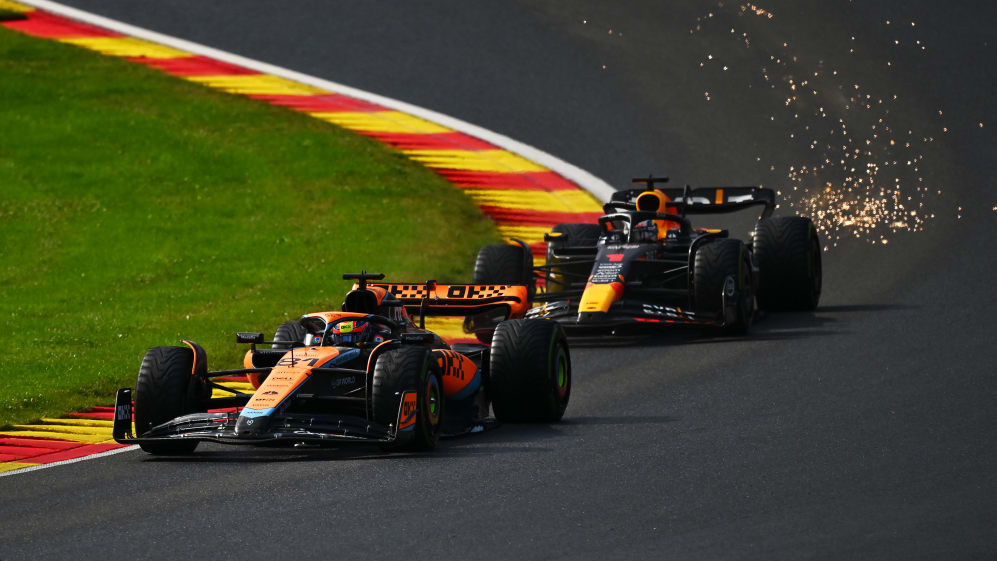 Max Verstappen continued Red Bull's unblemished run in 2023 with victory in the F1 Sprint at Spa-Francorchamps – the Dutchman shrugging off falling behind McLaren's Oscar Piastri at one point before claiming the team's 14th victory of the season, 11 of those Grands Prix plus three Sprint triumphs.
With heavy rain hitting the Spa track as drivers were preparing for the Sprint start, it was decided by Race Control to run a number of laps behind the Safety Car in order to clear standing water.
READ MORE: Verstappen overhauls Piastri in rain-hit Sprint race at Spa-Francorchamps
Once the Safety Car had pulled in and the Sprint got under way with a rolling start, Piastri – who'd taken a stunning P2 behind Verstappen in the Sprint Shootout earlier in the day – dived immediately into the pits for intermediate tyres as Verstappen stayed out for an extra lap on his extreme wet rubber. The championship leader subsequently came in at the end of Lap 1 for his own change – Red Bull looking to avoid getting blocked by other cars given their position as the first garage in the pit lane.
Piastri nailed his out-lap, however, and jumped in front of Verstappen as the Dutchman exited the pits, only for a Safety Car to be brought out as Fernando Alonso spun into the gravel. But with racing resumed on Lap 6 of 11, Verstappen was past Piastri by the end of the Kemmel Straight, eventually crossing the line 6.677s to the good.
"It was all under control, the car was quick," said Verstappen after his Sprint victory. "I was already on the radio for a few laps about that idea [of staying out for an extra lap], and we spoke about it before the race.
"We chose the safe option because that's the annoying bit of being the first team at the beginning of the pit lane – if you would pit there's a big chance of other people coming in and you are blocked and lose a spot to the car in second, especially because McLaren are in the middle of the pit lane more or less.
"So we just stayed out. At least I had clear vision. As soon as I saw Oscar box, I knew that if he had a clean pit stop, he would be ahead of me, but I think it was the best thing to do for us at the end of the day.
READ MORE: Hamilton and Perez share their views after dramatic Sprint race clash at Spa
"We came out and I saw immediately that we had very good pace, so it was just a matter of time. I think when the Safety Car came out [for Alonso's crash], that would have been the lap where I would have passed him already, but we just waited until after the Safety Car and everything was fine."
Verstappen's attention now turns to Sunday's Belgian Grand Prix, where he will start down in P6 – his dominant performance in Friday afternoon's qualifying session that saw him claim P1 countered by a five-place grid drop for gearbox changes.
But Verstappen said that a clean Lap 1 – the kind that he infamously failed to enjoy at the 2019 Belgian Grand Prix – would be key if he was to maintain his current streak of Grand Prix wins, which currently stands at seven.
Asked if he'd seen anything from his rivals to suggest that he couldn't win Sunday's race from P6, Verstappen replied: "Not at the moment, but we also haven't really run in proper dry conditions, so we'll have to see what we get tomorrow.
AS IT HAPPENED: Follow all the action from the F1 Sprint in Belgium
"For me it's more about staying out of trouble Turn 1, Lap 1 and basically no damage on the car. If I have car that's in a 100% state, I can win the race."
Verstappen's team mate Sergio Perez, meanwhile, retired from the Sprint after suffering damage from contact with Lewis Hamilton – the Mexican set to start the Grand Prix in P2, alongside Charles Leclerc.