Norris admits he 'would have loved to go for the win' at Monza but feared Hamilton/Verstappen-style crash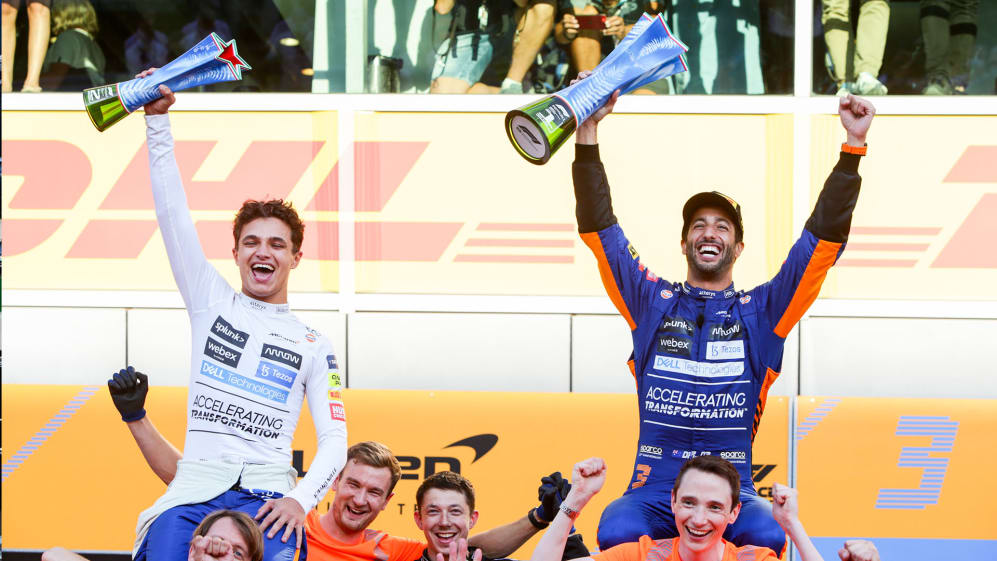 Lando Norris had to play second fiddle to race winner Daniel Ricciardo in the Italian Grand Prix, as the McLaren team mates secured a momentous one-two for the team at Monza – with Norris admitting a bittersweet feeling after the race despite securing his best ever result in Formula 1.
Starting P3 to Ricciardo's P2 at Monza, Norris initially lost out to Lewis Hamilton at the race start before repassing the Mercedes on Lap 1 and holding Hamilton at bay for the opening stint.
READ MORE: Ricciardo leads stunning McLaren 1-2 after Verstappen and Hamilton collide at Monza
But once Hamilton and Max Verstappen had suffered their dramatic Lap 26 clash, Norris was left to come home P2 behind Ricciardo – after passing Ferrari's Charles Leclerc at the Lap 31 Safety Car restart – as McLaren sealed their first win since Interlagos 2012, and first one-two since Hamilton headed Jenson Button at the 2010 Canadian Grand Prix.
"It's incredible," said Norris. "The main thing it means for me is our result as a team. Whether I'm second, third or first, I think the best thing is just having that one-two for the team, securing the maximum points and it's just such a cool feeling to be part of this.
"A bit lost for words in a way," added Norris, "but I'm happy for myself to be here again, and for us to have executed the race the way we did with the overtakes and the strategy and the defending. And happy for Daniel and the whole team because it's a pretty awesome achievement for all of us."
READ MORE: 'Deep down I never lost faith or belief' says Ricciardo after taking first win since 2018
Norris may have played the team game. But having accused leader Ricciardo on team radio of being "too slow" at one point in the race, before asking McLaren whether or not he should hold station behind his team mate in the closing laps, Norris admitted that the idea of challenging for the victory had crossed his mind – but that watching Hamilton and Verstappen's crash had made him think better of it.
"I got a bit closer on one lap," said Norris, "and I don't know why but I had a few flashes of seeing the incident between Max and Lewis, because I saw it quite well in my mirrors. So when I thought, maybe I'll try, that kind of was flashing up in my head, and I thought, maybe this isn't the wisest decision.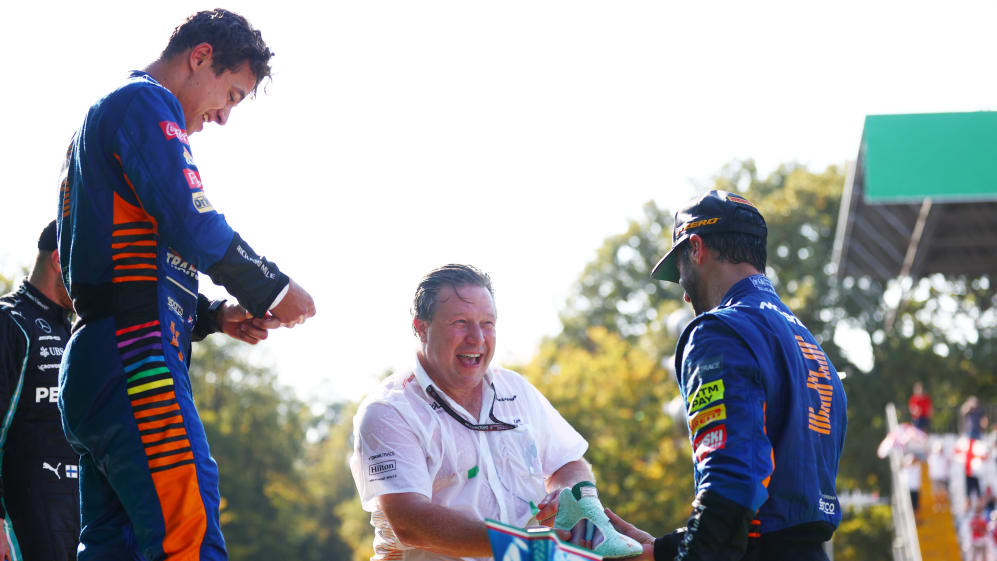 "I would have loved to go for the win," admitted Norris, "but our first and second, I think I'm just as happy with. The feeling I get for the team is priority over my own feeling in a way.
"I'm here for many more years I hope, especially with McLaren and the whole team, so I feel like I still have an opportunity in the future to try and go for it. But in this moment and instance, I was happy just staying where I was."
READ MORE: Verstappen handed three-place grid drop for Sochi after crash with Hamilton at Monza
McLaren's hefty 45 points haul from Monza – 27 for Ricciardo's win, fastest lap, and P3 in the Sprint plus 18 for Norris' P2 – moved them 13.5 points clear of rivals Ferrari in the fight for P3, meanwhile.