'Deep down I never lost faith or belief' says Ricciardo after taking first win since 2018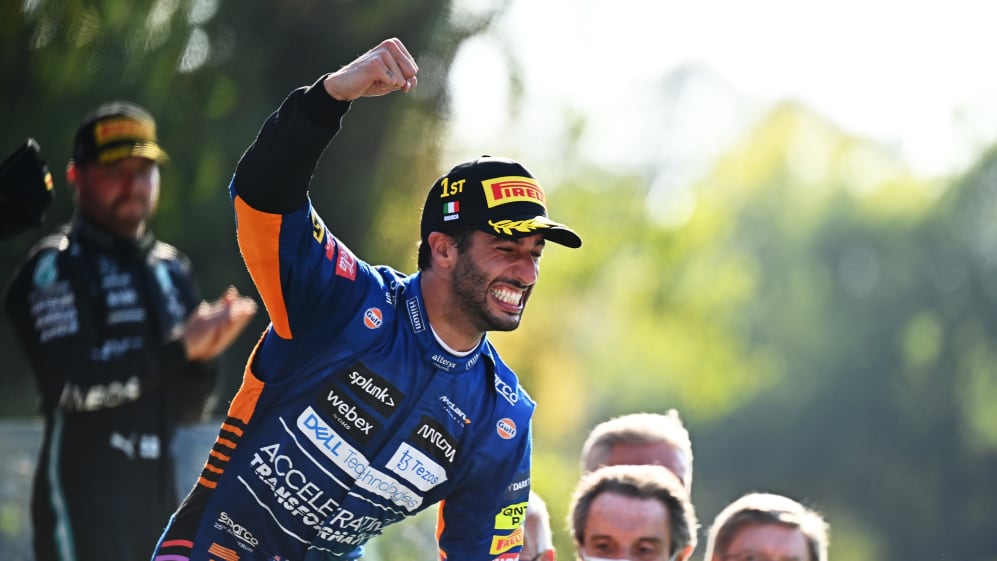 After taking his first Grand Prix victory since 2018 Daniel Ricciardo insisted he never lost faith in his own ability to deliver, despite a difficult start to his time with McLaren, having joined the team for this season.
Ricciardo started on the front-row at Monza having finished second in the Sprint on Saturday and took the lead of the Italian Grand Prix on Lap 1 – benefitting from a Lap 25 collision between Max Verstappen and Lewis Hamilton to maintain it. And for the first time since the 2018 Monaco Grand Prix, the Australian stood on the top step of the podium on a Sunday.
READ MORE: Ricciardo leads stunning McLaren 1-2 after Verstappen and Hamilton collide at Monza
After the race he said: "It means everything. I definitely try not to make, or dictate, my life happiness around the sport because it's been three-and-a-half years since I won so I'd be pretty miserable most of the time if I just based my happiness on winning races.
"It's just wild… but deep down I never lost faith or the belief and I think I needed to step back and that's where I think having some time off in August helped, and I truly think that helped this weekend, to get to this position," he added.
The McLaren driver, who signed from Renault for the 2021 season, added that the Italian GP victory felt "reassuring" after the trials and tribulations he's faced in an attempt to find some pace and confidence with his new team.
READ MORE: Leclerc calls battling P4 at Monza 'one of my top five performances in F1'
He explained: "It feels, I don't know what the word is… it's reassuring for me. I believe in myself obviously; I think everyone does to get to this point in the sport. I've certainly been challenged this year and you know the sport is just a tricky one.
"It's not so black and white I guess, and sometimes you do struggle to find some answers but I think you have to stay… true to the course and you can easily get lost as well. I think, deep down I would have moments of frustration or moments of dropping my head but I kind of made a point never to let that last."
Ricciardo also admitted that there were moments he "fell out of love"' with F1 but said that he responded with the drive and desire to deliver a result like he had on Sunday.
RACE HIGHLIGHTS: Watch all the action from a dramatic Italian Grand Prix at Monza
"For moments you fall out of love with the sport but actually, the clarity you get afterwards makes you realise how much you do love it and how much you want it. I think that's the most, the biggest thing this weekend, that I knew I'd have a chance to fight for a podium and yes, the want shone through and when it gets to that point and that level, I'll back myself to the hilt," he said.
A first victory with McLaren means Ricciardo also gets the unique chance to take the wheel of a NASCAR stock car owned by Team Principal Zak Brown – a car that was once raced by Ricciardo's hero Dale Earnhardt Sr.