Norris calls out Gasly over 'harsh' Turn 11 move after taking strong P5 finish in French Grand Prix
A clinical race day performance from McLaren's Lando Norris saw him claim fifth place in the French Grand Prix, with team mate Daniel Ricciardo finishing just behind in sixth to round off a great day for the papaya-coloured team. But despite that, Norris admitted that he'd been left nonplussed by a "harsh" move from AlphaTauri's Pierre Gasly – who eventually finished P7.
With the majority of the field making their first pit stops before Lap 20, Norris and McLaren rolled the dice by opting to stay out until Lap 24. And despite his eventual top-five finish, Norris admitted it was a decision he hadn't felt too happy about in the cockpit...
"I went much longer in the first stint, which was our plan," said Norris, who started the race in P8, but lost out to both team mate Ricciardo and Fernando Alonso on Lap 1. "It didn't feel nice to do at the time. The tyres felt horrible so all I wanted was some fresh rubber.
READ MORE: Ricciardo relishes 'fun' run to sixth in France, as McLaren car 'starts to feel more like home'
"But we had to try something different. It was just a bit repetitive getting stuck behind everyone and a lot of people were struggling with the tyres. But the team could also see the people moving onto the hard tyres, if they were struggling, if they were coming in nicely or what.
"So I think we used that information wisely and made the smart choice of doing something different to a lot of people and it paid off in the end, so I'm very happy."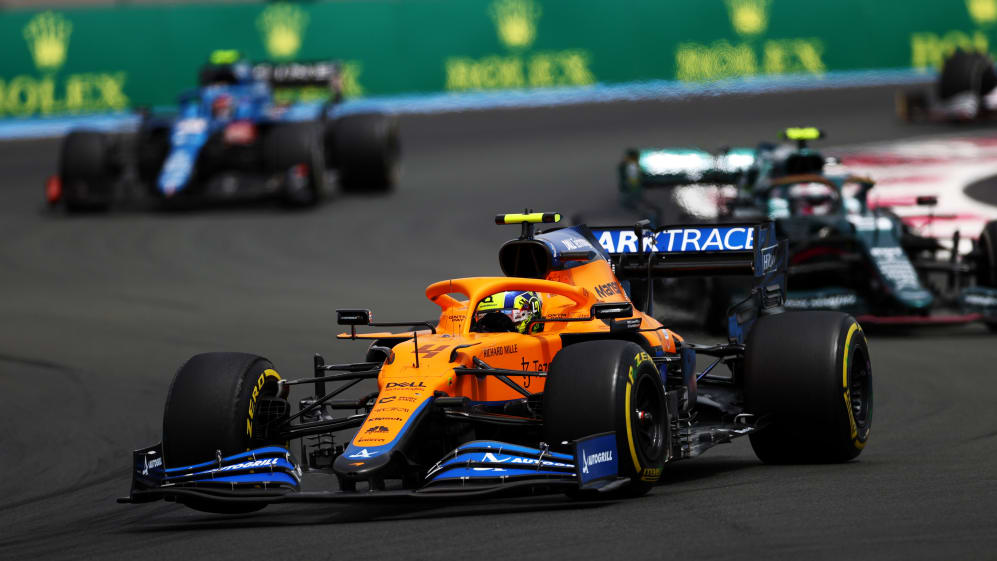 It was on Lap 28 that Gasly and Norris had their contretemps, with Norris briefly passing Gasly for P10 around the outside of Le Beausset only for Gasly to overcook it and run off the road in front of Norris, with Norris also forced to take to the run-off to avoid the Frenchman's AlphaTauri as Gasly stayed ahead.
"He forced me off," shouted Norris over team radio, before passing Gasly a lap later. "What's this idiot doing? He even went off himself."
READ MORE: Gasly defends his battle with Norris as 'hard racing' after finishing 7th in home Grand Prix
And explaining his view of the incident after the race on F1 TV's Post-Race Show, Norris said: "The fact that he ended up off the track as well was like the bad bit of it. I think what he tried to do was okay, if he stayed on the track, fair play. But the fact he throttled so much to squeeze me off, and then he went off as well, was like a bit of a harsh move. But I still got him anyway so I don't care."
Meanwhile, despite McLaren enjoying one of their best team results of the year in France, as rivals Ferrari failed to score – a fact that saw McLaren move back to P3 in the constructors', 16 points clear of the Scuderia – Norris said he still wanted to see improvements from his team in qualifying ahead of the next pair of Grands Prix at the Red Bull Ring, after Norris and Ricciardo qualified P8 and P10 to Carlos Sainz and Charles Leclerc's P5 and P7.
READ MORE: Verstappen triumphs over Hamilton after late pass in scintillating French Grand Prix
"I think the thing we want to understand is why yesterday we struggled [in qualifying] as much as we did," said Norris. "I think we were decent all weekend but we just didn't take that last step in Q3, which we were hoping to.
"So as good as things are and as positive as we'd love to be, there's some things that we really have to work on and understand, and it made our lives a lot more difficult today than it needed to be. But we'll see. [The Red Bull Ring's] a very different track and we've been good there in the past, so I look forward to it."