Gasly defends his battle with Norris as 'hard racing' after finishing 7th in home Grand Prix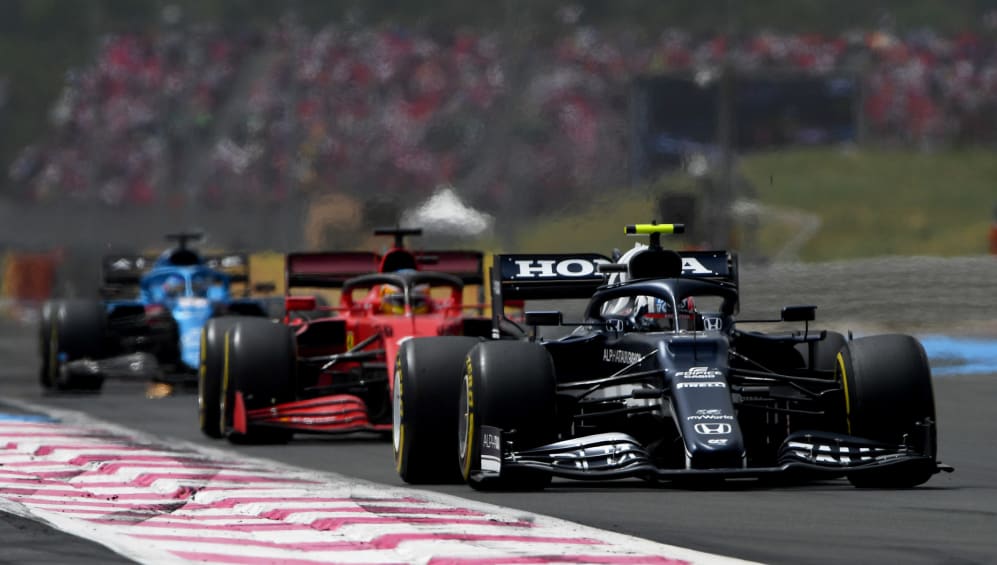 Even his sixth consecutive point-scoring finish could not appease Pierre Gasly completely as he felt AlphaTauri could have finished even higher than seventh at the French Grand Prix – though the Frenchman robustly defended his battle with McLaren's Lando Norris as nothing more than "hard racing".
Gasly started from sixth and was able to get the better of ferrari's Carlos Sainz who lined up ahead of him, but dropped behind Daniel Ricciardo during the pit stop phase and was overtaken by Lando Norris later on. Given the gap to Ricciardo at the chequered flag was just 0.7s, Gasly had the potential to score another top-six result.
"All in all, this day I need to let all my emotions calm down a bit – it was an intense race with a lot of things going on," Gasly said. "P7, we are the fourth best car at the end behind the two McLarens, two Mercedes and two Red Bulls. So I think we can only be pleased with that.
READ MORE: Verstappen triumphs over Hamilton after late pass in scintillating French Grand Prix
"Obviously there are still a couple of things which I feel we could have done slightly differently, around the pit stop, we let Charles and Ricciardo undercut us. This cost us track position so I had to battle straight out of the box and damage the tyres quite early in the stint.
Fourth best car, we can't complain about that.
"There are still a few things we need to review but all in all, P7, fourth best car, we can't complain about that. A lot of good battles, so I think it was a strong race."
In his attempts to keep Norris at bay, Gasly tried to retake a position against the McLaren at Turn 11 but both drivers ran off track on the exit, leading to an annoyed Norris complaining over team radio.
"I'm sure [he complained]! It was hard racing but I really enjoyed it. You can't expect to go around the outside and the guy not to fight. I tried to keep it clean, it's a very difficult corner, very long, on the edge of the grip. Also a tailwind, so it was difficult to keep the car on the track. I haven't seen the footage, I'll look at the footage to see if it was too much or not. But everyone likes a bit of racing.
"I was on the kerb on the exit, I tried to keep it clean, I'm a fair racer. In the end, I'm pleased. The next lap we fought again. It's racing."
RACE HIGHLIGHTS: See all the best action from the French GP as Verstappen charges to victory
And although Gasly was unhappy to not beat at least one McLaren, he takes some solace from AlphaTauri delivering on a more consistent basis than Ferrari after both Sainz and Charles Leclerc failed to score.
"I was really surprised. I don't really know what happened with Charles, but he definitely damaged a lot the tyre. Carlos also, the first stint… The thing is, the degradation was so high that the pace, we weren't really pushing at the start. Some laps it was strong, some laps you could see I had big graining. It was a pretty tough day in terms of tyre management."
READ MORE: French GP Facts & Stats - Verstappen's first F1 hat-trick, and a special podium for Perez