Norris confident top three result was possible in Austin Sprint with 'one more lap'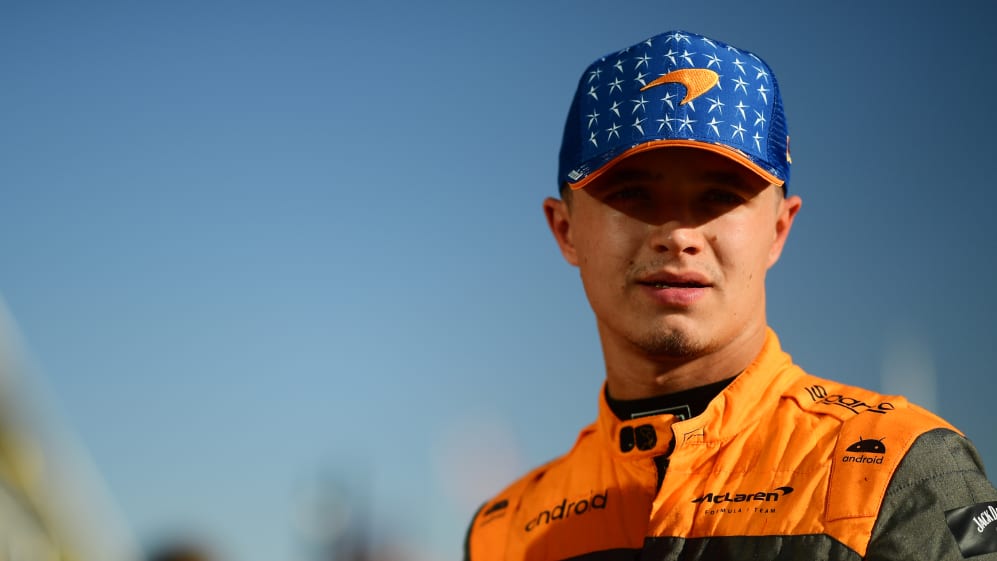 Lando Norris was left wishing the Austin Sprint had been one lap longer after feeling that he could have overtaken Charles Leclerc for third place.
Having initially fallen behind Carlos Sainz at the start – with the Ferrari driver gaining an early benefit from running soft tyres, an advantage that ultimately proved short-lived – Norris eventually got ahead to retake his original starting position of fourth.
READ MORE: Verstappen dominates to beat Hamilton and Leclerc to victory in Austin Sprint
The McLaren driver then continued to close in on Sainz's team mate Leclerc and went on to finish the 19-lap encounter less than one second away from the Monegasque in third.
Despite not making progress through the field, Norris was left satisfied with the pace of his MCL60 and is taking confidence from having narrowly missed out on challenging Leclerc.
"It was a good afternoon," Norris explained. "The pace was very strong, it was just a struggle to get past the Ferrari of Carlos.
"But the pace was way better than them, I caught Charles quite a bit, like five seconds or something in probably four laps or five laps, so good signs for tomorrow.
"[I] just struggled to get past. One more lap I would have had Charles and been on the podium again. Yeah, just a near-miss but, otherwise, good signs."
READ MORE: Leclerc remains hopeful for Ferrari victory in United States GP despite losing out to Hamilton in Sprint
With the medium tyre proven to be the best option in the Sprint, Norris acknowledges that some key learnings can be taken for Sunday's United States Grand Prix, where the Briton hopes to potentially go head-to-head with Mercedes.
"I think some questions were answered today, I think there's still many more tomorrow," Norris said on understanding strategy choices for the upcoming race. "Tyre degradation was still pretty awful, even though we could keep a kind of consistent pace.
"You do feel like the tyres are finished after only three or four laps, so it's a struggle. It's just difficult to look after everything. Not making mistakes, I guess that's probably the most difficult thing to do, but the pace is good, probably similar-ish to Mercedes I would have thought, so hopefully we can give them a good battle, but I'm sure Max [Verstappen] will probably be coming through."
On the other side of the McLaren garage, Oscar Piastri endured a tough Sprint, having dropped backwards from P5 to P10.
The Australian made contact with Sainz into Turn 1 on the opening lap and, when asked if this had damaged his race from then onwards, he responded: "I'm not sure to be honest. Everything felt reasonably okay so will have to look if there was any damage.
"I also had a lot of battles with cars at the start and maybe just took a lot out of the tyres from that so something to look at."
FACTS AND STATS: Hamilton's best Sprint result for over two years as the Mercedes man takes second
On whether he can be competitive in Sunday's race, the F1 rookie added: "I hope so. Everyone is very tight this weekend and very evenly matched. So, it's not going to be easy to try and make progress forward, but we will see what we can do and clearly a lot to try and learn overnight."
Norris will line up on the front row for the Grand Prix, taking second place alongside pole-sitter Leclerc, while Piastri starts from P10.